I will create a blog with CMS
WordPress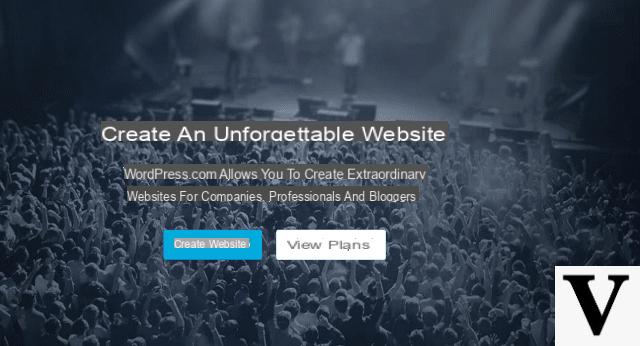 If you want to create a blog, one of the most complete and used platforms that you can use is WordPress. It is a CMS (Content Management System) free and very functional that can be customized thanks to the use of plugins developed by third parties as well as thanks to the numerous themes available.
If you want to create a blog with WordPress for free, you can take advantage of the free hosting space offered by the WordPress.com site. Clearly, since this is a space offered at no cost, there are some limitations (such as the inability to insert advertising in the blog). In any case, if you have no special needs and it is the first time you open a blog, creating a blog with WordPress is one of the best choices. Your blog domain created with WordPress.com will be [name you chose] .wordpress.com
If you already know the basics of WordPress and want to have your own domain, you can buy a wordpress.com hosting space. The prices for the purchase of a hosting with domain included vary according to your needs: starting from € 2,99 per month up to € 24,99 per month, with annual billing.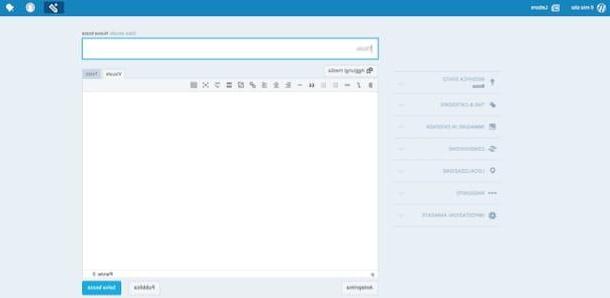 In addition to wordpress.com there are many other web portals that offer hosting with paid plans for all budgets and needs, to host a blog in WordPress. It is also possible to purchase a domain and hosting space on sites other than wordpress.com, but this requires some computer skills to be able to install WordPress via the FTP panel. In reality, however, by now most of the managers offer simpler pre-installed configurations, through software such as Softaculous. To learn more, you can read my guides on how to create a blog with WordPress and how to manage a WordPress blog.
How to create a blog with a proprietary service
Blogger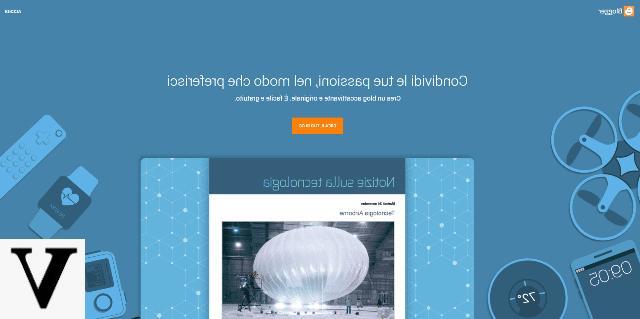 If you want to create a blog and you have extremely basic needs, instead of using a CMS, you can choose to contact a proprietary service. One of the most famous and simple is Blogger by Google. The main feature of Blogger is in fact its simplicity of use, but its direct integration with all the services of the Mountain View giant is also noteworthy. It is in fact a space free where everyone can create their blog and publish it in an extremely easy and fast way, without having to know programming languages ​​or having to buy hosting on the Web.
Unlike WordPress, Blogger cannot be used in self-hosted mode (so it cannot be installed on a separately purchased web space, even if you can purchase a custom domain and use it as a "bridge" to your blog created with Blogger) Furthermore, it is not possible to use plugins for advanced blog customization. On the other hand, Blogger allows users to monetize their content and therefore to make money with a blog, thanks to the use of AdSense banners, Google's online advertising service.
To create a blog on Blogger you need to go to the official website and create or connect a Google account that will be associated with your blog from now on. If you need help with this process, read my guide on how to create a Google account. After registration is complete, click the button Create your Blog to proceed with the creation of your blog on Blogger. You can then create your blog on Blogger completely free of charge, you can insert advertising banners and customize the aesthetics through the installation of themes.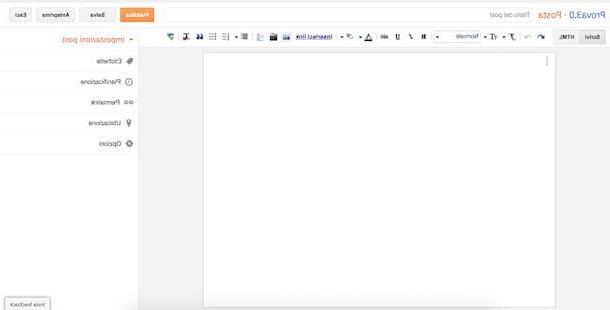 At this point, if you have correctly performed all the steps I have indicated, you should be in the Blogger administration panel. Then press the button New blog, type the title and address you want to assign to your site (the final address will be [name] .blogspot.com), choose the graphic theme you want to use on its pages and click on the button Create the blog but I will complete the operation.
Mission accomplished! You now have a blog on Blogger and can start posting your content online. How? Simply by entering the administration panel of the service and clicking on the button New post located at the top of the left sidebar. The other options in the same menu are those that allow you to manage pages, Comments, advertising campaigns, layout of pages etc.
To learn more about how Blogger works, read my guide on how to create a blog with Blogspot. If, on the other hand, you are interested in the aspect of monetizing content, consult the tutorial in which I showed you how to make money with AdSense.
Tumblr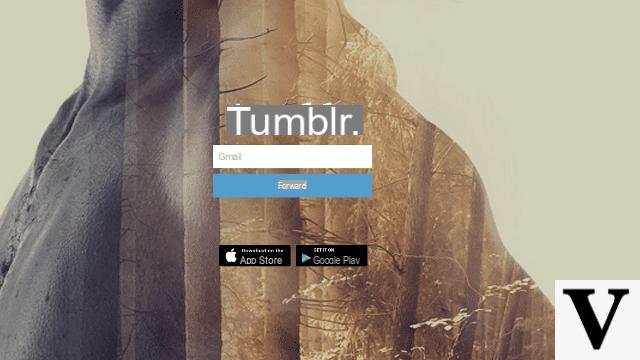 One of the proprietary services that I recommend you use to create your blog is Tumblr, a service owned by Yahoo which, as regards the creation of a blog, is configured as an online space halfway between a blogging platform and a social network.
In fact, Tumblr was born as a social network for sharing images, videos and GIFs, then extending to the possibility of creating a real space for sharing personal textual content. As a blogging platform, Tumblr allows you to post short articles, photos, videos or quotes. These contents can also be used by other users subscribed to the service. Everyone can see and share them on their blogs (called tumblelog) or add them to favorites.
The blog created on Tumblr will be an "atypical" blog designed primarily to share your thoughts with the social network community. Since Tumblr primarily started out as a social network, there will be no excessive aesthetic customizations to be done on your Tumblr blog. All you have to do is write your articles, perhaps in a more concise way, but on the other hand your article will be richer in multimedia elements such as photos and videos.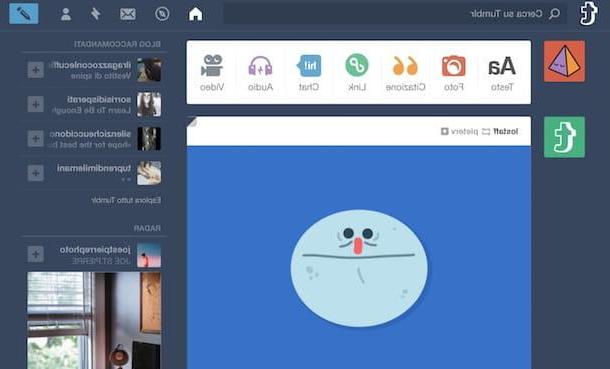 To register for free on Tumblr and create your blog, all you have to do is connect to the main page of the service and click on the button Start. Then fill out the form in the center of the screen with the email, username and password you intend to use and click on the button Subscribe to move forward.
If you want to create a blog on Tumblr and want to learn more, you can read my guide on how to customize Tumblr. You will discover how to make your blog more beautiful and start this new adventure with a twist.
Tumblr does not allow you to monetize your content directly and cannot be installed on an external web space, however you can purchase a custom domain and use it as a "bridge" to your tumblelog. For more information see my post on how to use Tumblr.
Other proprietary blogging platforms: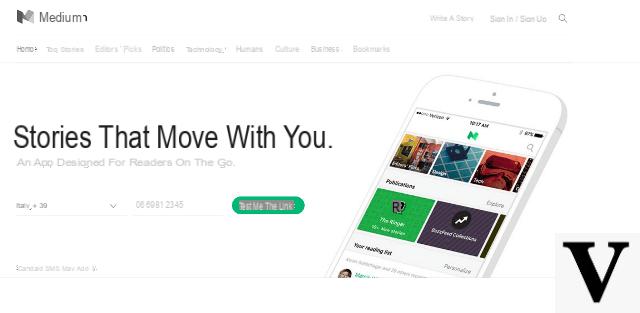 The ones I told you about are the most used proprietary blogging platforms. For completeness of information, however, I want to dedicate further lines to talk to you about other platforms similar to those previously indicated that will allow you to create a blog for free. I'm sure you will find the right one for your blog.
Virgilio MyBlog: as you can easily guess from the name, this is Virgilio's blogging platform. It is based on WordPress, is extremely simple to use and allows you to monetize your content using AdSense banners.
Medium: a blogging platform born from the same authors of Twitter. It has many social components, but stands as a more "refined" solution than Tumblr. It is in fact designed to highlight very long content and has a unique, very elegant style, designed to make your blog more professional. It does not provide for the monetization of content and cannot be installed on an external web space (even there are many mono themes for WordPress that perfectly match the style).
Other popular CMS: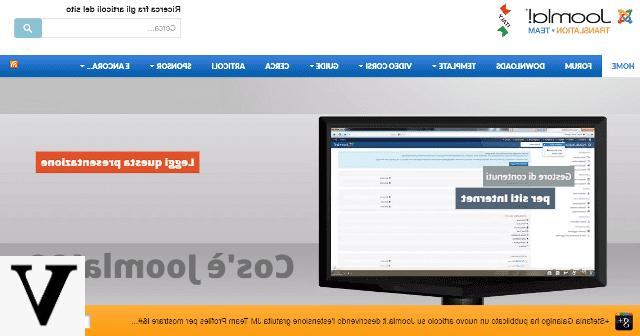 If you already have some IT skills and want to create a blog independently, my advice is certainly to use a CMS. As an alternative to WordPress, I want to show you a list of other popular CMSs below:
Joomla !: Joomla is one of the most popular content management system (CMS) software platforms for building websites. Joomla is a platform written entirely in computer language PHP which allows numerous customization options thanks to the installation of themes, extensions and plugins.
Drupal: among the content management platforms there is also Drupal which allows the creation and distribution of dynamic websites; a platform aimed at users with greater needs.
Microsoft SharePoint: a software platform developed by Microsoft, a CMS mainly used for the creation and distribution of corporate Internet sites. The main feature of Microsoft SharePoint is clearly the integration with Microsoft services, including the Office package.
OpenCms: This is an open source Content Management System (CMS) based on the platform Java and on XML technology.
Mezzanine: a CMS platform for the creation of websites that is written entirely in computer language Python.
How to create a blog