Create a free e-commerce
If you mean create an e-commerce site for free, as you have basic needs, I suggest you take a look at the platforms I talk about in the next lines, in order to identify the service that best suits your needs.
Shopify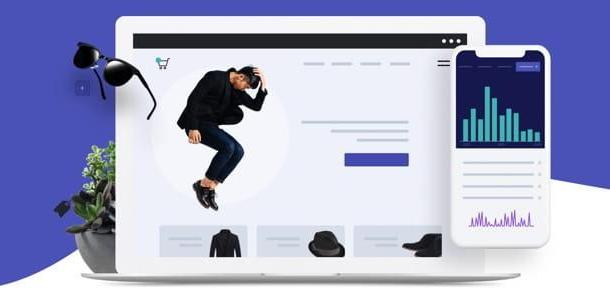 Shopify is a service used by over 1.000.000 stores around the world that allows you to create professional e-commerce in a few clicks, without having knowledge of programming or Web design (you can choose from hundreds of customizable templates). It offers unlimited secure hosting, free unlimited bandwidth, and a free shopify.com domain name, with the option to purchase a custom one or use an existing one.
Shopify handles everything from marketing to payments, secure checkout to shipping, and allows you to easily manage orders, inventory, and customer lists. It also allows you to launch marketing campaigns via Google, Facebook, email or SMS and to analyze sales data in detail. You can use it for free for a limited trial period (without entering payment details and without obligation to renew), after which you can choose from various plans suitable for all budgets and all needs, starting at $ 29 / month.
Going into more detail, to create an ecommerce with Shopify, all you have to do is connect to the official website of the service, type your email address and click on the button Start your free trial. After that you have to type the Password you want to use for your store, the name you want to assign to it and press the button Create your shop.
Finally, you need to specify if you have already started selling, what your current income is e if you are creating a store for a customer, provide the rest of the information requested, click on the button NEXT (or your Salta, if to skip this step) and provide theaddress to receive payments.
You will thus find yourself in front of the Shopify management panel with, on the left, the menu to access all the sections of the service: Home, with the main dashboard of your ecommerce; Order Process, to manage orders; Products, to add and manage products; Clients, to manage the customer list; Analysis, to view sales data; Marketing, to set up marketing campaigns; discounts, to set discount codes; App, to expand your ecommerce with additional functions, e Online shop, to customize the look and pages of the store.
I also point out that Shopify is also available as an app for Android and iOS / iPadOS and allows both to create and manage ecommerce from smartphones and tablets. To learn more, check out my tutorial on how to create an ecommerce with Shopify.
Otter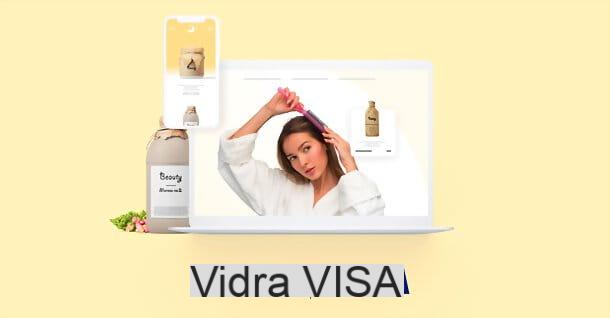 Among the best solutions you can consider to create a free e-commerce there is certainly Otter, the platform promoted in collaboration with Visa that allows you to create and manage an online store in an extremely quick, convenient and simple way. Everything is done in just a few clicks: you register, choose one of the predefined graphic solutions that the platform makes available, upload photos and information on the products to sell and that's it! Vidra thus creates a site through which customers can make their purchases.
The sites created with Vidra contain, in addition to the shop, a blog and personalized pages. I am also perfectly optimized for mobile browsing and search engines and can be associated with external domains. But among the advantages offered by Vidra there is not only the ultra-simple creation of the site.
To make the use of Vidra particularly convenient there is also all the management of orders and shipments: customers can pay with paper, digital wallet o manual methods (e.g. bank transfer) e the shipment can be made both directly by the seller and by national couriers, with the ability to schedule deliveries directly from the platform and without having to enter into contracts with individual couriers. In short, zero bureaucracy!
The price? Vidra allows you to try out all its most important functions free for 14 days, after which you can choose whether keep the plan free (with catalog of 10 products) or whether to upgrade to paid plans, starting from 15 euros / month or 12,50 euros / month with the annual subscription.
To create your e-commerce with Vidra, connected to the home page of the service, type yours email address in the ready field and the pulsating prize Try it now, for free!. Then enter E-mail address, Name and surname, Name of your shop e Password to use to access the service and click on the button Create your shop.
For more details, see my tutorial on how to create an e-commerce with Vidra and the official Help Center, where you can find lots of advice and answers from the Vidra team.
Jimdo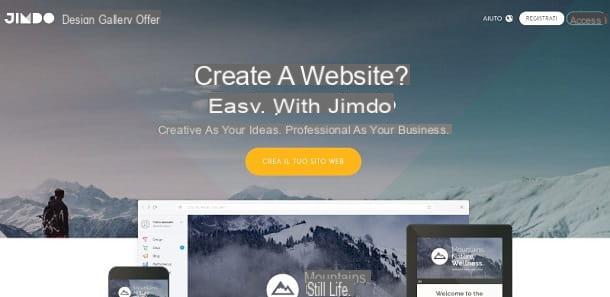 To create an e-commerce site for free and easily, I recommend that you contact the platform Jimdo, which allows you to create websites with subdomains .jimdofree.com, 500 MB of space and 2GB of bandwidth.
To start, connected to its official website, click on the button Build your website and register an account by clicking the button Sign up with Facebook o Iscriviti with Google, or fill out the registration form, indicating email it's a Password, accepting the terms and conditions of the service and pressing the button New registration.
After that, click on the button Create an online shop that you see on the screen, indicate the type of site you want to create, by placing a check mark on one of the items proposed (for example Shop), click Get started right away, choose the template to use by clicking on one of those shown and then select the button Are you ready? Street!, in correspondence with the option Free, to continue for free.
On the next screen, enter the domain name to use (it is also possible to purchase it, with prices starting from € 6,50 / month), press the button Check availability and then on the one called Create your site for free.
Wait for the editor to load and select the button Toolbar (top left) to manage the settings of your website, referring to the section Shop, for everything related to the e-commerce module; or click on the menu item Design, for changing aesthetics.
The optional paid plans of Jimdo, For e Business (€ 6,50 / month and € 15 / month) are used to upgrade memory and bandwidth, to be able to sell an unlimited number of products (only for Jimdo Business, otherwise they are a maximum of 3) and to eliminate advertising.

One Minute Site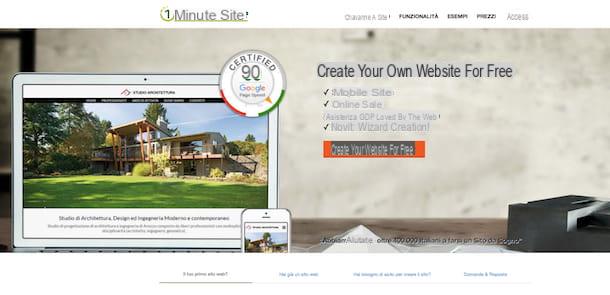 Another free platform you can refer to is One Minute Site, which allows the sale of products, albeit with some limitations, such as a third level domain .oneminutesite.com.
Then connect to its website, click on Try our free e-commerce, fill out the form that is proposed to you with nome of the site, email address e Password you want to use to log into your account, tick the boxes I'm not a robot e I accept the general contract (following the instructions on the screen to solve the captcha) and click on the button Create your online store, I will continue.
On the next screen, tap on the tile DIY creation o Guided creation, depending on your degree of experience with the creation of Internet sites. For example, click Guided creation, if this is your first time using this tool, click on Select and continue and then answer a few questions to start building the site.
After answering all the questions click on Save and Continue, in order to access the editor, click on the entry E-commerce from the drop-down menu at the top and, finally, choose whether to press the button Activate the catalog o Activate e-commerce, depending on your needs for the sale of products.
Please note that it is possible to request the activation of the offer Try & Buy which gives the possibility to use the business version of the One Minute Site ecommerce for 3 months without anticipating any payment data. At the end of the 3 months, you will be contacted again and you can choose whether or not to renew your subscription. If continued, the top level domain and the mailboxes associated with it are also activated.
The optional subscription plans start at 8 euros per month + VAT (96 euros + VAT / year) and are used to upgrade the site and sell unlimited products (otherwise you can sell a maximum of 3 products for free).

Other proprietary services
If your intent is to create an e-commerce you can take advantage of other solutions similar to those previously indicated, such as those I am talking about in the next lines.
Alternatively, you can also sell your products on pre-existing e-commerce sites, such as eBay or Amazon, which are not free. In this regard, for more information about it, read my tutorial on how to sell on Amazon or my guide on how to open an eBay store.
Blomming - this is a service that allows you to open a shop on the Internet and which includes a function that is used to integrate your product showcase on Facebook in order to sell them through the social network. It is not completely free, as prices start at € 9,99 / month with a free trial version. I told you about it in more detail in this tutorial of mine.
Wix - this is a service similar to those mentioned in the previous paragraph that allows you to create a website including an e-commerce platform and which is also suitable for beginners. It allows you to get a free e-commerce site with a third level domain .wixsite.com and also offers paid plans with prices starting at € 6,21 / month. I told you about it in my guide.
Create an e-commerce through CMS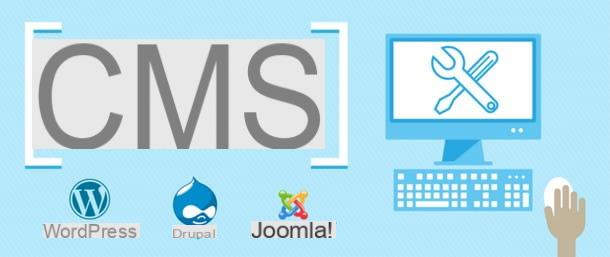 If, on the other hand, your intent is to create a professional e-commerce, you must consider the possibility of manually installing a CMS, Or a Content Management System, in your language called Content management system.
The latter is in fact a software for the management of Internet sites which, in the case of e-commerce, must be installed and configured within a previously purchased hosting space. Furthermore, to create a site as professional as possible, it must be combined with a paid second level domain.
In this regard, I suggest you read some of my tutorials related to this topic, such as the one in which I told you about the best paid hosting and the one dedicated to the purchase of Web domains.
Furthermore, as regards the purchase of hosting, I recommend that you evaluate packages with dedicated servers designed for e-commerce such as, for example, those of Aruba, which start at € 49,99 + VAT / year and allow you to sell up to 100 products. As you will have understood by reading this tutorial of mine, opening an e-commerce requires greater technical requirements and, consequently, a greater expense, compared to opening a normal blog.
Having said that, in the following lines I tell you about the most used CMS for the creation of an e-commerce.
WordPress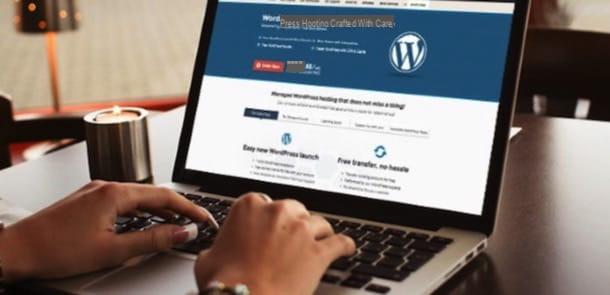 WordPress is one of the best known CMS free and open source. It is used for the creation of blogs and websites but can also be used to create an e-commerce. WordPress, in fact, it has numerous plugins and themes useful for this purpose, such as WooCommerce, which can be installed for free. Thanks to these tools, WordPress it can be used to create a complete and professional e-commerce platform in a simple way.
In this regard, know that it is possible to turn to all-in-one solutions that offer domain, hosting and a ready-to-use WordPress installation with WooCommerce. For example, theAruba Managed WooCommerce Hosting includes an installation of WordPress us WooCommerce, the registration and annual maintenance of a domain name, unlimited space on SSD it's a 2GB database on SSD with support for 200 connections and traffic up to 500.000 monthly visitors.
In addition, the certificate is offered SSL DV for secure HTTPS connections (now required by most browsers and search engines), the monitoring and backup automatic, thestaging environment to test changes to the site without altering the one in production, unlimited 1GB mailboxes, 10 PEC boxes on domain and much more.
The service has prices starting from 124,50 euros + VAT for the 1st year and then 249,00 euros + VAT / year. For more information, read my guide on Aruba Managed WooCommerce Hosting and consult the official website of the service.
If you then need more information related to WordPress, you can read my guides dedicated to this CMS and some technical books on the subject.
Vedi offers your Amazon
Magento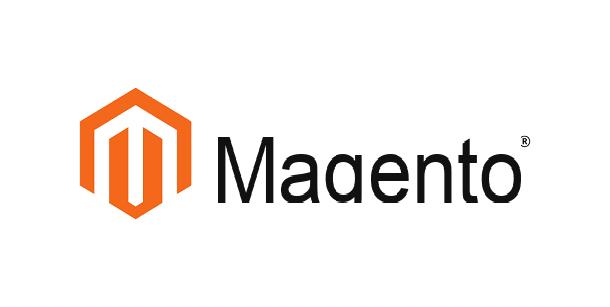 One of the most complete and professional CMS for creating an e-commerce is Magento. However, this open source software is suitable for experts in the field, as it is more difficult to use than WordPress and it is required to install it on hosting platforms with high technical requirements.
Magento is available in a free version, Community Edition, which, however, according to some users who use it is a bit limited. There are also some paid versions, Professional Edition e Enterprise Edition, which however have rather high costs to be incurred, which you can request a quote at this link.
If you want to deepen the subject, I recommend reading some technical manuals, such as those you find below.
Vedi offers your Amazon
Drupal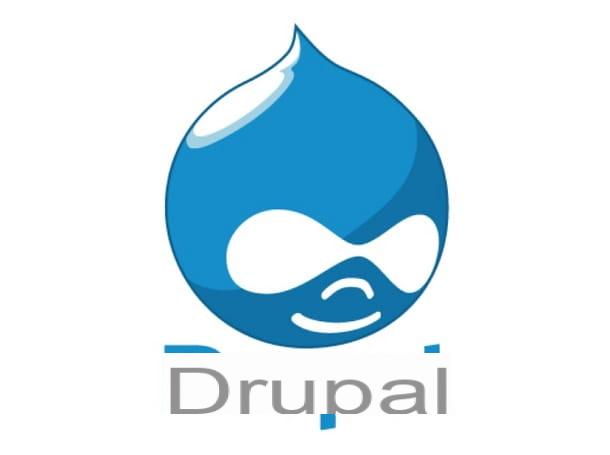 Drupal is another rather popular CMS that is used for building e-commerce with large stores. It is one of the best known alternatives to Magento: Drupal it is in fact free and open source.
It is fully and advanced customizable but, obviously, specific technical skills are required for its use.
In this regard, below I show you some useful technical books to deepen the subject.
See offer on Amazon See offer on Amazon
Prestashop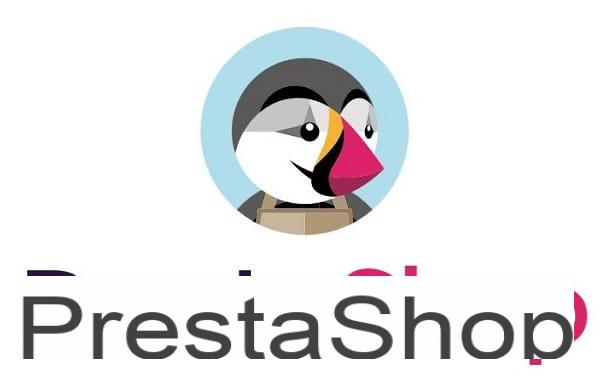 Prestashop is an open source CMS platform which is another alternative to consider for setting up an e-commerce. It is considered a valid alternative to Magento, as it requires fewer technical requirements and is considered by users to be easier to use, due to an active community, which helps in solving problems, and an administration panel with a more immediate design.
It can also be suitable for less experienced users, as its PrestaShop Ready tool is a "turnkey" paid solution (€ 19,90 / month after 15 days of free trial) for the creation of professional e-commerce.
Do you want to know this CMS better? Very well, here are some recommended books on the subject.
Vedi offers your Amazon
Joomla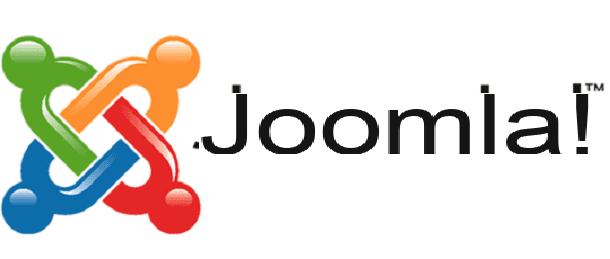 Joomla is a CMS considered an alternative to WordPress which can also be used for the creation of e-commerce sites. For some users it is considered easier to use than Magento o Drupal, and also integrates several plugins for the creation of an Internet site in which to sell products, such as Virtuemart.
To learn more about its use, you can find below some books on the subject.
Vedi offers your Amazon
Create an e-commerce site with PHP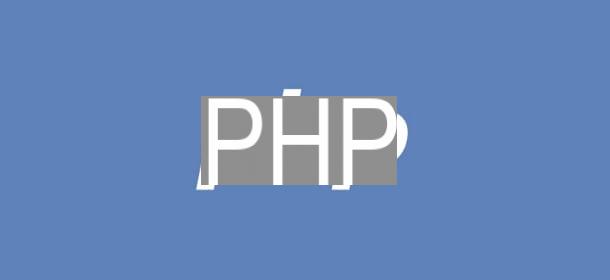 If your needs are even more specific, as you would like to set up an e-commerce site, using the programming language PHP, you should consider going to a professional in the sector, in case you have no technical knowledge.
You already have some knowledge of website programming in PHP? Would you like to improve them or create a self-taught e-commerce? In this regard, my advice is to study the subject through specific technical manuals, such as those shown below.
See offer on Amazon See offer on Amazon See offer on Amazon
I remind you that, even in this case, it is necessary to purchase a hosting and a web domain. You can learn more about these topics by consulting the guides on paid hosting and on how to buy web domains.
Article created in collaboration with Shopify, Aruba and Vidra.
Create an ecommerce site