Caustic 3 (Android / iOS)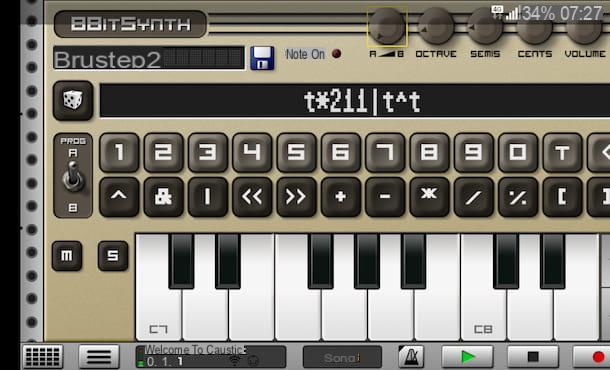 Caustic 3 is one of the most used apps for music production on Android and iOS. It offers a vast set of tools that allows you to compose electronic music in just a few taps thanks to the use of 14 machines, including various beat boxes and vocal synthesizers. The app can be downloaded for free from the Google Play Store but to save and export the songs in WAV, Ogg or MIDI you need to buy the Caustic Unlock Key which costs 6,99 euros. On the App Store, however, Caustic 3 is not available in the demo version and must be purchased directly at a cost of 10,99 euros.
After completing the download of Caustic 3 on your Android or iOS device, start the application by tapping the button apri or by pressing on its icon located on the Home screen of your smartphone / tablet. Next, read the guidelines (in English) to make the most of the various tools made available by the app and press the buttons Next> Continue Demo to access the actual editor.
To quickly scroll through the many machines made available by Caustic, use the sidebar which is on the left and swipe up or down with your finger to choose the machine to use. Alternatively, tap the button Machine (the grid-shaped icon) located at the bottom left and, in the screen that opens, tap on one of the available machines (SubSynth, PCMSynth, BassLine, BeatBox, PRDSynth, OrganEtc.).
To change the various controls on each machine, you just need to make a simple tap on each of them. To change any knob, on the other hand, you have to tap on it and move your finger to the left or right to change its position. Easy, right?
Music Maker JAM (Android / iOS)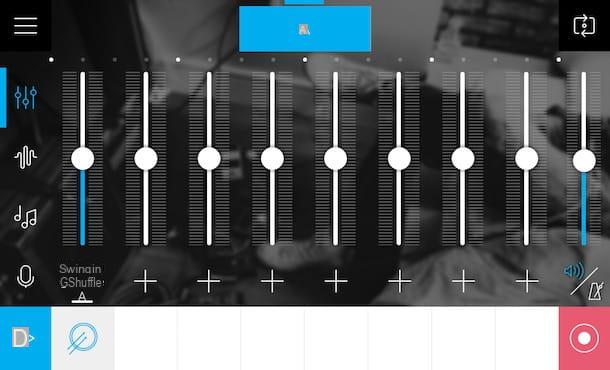 One of the best apps for making music on your smartphone or tablet is Music Maker JAM, a free solution ideal for lovers of hip hop, dubstep and house music that allows you to compose music by choosing from hundreds of loops, beats and melodies.
After downloading Music Maker JAM on your Android or iOS device, open the application and tap the button Get started right away to access all the tools available in it. If you want, by clicking on the option Log in and following the on-screen instructions, you can create a free account in Music Maker JAM and share your songs with community users.
Now is the time to take action. In the screen that opens, choose two packages of free tools from those available in the app (eg. Digital Pop e Rock Radio) and confirm the operation by pressing the button NEXT. Then tap the blue button Create Music and start composing your song.
In the left menu, tap onicon with adjustment bars to modify the levels of each musical instrument; in the screen that opens, use the slider to adjust the volume and, if you want, enrich your composition with new tools by pressing on the symbol capacitor positive (+) lead. By tapping onwavy line iconInstead, you can adjust the volume and intensity of the sounds via a handy floating slider.
One of the most interesting features of this app is the one that allows you to remix songs by simply shaking your device. To activate this feature, tap the button ≡ located at the top left and, in the menu that opens, tap on the option Shake to mix. Then shake your device to remix the song you are working on and, when you are satisfied with the result, press the option Save project present in the side menu to save the changes made.
WalkBand (Android)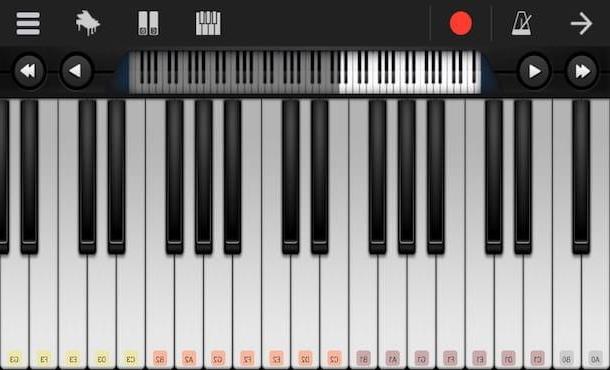 Are you looking for an app that allows you to have a wide range of tools in one "place"? If that's the case, you definitely have to try Walk band, a free app available only on Android that allows you to use various instruments: keyboard, guitar, drum pad and drum machine to create songs in a few taps.
As soon as you have downloaded Walk Band on your smartphone or tablet, start it and scroll through the list of available tools: Keyboard, Guitar, Drum Kit (Pad), Drum Machine e Low. To play an instrument, tap on one of them and follow the instructions on the screen (highlighted in blue).
To record a song, open any instrument, tap the command Rec (the red circle icon located at the top left) and, in the box that opens, choose one of the available recording modes: MIDI to record both audio and video or MIC to record audio only. To save the recording, instead, tap onsquare burgundy icon located at the top left and confirm the saving by tapping on the item OK. The recording will be automatically saved in the folder Recordings list accessible directly from the app home screen.
GarageBand (iOS / macOS)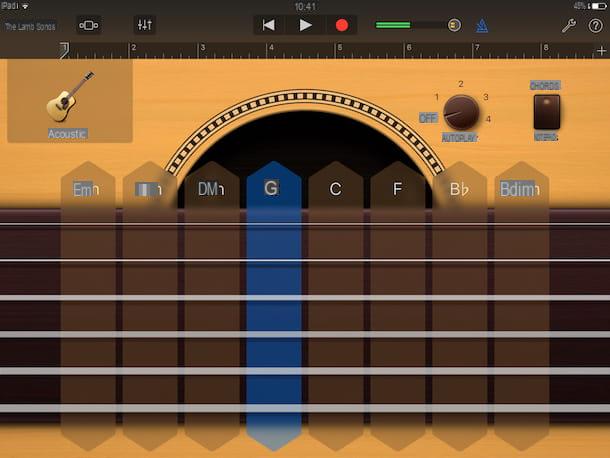 In this post dedicated to the best app to create music I could not fail to mention GarageBand, a powerful app developed by Apple that turns any iOS device into a real recording studio. The numerous instruments included "standard" in GarageBand, the possibility of using Live Loops to create music in a very simple way and the numerous customization options available for each instrument, make this app particularly complete.
After installing GarageBand on your iPhone or iPad, open the application and tap the button Live loops if you want to compose music like a DJ would; or tap the button traces and choose one of the available tools (Keyboard, Percussion, Bows, Low, Guitar, ethnic, Drummer, etc.) to compose music by playing the individual instruments via the touch-screen of your device.
If you wish, you can also connect a guitar or bass to your device and play through classic amps and pedals. To do this, just click on the option Amplifier (still on the main screen of the app) and connect the musical instrument to the iPhone or iPad using a special adapter.
To record a song with GarageBand, tap the command Rec (the red dot icon located at the top) and start playing your song. At the end of the recording, save the final result by tapping on gray button located at the top and pressing on the control My songs. In the section My songs, press and hold on the preview of your song until it starts to wobble, press on thearrow icon (top left) and tap on the item Add to iCloud Drive if you want to archive the project on iCloud; or select the item Ringtone if you are going to use your song as your phone ringtone.
I remind you that GarageBand is also available as a computer application, exclusively for macOS (free). If you want to get to know the desktop version of GarageBand more closely, check out my tutorial on music making programs and follow the directions in it.
Other apps to create music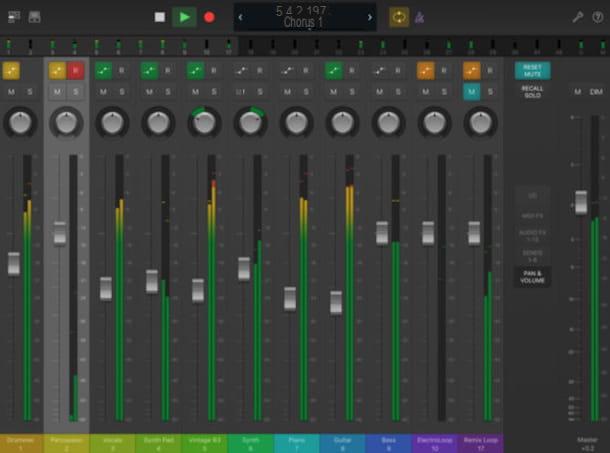 Le app to create music which I told you about in the previous paragraphs are really excellent, especially for those who are taking their first steps in the field of music. For professional musicians and for those with more advanced needs, however, there are other apps that offer a wider range of features and are also very useful in the workplace. Here are some of the most interesting examples.
FL Studio Mobile (Android / iOS) - this application allows you to have a real virtual mixer that can offer access to numerous features and instruments: synthesizers, samplers, drum kits, tone and volume adjustment, etc. FL Studio Mobile also allows you to easily import and export files in MIDI, WAV and MP3 format. To download the app on your device you need to make a purchase of 17,99 euros (Google Play Store) or 14,99 euros (App Store).
djay 2 (Android / iOS) - DJs for a living should definitely try this app, which is able to directly access the music library of their device. Djay2 offers the possibility of using multiple audio effects (Flanger, Phaser, Echo, Gate, Bit Crusher, etc.), automatically identifying the beat and, thanks to the Automix mode, is able to mix the songs imported from the 'user. As if that weren't enough, djay 2 offers full support for all major audio formats and major DJ MIDI Controllers (Vestax Spin 2, Numark iDJ Pro, Numark Mixdeck Quad, Numark iDJ Live, Numark iDJ Live II, ION iDJ 2 Go , Pioneer DDJ-WeGO, Pioneer DDJ-WeGO2 and Pioneer DDJ-ERGO). To use the app you need to make a purchase of 2,99 euros (Google Play Store) or 5,49 euros (App Store).
Audio Evolution Mobile Studio (Android) - this is one of the most powerful audio / MIDI multi-track sequencers you can find in the Android landscape. Audio Evolution Mobile Studio offers support for over 250 USB audio / MIDI interfaces and offers numerous features: MIDI progression, playback loop, automation of mixer and effect parameters, latency correction, metronome function, import of audio files in multiple formats (WAV, MP3, AIFF, FLAC, Ogg / Vorbis) and much more. To download this app you need to pay 8,49 euros.
SoundCamp (Android) - This free app is developed by Samsung and is based on Samsung Audio technology. It offers numerous tools that allow you to record, mix and edit up to 8 audio tracks and at the same time enjoy full MIDI support. It can only be installed on the Korean company's devices.
LK - Ableton Live Controller (Android / iOS) - This free app is a great tool to remotely control the well-known Ableton Live music composition software and related hardware. It offers the possibility of using four independent modules that facilitate customization, for example it is possible to have detailed control of the functions thanks to the use of a MIDI controller that allows you to set up to 128 parameters.
G-Stomper Studio (Android) - this app is great for making your own music. G-Stomper Studio includes numerous instruments: a sampler, a virtual synthesizer (VA-Beast), a keyboard, 24 Drum Pads, a line mixer and a live pattern. The synthesizer based on the VA-Beast system is, most likely, the most interesting aspect of this app as it allows even less experienced users to produce complex sounds quite easily and quickly.
Basket Gadget (iOS) - those who produce electronic music cannot fail to try this app which offers a collection of over 20 synthesizers, called gadgets, which allow the user to produce any type of sound. The strong point of this application is the interface that allows you to focus on what you are doing without getting too distracted by the many commands that you can use. The Korg Gadget app can also be connected to external devices that expand the potential of this software, which costs € 43,99.
Cubasis 2 (iOS) - this application offers great tools that allow you to record, edit and share your music using your iPhone or iPad. Cubasis 2 offers the possibility to have an unlimited number of audio and MIDI songs, use the MiniSampler to create your own instruments (20 are already included). Also of note is the ability to export files from iCloud, Dropbox, external hard drives and wireless flash drives. The app can be purchased from the App Store for € 54,99.
Logic Remote (iOS) - those who use the Logic Pro X program on their Mac will find the Logic Remote app particularly useful, since this free solution developed by Apple offers the possibility to play any Logic instrument, navigate between projects created with Logic and even create mixes.
Musical Memos (iOS) - This free app, also developed by Apple, is ideal for music writers. Thanks to Voice Memos, in fact, you can use your iDevice to capture sounds, whether they come from a musical instrument or other sources, and use them later to create your own library with the most interesting clips and riffs. There are many features of this application, among the most interesting is the automatic detection of time, rhythm and chords and the complete integration with GarageBand.
If you feel that music production on smartphones and tablets is too limited, take a look at my tutorial on programs for making music in which I have pointed out many PC software dedicated to music production.
App to create music