Create Facebook account from your computer
If you use a computer and want to create Facebook accounts, the first thing you need to do is to click here in order to connect immediately to the login page of the famous social network.
Once the main Facebook page is displayed, fill in the fields Your name, Last name, E-mail or mobile number, Re-enter your email or mobile number, New password, Gender e Birthday by entering the requested information, indicate whether you are a woman or a man by checking the relevant box and then click on the green button SUBSCRIBE.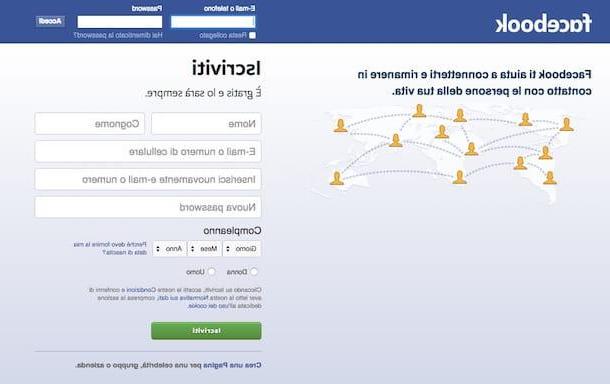 At this point, a new web page will open that will invite you to open the e-mail address corresponding to the email address you specified during registration and to click on the link contained in the email invites from Facebook in order to confirm your account. . If, on the other hand, you have chosen to provide your mobile phone number, you will have to wait for the receipt of an SMS from Facebook containing a verification code. Therefore, follow the instructions given by the social network.
Please note that Facebook sends the e-mail message or SMS should happen instantly. If not, press the button Resend the confirmation email or Send confirmation SMS again that you see on the screen. In case of problems you can also press on Change your email., its Enter the confirmation code that you received via e-mail., its Change your phone number. or on Enter the confirmation code from your SMS..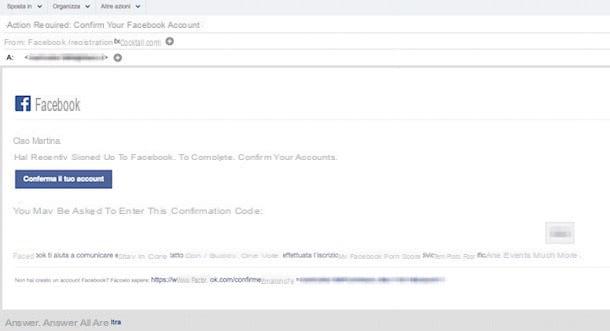 After you have confirmed your account, the social network will offer you a quick wizard to allow you to create Facebook accounts as quickly as possible and to be able to immediately get in touch with people you know.
First, you will be offered to add some potential friends of yours who are registered on Facebook. If among the users that are proposed to you in the section Add friends of the displayed Web page you want to add someone to your circle of friends on Facebook presses the button Add friends placed next to its name and then click the button NEXT. If not, click directly on NEXT or on Salta.
You will then be offered to add any additional friends to Facebook with whom you are already in contact on Skype, Outlook.com, Yahoo! or through another e-mail service. If it is your intention to find your friends on Facebook as proposed by the social network press on the voice Find friends corresponding to the service you wish to use and available among those proposed. Then enter the required data in the appropriate forms and then click on the blue button Find friends. If you don't care, go directly to the next step by pressing on the item Skip this step and then clicking Salta.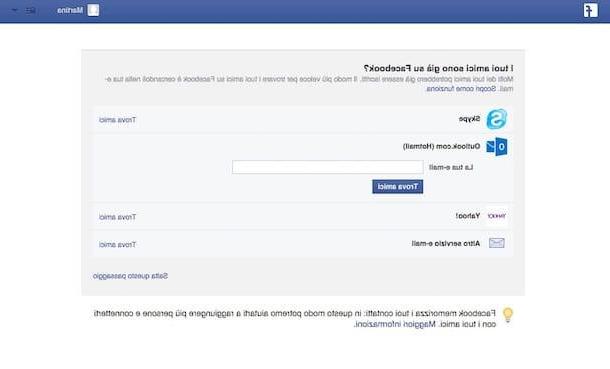 At this point I can not help but tell you: congratulations, you succeeded, you have just completed the procedure to create a Facebook account.
Create Facebook accounts from smartphones and tablets
If you want to create Facebook accounts and you want to do it from your smartphone or tablet, know that the procedure to follow is the same as I indicated to create Facebook accounts from your computer.
However, if you have downloaded the official application of the social network on your mobile phone or tablet and want to find out how to create Facebook accounts directly from there, the procedure is slightly different.
To create Facebook accounts from the app available for smartphones and tablets, you must first start the application by pressing its icon on the device screen where all the apps are available.
Once the main application screen is displayed, tap on the item Register on Facebook which is located at the bottom, then presses the button Continue and choose whether to subscribe using your phone number or your e-mail address.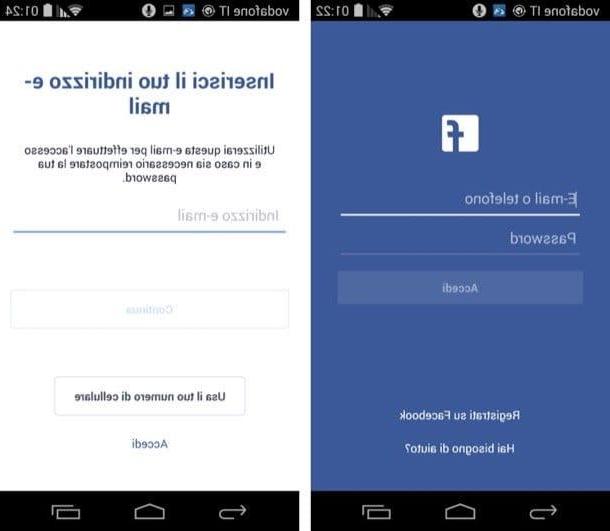 After choosing one of the two options and after providing your email address or mobile number, tap again on Continue, type your name and your surname by filling in the appropriate fields displayed on the screen then go on again.
Proceed by entering the password you want to use to access Facebook, then indicate your date of birth in the appropriate drop-down menu and tell the application if you are a man or a woman.
Hurray! Again you managed to create Facebook accounts. Now you can finally access your profile on the social network using the combination email address / password or mobile number / password you set during the registration phase.
Before leaving you free to have fun with your newly created Facebook account, however, remember to check your identity by clicking on the confirmation link in the e-mail message that Facebook has sent you via email in case you have chosen to make registration via e-mail address or to enter the verification code received via SMS if you have chosen to create a Facebook account with your mobile number.
How to create Facebook accounts