Index:
Spreaker (Web / Android / iOS)
Soundcloud (Web / Android / iOS)
Radionomy (Web / Android / iOS)
Other services to create Web radios
Spreaker (Web / Android / iOS)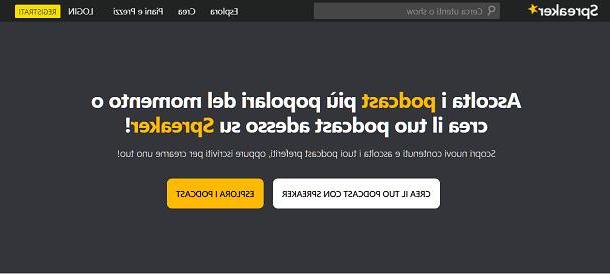 If you want to create a web radio using an online service free that allows create a free online radio, record programs, carry out live broadcasts and freely manage the program schedule of the broadcaster, then first contact Spreaker.
This Internet site is rather used by those who want to make their own radio program as it has a vast archive of songs and jingles to be freely included in the shows and does not require technical knowledge to be used. It is therefore one of the best solutions also because of its user interface completely in your language. How do you say? Do you think it can be right for you? So what are you waiting for to try it out, follow the instructions I'm about to give you.
The first step you need to take is to connect to the Spreaker website and click on the button Subscribe, which is located at the top right.
On the page that opens, fill out the form with your details indicating, in the respective text fields, your name, your email address and the password to be used for registration. Then press the button I'm not a robot to pass the captcha check and press the button Subscribe to create a free account on the site.
Alternatively, you can register faster on the Spreaker website by clicking on the buttons Facebook o Twitter, by creating your account through one of the two social networks mentioned.
Once this is done, then log into your inbox and click on the button contained in the email received from Spreaker to confirm the creation of your account and access the service by pressing the button Continue.
At this point, if you want to start creating your radio show right away, all you have to do is click on the button Crea (top right) and choose one of the available options.
In fact, you can see on the screen different solutions regarding the creation or import of a podcast within the platform. These choices are very important as you will need them to get you off to a good start.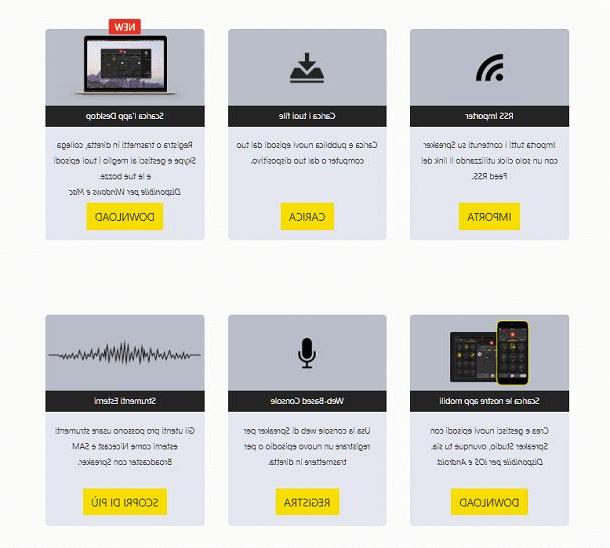 If you already have a Web Radio and want to import it to Spreaker then you will have to press the button Import next to the box RSS Feed. There are also other alternatives including the possibility of loading a previously recorded file (button Charge), or you can use the tool Web-Based Console pressing the button Register.
You can also use the Spreaker app for Android and iOS; in this case, press the button Download and you can also find the link to download the Spreaker application for Windows computers.
Note that if you have chosen to use the tool Web-Based Console you will then have to fill in the form that is proposed to you, typing the title of the episode and indicating its reference tags (maximum 5). Then indicate the name of the Show pressing the button New: you will be able to give a title, upload an image and select the language of the podcast you are about to create.
Once this is done, to continue you will then have to press the button NEXT and you will be able to view the registration tool called DJ Console. Obviously take into account that, if you will be asked, you will have to make sure that Spreaker obtains permissions to access your microphone and any recording tools you use.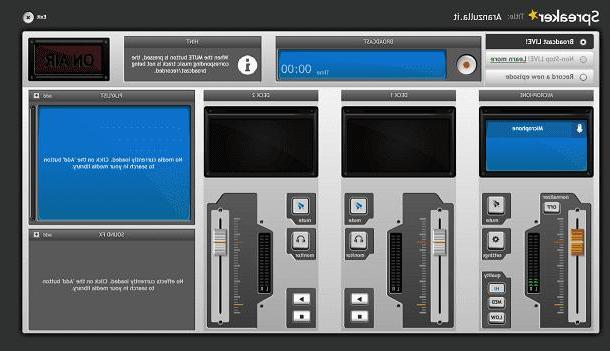 To record a radio show, at the very least you need to use a microphone connected to your PC and a lot of creativity when it comes to the content to talk about. In case you need to authorize the DJ console to interact with your microphone or other connected peripherals, click on the button Settings (symbol of a gear).
At this point, you are ready to record your show, click on the red button corresponding to the section Recorder. To add songs, jingles and loops to the show, instead, click on the button Add (top right) and, in the window that opens, use the tab Explore to browse all available content.
Then click first on the name of the artist, then on the name of the album containing the song you want to include in your show and click on Add to add the song (or jingle) to your recording.
When you have selected all the songs you want to include in the show, click on the button Close (top right) and drag the contents of the Playist (on the right) in the two sections Deck that are located in the center of the DJ console so that you have the songs or jingles you want to use first.
To start or stop the songs and adjust their volume, all you have to do is use the buttons and the adjustment bar under the two panes in which you dragged the latter.
When you have completed the recording of your radio show, all you have to do is click on the button Stop present in the box Recorder and then click on the button Yes Publish to publish your podcast. This obviously should not be done when you record a live show which is automatically published.
Obviously, to reach more listeners you can share your radio program on the main social networks; However, please note that some advanced features of this Web radio recording tool are only available to users who have subscribed to a version of payment.

Soundcloud (Web / Android / iOS)

Among the Internet sites I want to advise you to use to create a web radio is the popular Soundcloud web portal. In this case, however, it is a different tool from the previous one indicated as Soundcloud is a platform in which to host a podcast already recorded previously.
Soundcloud is in fact a platform for listening to streaming music dedicated to independent artists: in fact, remixed music tracks or covers of existing songs are hosted. This website also has a section dedicated to podcasts and you can therefore use it for free to expand the audience of your listeners.
To use Soundcloud and start publishing your podcasts you will need to connect to its official website and register an account free pressing the button Register. You will then be prompted to register via Facebook or Google account, or by typing an email address.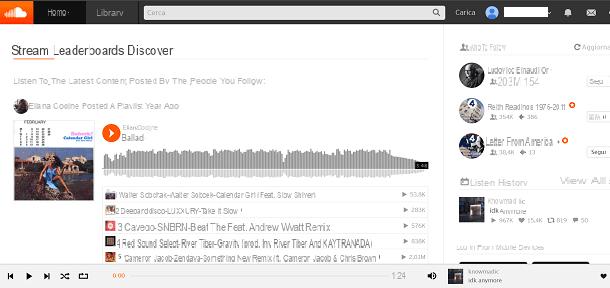 Once you see the Soundcloud home screen you can upload your podcast by pressing the button Charge located in the upper right corner and selecting the previously recorded file from your computer.
You can also use Soundcloud via mobile devices by downloading the free application for Android and iOS.

Radionomy (Web / Android / iOS)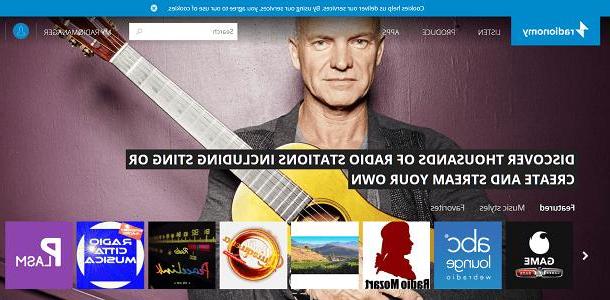 Working similar to Spreaker, you can also use the Radionomy website to bring your Web Radio to life in no time and via the Internet.
Can only be used after registering an account free, Radionomy has a user interface in English but is still easy to use.
To start using it you will need to register via your Facebook or Google profile or by indicating an email address or password. From the main screen then press the button Create Your Radio to do this and indicate your willingness to create a Web radio.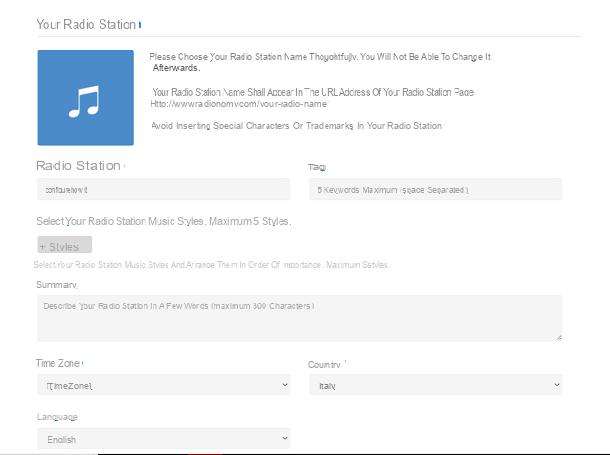 You will then be asked to completely customize your profile and to indicate more precise information regarding the Web radio you want to create in order to help you reach a more targeted audience.
This website is also used for listening to streaming music and is also available through a free application that you can download from the PlayStore for Android and from the App Store on iOS.

Other web services to create web radios: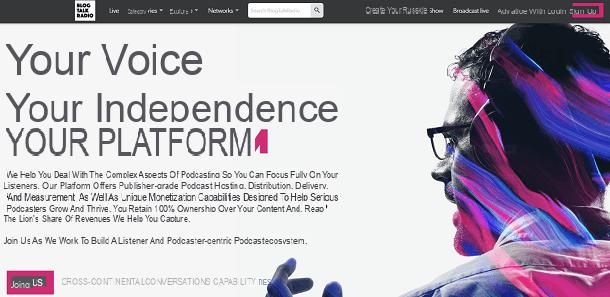 Haven't the tools I indicated to you in this tutorial been able to intrigue you in particular? Would you like other similar tips to be able to have more alternative solutions for creating your Web radio? Okay, then take a look at other really interesting proposals that I point out to you below.
Shoutcast (Web / Android): this is an Internet site with similar functionality to those of the previous resources indicated. Upon registration free allows you to create a personalized radio station by integrating a community of listeners. It comes with a language user interface English and it is also present as a free application for Android.
Blog Talk Radio (Web): this is another platform for listening and publishing thematic podcasts that can also be used in a free but with limitations and different paid plans, subscribe to them optionally. The website is in English.
How to create web radio