Check installed apps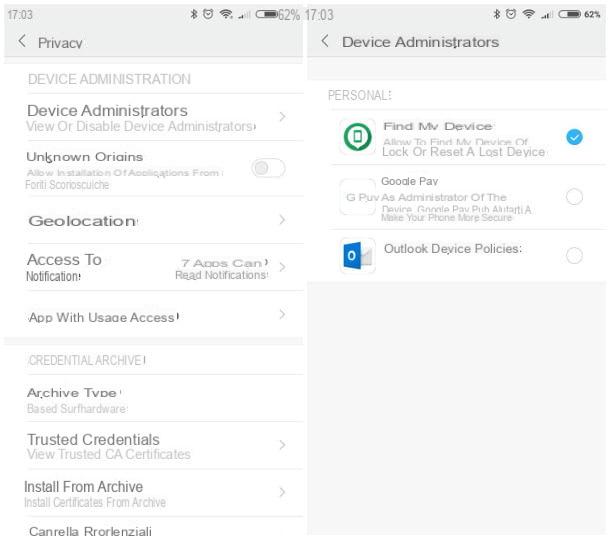 The first thing I recommend you do for do not let your phone calls be recorded Is that of check installed apps on your smartphone, as some of them could be improperly used to track the activities carried out by the user, without him noticing.
Usually, they are used for this purpose app born for more than legitimate purposes, such as those for the parental control, therefore designed to allow parents to check the activities carried out by their children on their mobile phones, but which are sometimes installed by overly jealous partners or by thieves to monitor the activities of others.
Among the best known apps of this kind there are Qustodio e MobileFence which, as I explained to you in this other guide, allow you to control the calls of another mobile phone with extreme ease: just install them on the "victim" device, connect to the device of the latter through a simple initial configuration procedure and monitor the call log remotely, using another mobile device or computer.
If you want to make sure that no such apps are installed on your smartphone, you need to check if they exist elevated app (if you have a terminal Android) or if there are gods custom configuration profiles (if you have a iPhone), as parental control apps must have advanced privileges to function. Here's how you can do this simple control operation.
Your Android - go to the menu Settings> Security> Administer device or Other settings> Privacy> Device administration and carefully check that there are no "suspicious" applications on the list. If there are, however, disable them by removing the check mark next to their icons and uninstall them immediately.
Your iPhone - go to the menu Settings> General> Device Management and carefully check that there are no profiles associated with "suspicious" apps in the list. If there are any, uninstall the app associated with the latter, go back to the section dedicated to profile management and, after tapping on the item relating to the custom profile of the app you just removed, press the button Eliminate profilo. Then type the security code set on your iPhone and press the button Delete. If you do not see the "Device Management" item in the Settings, however, it means that on your iPhone there are no apps installed that require special permissions and for this you can feel reasonably calm.
Check for spy apps
In addition to the parental control apps I told you about in the previous chapter, you have to check for the presence of spy apps, i.e. software developed specifically to spy on user activities. In addition to being used to record calls, these apps are even able to detect text typed on the keyboard, read sent and received messages, access the device's geographical location and take control of the camera, without the user noticing. not at all!
Before checking for the presence of spy apps on your smartphone, know that, usually, these software are able to hide, so it is difficult to find them by checking the list of applications installed on the device and, for this, you have to use some particular procedures aimed at identifying them (and uninstalling them): below I illustrate some of the most effective.
Start the browser and try to connect to the addresses localhost: 4444 or localhost: 8888, which are used by many spy apps to hide their configuration panel, through which it is possible not only to identify them but also to disable and uninstall them (provided you know the relative protection code).
Start the dialer, i.e. the screen that allows you to dial telephone numbers and enter the code *12345, so as to try to access the possible configuration panel of the spy apps (provided that there are any on your device).
If you have a terminal Android subjected to rootavvia SuperUser / SuperSU and check for any spy apps among those that have asked for and obtained root permissions. If the search reveals the presence of "suspicious" apps, immediately revoke the root permissions to these apps and uninstall them.
It was arranged di Jailbroken iPhoneavvia Cydia, check if any "suspicious" apps are installed and, if so, uninstall them. However, I advise you to remove the jailbreak to completely eliminate the possibility of running into similar unwanted installations.
Run a malware scan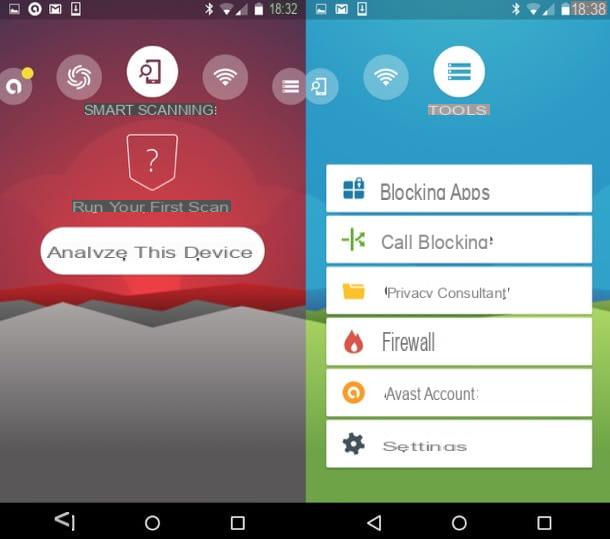 Another thing I recommend you do, if you have a terminal Android, is run a malware scan, so as to find any malicious software that could be used by someone with intent to monitor your activities, including phone calls.
Even if it's actually already there on your Android device Play Protect, the antimalware developed by Google that serves to verify the reliability of the apps that are downloaded from the Play Store, I recommend that you also use a third-party solution, so as to have a "second opinion". Among the best antimalware on the market, I recommend using Avast Mobile Security e Mobile Security & Antivirus by ESET, which I told you extensively in this other guide.
You have a iPhone? Well, then you shouldn't worry too much about malware because the risk of installing them on the famous Apple smartphone is very low. Unlike Android, in fact, iOS is quite solid as an operating system and, what another relevant factor, is less widespread than the "green robot" and, consequently, suffers fewer attacks by cybercriminals. Only if you have an iPhone "unlocked" with the jailbreak do you have to worry about the risk of running into a malware: by eliminating it, however, you can go back to sleep reasonably soundly.
Avoid root and jailbreak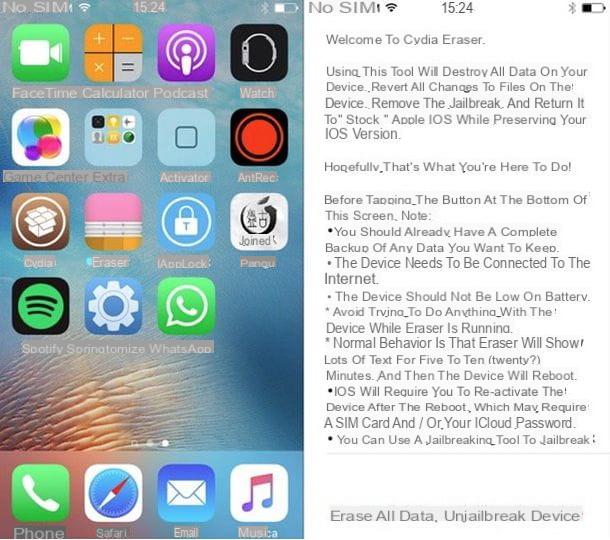 Avoid root and jailbreak, or the procedures that allow you to "unlock" Android and iOS to perform actions that would otherwise be impossible to perform, is important if you want to minimize the chances of being spied on when making phone calls.
As useful as they may seem, the procedures in question expose your smartphone to risks such as those related to the installation of spy apps and the infection of malware, which as I have already fully explained to you in the previous lines, could be used to record the phone calls made on your device.
If you have already rooted or jailbroken your mobile phone, know that you can retrace your steps using the appropriate option of the app SuperSU (on Android) or by restoring completely iOS (on iPhone), as I have already extensively illustrated in my guides on how to remove root and how to remove the jailbreak.
Other useful tips for not having phone calls recorded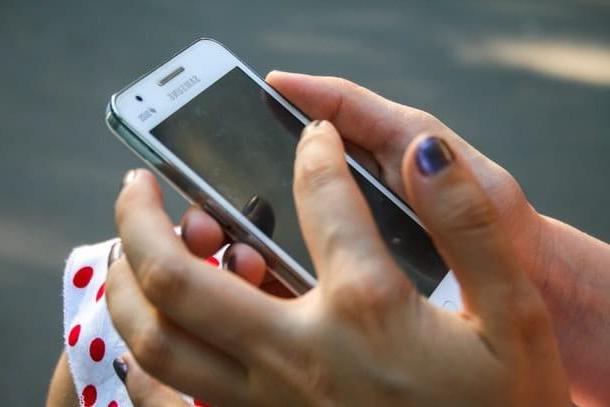 I conclude this guide with other practical tips on how not to have phone calls recorded that will surely come in handy to avoid falling victim to the snoop on duty.
Do not lend your smartphone to strangers - it is important to do this to defend against techniques of SOCIAL ENGINEERING, which are perpetrated by cybercriminals (or their accomplices) to steal the smartphone of their victims in order to install spy apps on it with which to spy on incoming and outgoing calls (and more).
Don't speak loudly in public - it is important to do this especially when talking about confidential matters over the phone. The phone call could be intercepted by potential snoopers who could steal the information you are talking about with your interlocutor. If you have to communicate with another person and you are in a public place, perhaps it would be better to prefer chats to phone calls.
Lower the volume on the call - if the volume of the audio in the call is very high, people close to you can easily hear everything that is said by your interlocutor. By lowering the volume you can minimize this possibility.
Avoid applications from unknown sources - if you usually make calls over the Internet with apps like WhatsApp or Skype, make sure you install them only from the official store of your device (Play Store for Android and App Store for iOS).
I will avoid the public Wi-Fi withdrawal - Public Wi-Fi networks are often "hunting grounds" for the bad guys. Therefore, if you intend to make phone calls over the Internet, make sure you are using a secure network, even the operator's 4G / 3G network is fine, the important thing is that it is not a public Wi-Fi network.
How not to have phone calls recorded