Preliminary information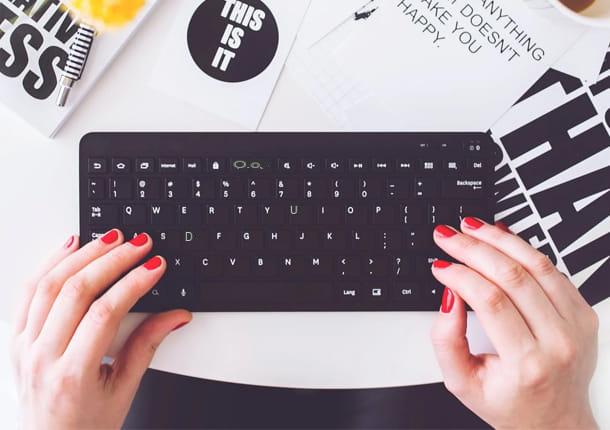 Before explaining in detail how to open a Blogspot, that is, a blog on the Google platform, let me tell you about this service.
Blogger is a service provided by Google which allows anyone to create their own blog in a few simple steps. The service is free, as long as you have a Google account, to which the blog will be linked. Thanks to this platform, millions of users have already created their own blog, taking advantage of the advanced tools present in it.
By subscribing to Blogger you will in fact have the possibility to completely customize the style of your blog, inserting texts and photographs or changing the graphic style to your liking. Blogger also allows you to register your blog through the free domain blogspot.com or to purchase a custom domain (starting from 12 euros / year) through the platform itself. This way you can decide the name of your blog without any kind of commitment or difficulty.
You will also be able to enter YouTube's ADS, but click on them, on your site, in case your blog starts to be very successful: in this way you will make profits simply by writing, thanks to the Google AdSense platform integrated into your blog.
How to create a blog on Blogger
Now that you know Blogspot / Blogger in more detail, you are ready to start your own blog. How? Continue reading the next paragraphs and I will explain step by step how to get your own space in which you can freely write whatever comes into your head (within obvious limits of decency and common sense)!
How to sign up for Blogger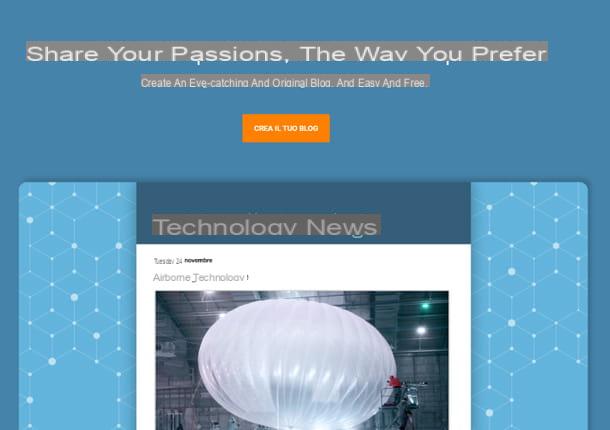 As a first step, open your browser. To operate on Blogger it is necessary to use an advanced browser that supports the functionality of the service: any modern browser is able to use Blogger but if you are not sure if your browser is suitable, you can use Google Chrome. You can read my guide on how to download and install Google Chrome to find out how.
Now that you've opened your browser, visit the Blogger site to get started. Then press the center button Create your blog. You will be offered access to Google through a Google account. If you already have one I recommend you use the one proposed, otherwise you can press the button Use an altro account o Create an account, to create a new one. If you don't know how to create a Google account, don't worry: I've written a guide on how to create a Google account that you can read to find out how.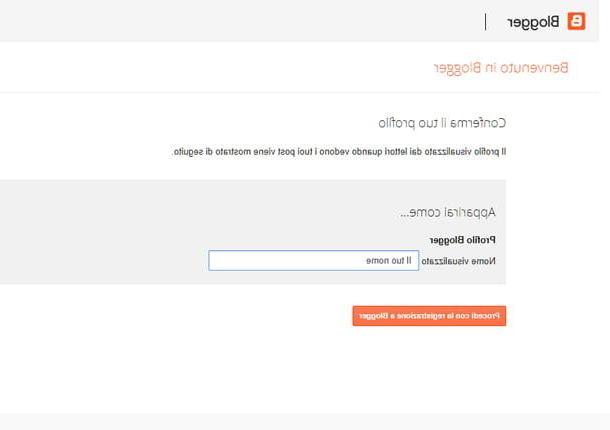 You will then be prompted to enter yours blogger name: choose carefully which name to display on your blog, because it will be your signature for all the articles you publish! When you have decided, write in the field Visualized name the name you want to use and press the button Proceed to sign up for Blogger.
You will then be redirected to your Blogger control panel: you are now one step away from creating your blog. Press the button Create new blog to proceed: at this stage Blogger will ask you to enter a title and an address, and then choose a theme. In the field Address you will have to choose a name that represents your blog, without spaces, and which will automatically be transformed into a blogspot.com address, totally free, connected to your space.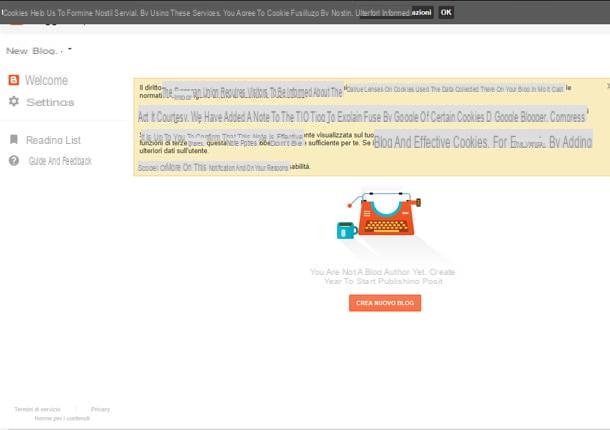 Not sure what to write? Remember that these choices will be your business card, and will be the first impression you make of your blog to visitors. Although I'll tell you how to change them later, take your time to think about it. When you are done, click on the button Create the blog and subsequently on No thanks, to keep the service free.
That's it - you are the new owner of your blog! You can reach your blog by typing the address chosen previously, or by pressing the button directly View blog at the top left. How do you say? Do you want customize your blog a little more before starting to write? Don't worry, I'll tell you how to do it right away.
How to customize the blog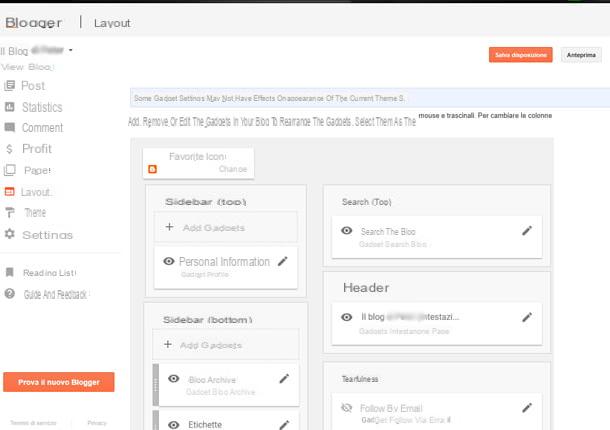 Now that you have a blog, I'm sure you would like to customize it as much as possible, to make it truly yours. I'm right? If so, here's what you need to do to get the most out of your new blog.
The first step you need to do is to press the item layout in the left menu. The page you will be taken to may be a bit confusing, but I'll tell you what it is right away. The blocks on this page represent elements of your blog, which you can view by visiting it or by pressing the button Preview. Thanks to this tool, you can use the button with thepencil image to modify the writings.
You can, for example, edit the section Heading to customize the visible title of your blog. Instead, using the button with the drawing of the eye you can make certain sections invisible or visible. If, for example, you want to hide the search bar of your blog, just press the aforementioned button, next to the item Search the blog. Always remember to save your changes by pressing Save arrangement.
You can also change the graphic theme of your blog, at any time you want, by pressing the button Subject in the left menu. On the proposed page, you can choose the graphics you like best and apply it to the entire site. You will see the changes made in preview, as soon as you click on one of the proposed themes, and you can apply them to the entire site by pressing the button Apply to blog.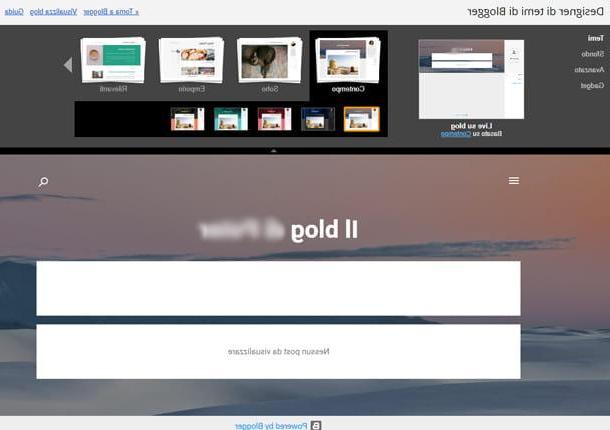 Once you have chosen a theme you like, you can further customize the graphic layout of your blog by pressing the button Customize in the center of the theme section.
Through the menu at the top left you can decide to test new themes, to set a background color or image and, even, thanks to the button Advanced, to choose the style and colors of every single element of your page.
Finally, by pressing the button Gadget you can decide whether or not to show some graphic elements on your blog, such as the gadget Pages, which allows you to show a menu containing the various pages created over time.
As for monetization, you can set the use of Adsense by clicking on the item Profits in the left sidebar and following the instructions on the screen, in order to join the program and get the code to be included in the blog to display the advertising banners to readers and make money. More info here.
How to blog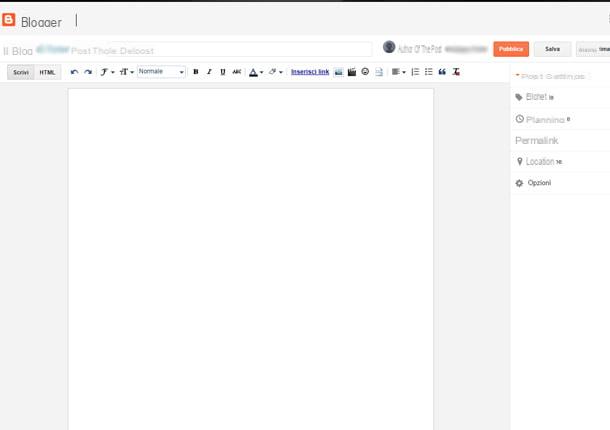 Now that you've embellished your blog and customized it to your liking, you're certainly wondering how to create your own content, be it pages or articles, right? Well, that's all.
To start writing on your blog, you can press the button Post present in the left menu. As you can see, Blogger himself proposes to create a new post by clicking on the option Create a new post or on the orange button New post.
On the proposed page you can write your post comfortably, using the tools provided by Blogger. The screen is very similar to that of any writing program and allows you to insert text, images, links and much more in all simplicity.
For example, you can insert images by pressing the button with the drawing of a frame and choosing whether to upload them from your PC or whether to reuse images already uploaded to the blog. You can also decide to insert images from links, inserting it in the section Give a URL.
When you have finished writing your post and are ready to publish it, press the button Public located at the top left. Instead, press the button Preview to check the result before making it visible to all or on the button saving the draft to resume work at a later time.
Now that you have published your first article you can view it by pressing Show on the page proposed by Blogger or by visiting your blog through its address.
In addition to normal articles, Blogger also provides the ability to create new pages within your web space. Just like any website, in fact, a blog can contain both articles and pages, thus giving you the ability to further customize the appearance of the website. your site. To do this, press the button Pages in the left menu and then the button New page.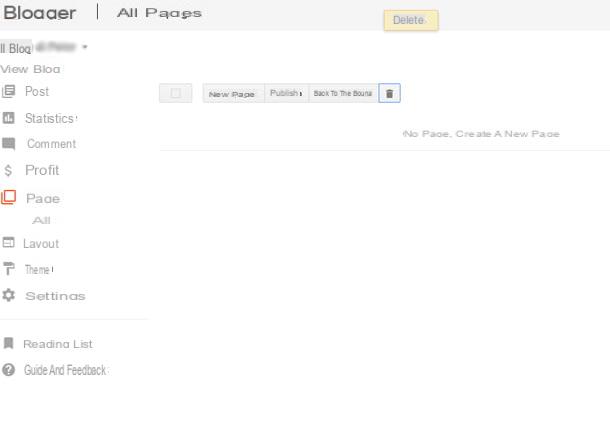 The way to create a page is identical to that of a normal article, so go ahead and create it as you like and then publish it through the button Public.
The pages created in this way will not be displayed together with the blog articles, but can be inserted in a menu as indicated in the chapter on personalization.
How to use Blogger from smartphones and tablets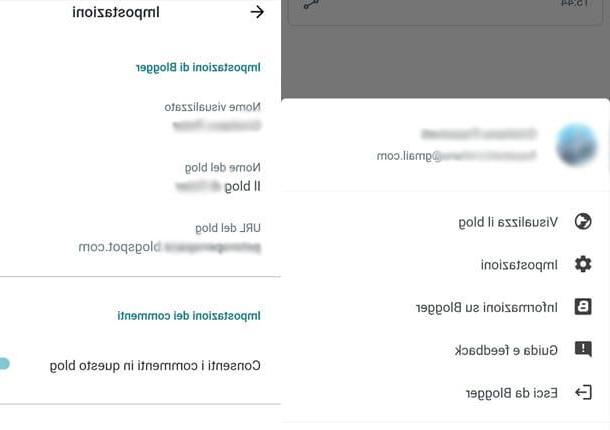 Now that you know how to customize and add content to your blog, I want to explain how to manage it too from smartphones and tablets. Google has in fact made available to users a convenient app for Android devices that can be freely downloaded and used from the Play Store, by visiting the link just reported (or looking for the app in the store) and pressing the button Install.
When opening the app for the first time, you will be prompted to log in with the Google account you used to create the blog. Once this is done, you will find yourself in a screen from which you can view the published posts and the drafts present. You can also decide to write an article from a smartphoneby pressing the circular button with the image of a pencil at the bottom left.
Pressing onpicture of your account, at the top left, you can also access other functions related to your blog. You can, for example, press on Settings to change your display name, blog name or even its address. In short, even without having to access your PC, managing a blog with Blogger is child's play!
How to create a successful blog
Your blog is online, it is personalized and you can manage it both from PC and smartphone. It's time to post your content and spread it on the Web. But there are some tips I want to give you for create a successful blog. If you follow them I am sure you will get excellent results.
The first suggestion I feel like giving you is that of update your blog often: Don't leave your readers without articles for too long or they may lose interest and stop following your updates. Be creative: try to insert regular columns or updates on the topic you are dealing with.
Also try to always enrich your posts with images, but be careful not to use copyrighted images. If you have the opportunity, take photos yourself or produce screenshots to post on your blog, or search for free images to download. Posts containing images are much more pleasing and grab the reader's attention better.
If possible try to include in your articles some links to other posts on your blog. This will allow the reader to discover other sections of your web space that they might otherwise never see. Links to external sources are also useful, especially if the article is about verifiable facts covered by other websites.
I also advise you to carefully take care of thelook and feel of your blog: remember that it will be the first thing your readers will notice. A well-kept site that is pleasant to navigate can make the difference between a successful blog or not.
Then remember to be present in the communities and on social networks, nurturing your personal branding: find more information on how to create a successful blog in my tutorial dedicated to the topic.
How to create a Blogspot