Index:
How to create a custom logo for free

Launchaco Logo Maker
canva

How to create a custom logo for a fee

Mantic design
BestCreativity
How to create a custom logo for free
Would you like to create a custom logo using tools made available by Internet sites but, since you are still not sure about the aesthetics of the logo itself, you wouldn't want to pay? I understand you, it's not a problem at all. In fact, I want to show you some possibilities that you have available for the creation of a logo in a completely way free.

Launchaco Logo Maker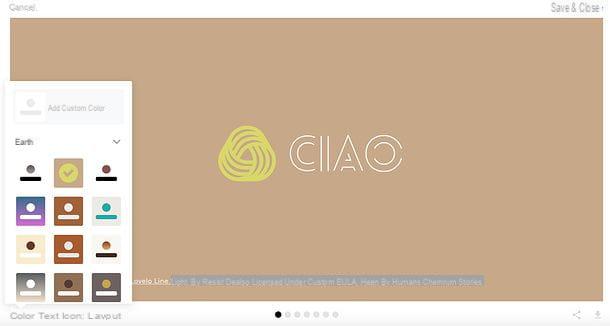 Among the best Internet sites that allow the creation of a logo completely free there is Launchaco Logo Maker, which allows you to create a customized logo in a rather simple and intuitive way. This tool is accessible online through the main Web browsers and aims to be used even by the less experienced in graphic design, making it easy to use even by those who are not very familiar with the computer. In fact, it allows you to easily choose between various sets of fonts, colors and icons.
To use this website and start creating your custom logo, the first thing you need to do is open your favorite browser (eg Chrome or Firefox) and go to the official Launchaco Logo Maker website.
As soon as you have loaded the home page of the site, start by clicking on the button Create your logo for free and type il name of your company or site / project in the appropriate text field located in the center of the screen. Then it indicates i font that you prefer the most among those that will be proposed to you by the service and repeat the operation until you are asked to also choose a color set.
Once this is done, choose up to three icons to use in your logo, click on the button Continue with xx icons which is located at the bottom and you will be offered a first logo created on the basis of the fonts, colors and icons you have chosen. If the proposed logo is to your liking, click on the item first Edit, Download, or Share located at the top left (appears by moving the mouse cursor on the preview of the logo), then on the icon of arrow located at the bottom right and, finally, on the button I Agree, Let's Download This! to download it to your PC.
Alternatively, if the first proposed logo is not to your liking, click on the item Edit, Download, or Share (top left) to modify it using the appropriate menu located at the bottom left: Color to choose a set of colors; Icon to select a font; Icon to select an icon and layout to choose the layout (i.e. the arrangement of text and icons) to use for the logo. .
To consult the conditions of use of the fonts and icons used for your logo, click on the links under the preview of the same (eg. [font name], by [author name] licensed under [license type]).
canva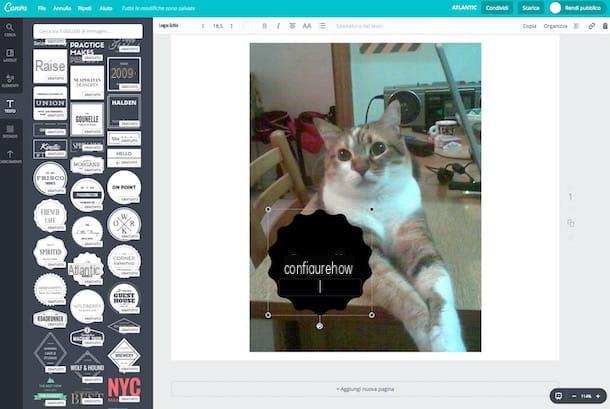 If your intent is to create a custom logo, I suggest you refer to the Canva website, an online creation tool that allows you to give space to your creativity to give life to digital graphics projects.
The main feature of Canva is its extreme ease of use and the wide range of customization possibilities. The tools for creating logos and digital graphics projects can be used by anyone, as no particular skill is required. I therefore choose to recommend it not only for the creation of a logo, but also for the creation of several other graphic projects.
That said, to use Canva's logo creation tool, you first need to go to its official website via the browser you usually use to browse the Internet.
From the home page of the website, first proceed by registering (you can sign up with Facebook, via Google account or via email address). If this is your first time ever using Canva, you will need to follow an introductory tutorial through which you will be guided in choosing the digital graphics project to create.
Once you have access to the Canva tool, choose to create a logo via the menu Create a project; for its customization you will have the menu items available Layout, Elements, Text, Background e Uploads. It will be through the combination of the tools present in these menu items that you will be able to create your personalized logo completely free of charge.
When you are satisfied with the result, press the button Download twice in a row. Canva has no limitations in the download of digital projects, however there is the possibility to pay individually to remove the watermark of some elements, or to subscribe to the subscription version for unlimited access to the service.

How to create a custom logo for a fee
Do you need to create a custom logo and are you also willing to pay a sum in money, if the result obtained will be considered extremely professional by you? Do you have little time to devote to creating a logo and would like some suggestions on how to proceed? If the answer to these questions is yes, then I recommend that you continue reading this guide to find what you are looking for.

Mantic design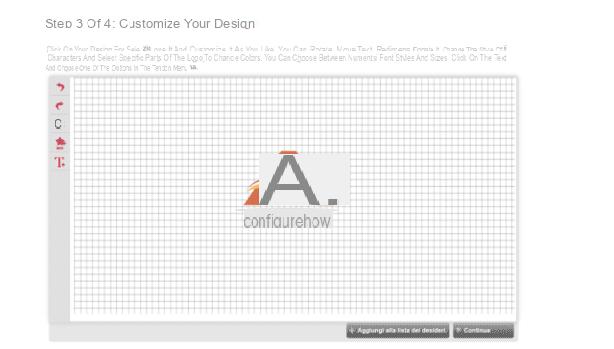 Among the Internet sites that allow you to create a custom logo there is the Web Design Mantic portal, which in my opinion is absolutely a great choice if you need to create a logo and want to waste little time in creating it.
This web portal offers the creation of a logo starting from numerous pre-established examples, which are characterized by their unique and original style. However, this web portal only offers the customization of the logo for free; to be able to download it you need to pay.
To use it, then go immediately to its official website and press the button Logo creation. Now customize the structure of the logo itself by choosing the main characteristics by clicking on Abstract, Draw Symbol o Letters and pressing on Next. Then select the font and number of colors and press on Next when required. Now you will need to type your company name in the text field Enter the company name and select your sector from the drop-down menu. Then press the button Show my drawings.
You will then be offered a series of logos created on the basis of what you have set; then choose one by clicking Select and you will now have access to a screen through which you can make more customizations. When you are satisfied with the changes, click on the button Continue and register for the service. You will then be asked to pay for the logo in order to download it.

Best Creativity
Finally, as a solution to create a custom logo, I want you to contact a professional in the sector. In this regard, one of the Internet sites that I recommend is the BestCreativity portal.
I have chosen to tell you about this website since it substantially differs from other websites; its purpose is to bring together companies and professionals who work freelance in the digital graphics sector.
You can then use BestCreativity by going to its official website and then post an announcement regarding your willingness to commission the creation of a logo (but also other graphic projects); the website will put you in contact with professionals who will present their project with a contest. Once the jobs are presented to you, it will be up to you to choose the one that best reflects your needs and pay for the service performed.
How to create a custom logo