Preliminary information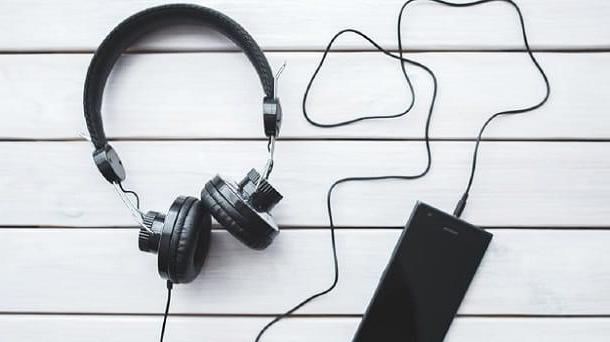 Before going into the details of the procedure on how to record a song with your phone, I think it might interest you to know more about the contexts of use of the solutions I am about to tell you about.
Well, many artists are used to record, with their smartphone, some drafts of what will be the final songs (to be perfected and then recorded in the studio). This is useful, for example, to remember a melody that comes to mind at any time, perhaps when you are away from a recording studio.
The use of these "specimens" can be of fundamental importance for an artist, since immediately recording an idea allows it to be preserved without alterations due to the passing of days.
To give you a concrete example, there are some artists who have even decided to keep parts of an audition in the final songs, as they could not record that part with the same "emphasis" in the studio.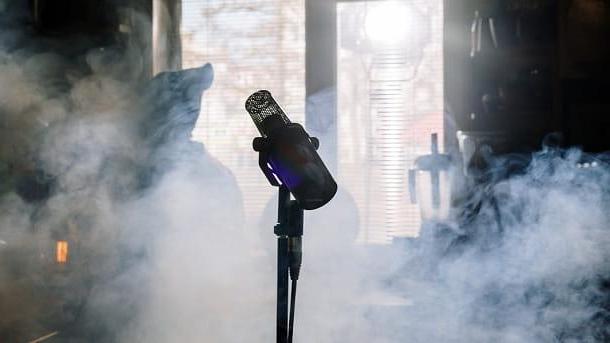 Of course, nowadays it is now possible to set up respectable home studios by purchasing the appropriate equipment. This allows many artists not to even have to move from home to record a song and this solution is also very popular due to the fact that it allows you to immediately "capture" an idea.
However, artists are well aware that inspiration can come at any time, perhaps while traveling. Put simply, even those with a home studio could find a useful ally in their smartphone.
By the way, you should know that some applications allow you to connect external tools to your smartphone: I am referring, for example, to microphones e musical instruments, which can make the final result more professional despite being recorded via a telephone. To do this, of course, it is necessary to purchase special ones adapters.
See offer on Amazon See offer on Amazon See offer on Amazon See offer on Amazon
In case you want to take advantage of this possibility, be careful to choose the right adapter for your instrument or microphone. In any case, among the applications that support external instruments, such as the guitar, there is Apple's GarageBand: app for iPhone and iPad that I will show you later in the guide.
For the rest, you can obviously do everything even without external accessories - in fact I will focus on this type of use of the app, much more "easy" and widespread - but it seemed right to let you know that there is also this possibility, so that you can possibly deepen it on your own if interested.
How to record a song with your phone
Once you've covered the possible use cases, it's time to take action and explore the best applications that can help you express your creativity on the go.
Voloco (Android / iOS)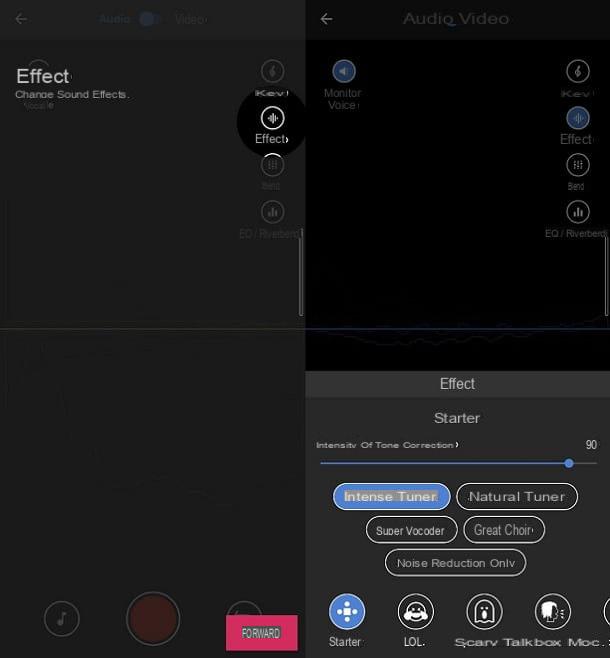 Among the artists who make more use of applications to record "on the fly" music tracks on smartphones there are, undoubtedly, those who belong to the scene rap and that trap.
If you also fall into this type of artist, the application known as Voloco could be for you. It is, in fact, a tool that allows you to quickly record your ideas by applying effects to the voice that can make a piece understand "how it sounds" right from the start.
To install the app, just open the Play Store (for Android devices) or the App Store (for iPhone), search "Voloco" e fare tap sull 'icona dell'app (a blue and red "V" on a black background). After that, press the button Installa / Ottieni and, if you're using a iPhone, verify yours identity mediante Face ID, Touch ID o password dell'ID Apple.
In case you have an Android smartphone without Google services, you might instead be interested in taking a look at my guide on how to install apps on Huawei devices without Play Store, in which I have explained a bit all the possibilities available.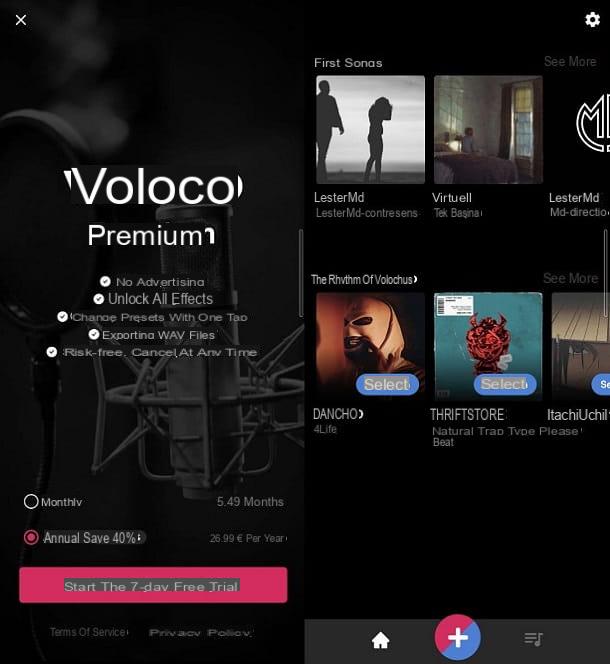 Once opened Voloco, provide the necessary authorization to use the microphone and choose how to use the app. In particular, a page will appear on the screen that will show you the possibility of subscribing to thePremium subscription. The latter costs 5,49 per month o 26,99 euro per year but one is not missing free trial of 7 days.
Premium membership removes ads, unlocks all effects and grants access to advanced features such as exporting WAV files. If you want to subscribe, you can proceed by choosing between the Monthly and Annual subscription, by clicking on the button Start your 7-day free trial and following the instructions that appear on the screen.
If, on the other hand, you want to use the free version of the application, which allows you to use only some effects, just tap on the icon X present at the top left. By doing this, you can start using Voloco right away.
To start a recording, just press the button + present in the lower center. The application will show you what all the elements on the screen represent, from voice monitor (to hear your voice in real time) atnote icon present at the bottom left (to select a base), up to the buttons Key, Effect, Mix ed EQ / Reverb.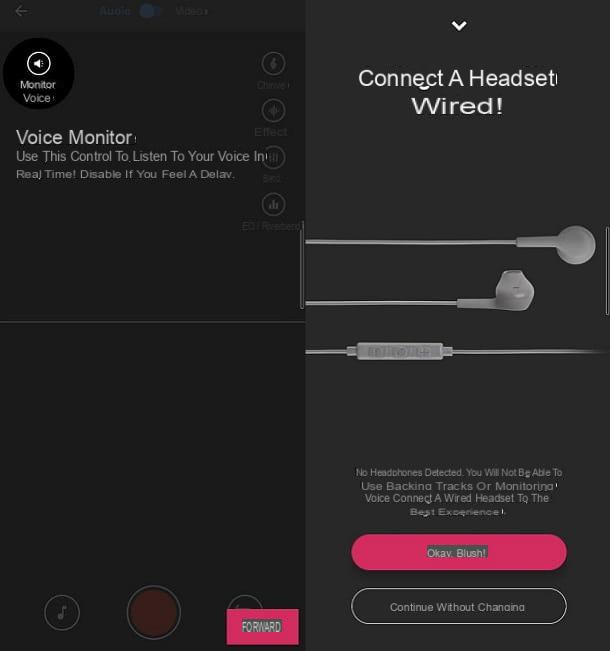 Once the "tour" of features is over, the application will advise you to wear some earphones with cable to get the best experience. You can also press on the button Continue without changing to do everything without, but my advice is to use external earphones, also because otherwise you will not be able to use the voice monitor.
In any case, before starting with the registration, I advise you to try to speak, so you can see the where they move and if the microphone has been set correctly. Once this brief verification has been carried out, just tap on red record button present below, to get you started.
At this point, you just have to indulge yourself with the app, choosing one musical base among those available, by correctly setting the key and selecting the effects that you think are more valid. In case you haven't noticed, you can too record videos while you sing: just use the appropriate one lever at the top and provide permission to use the camera. Here then your creative spirit comes into play: now you can make the song you have in mind!
It is difficult to give you advice, as everyone has to follow their own creative instincts, but I just give you some useful information on the effects available on Voloco. The latter are multiple and are divided into packages, from Starter a Sitar Hero.
The only package you have available if you have chosen to use the free version is that Starter, which includes effects such as Intense tuner, Natural tuner, Super vocoder, Great Choir e Noise reduction.
If you want some advice, to experiment with the potentiality offered by Voloco, I recommend that you try to use Great Choir, just to understand what the app can do. Also remember that you can set theintensity of tone correction: I suggest you take the necessary tests.
For the rest, once you have finished your registration, just press the button again red button present below to be able to listen to it again. You will also access the edit screen, where you can also find a feature of synchronization, to properly adapt your voice to the base.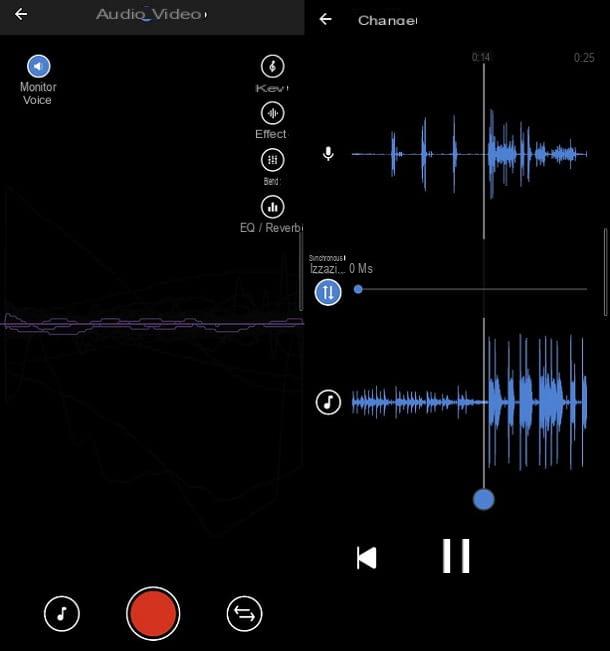 Once you've finished editing, just press the button first NEXT e poi quello Save to keep the recording in memory. Of course, you can change his name using the appropriate button.
Your recordings will remain available within the app and you can listen to them at any time by clicking onmusic note icon present at the bottom right of the main Voloco screen. If you want share a recording, you can do this by pressing onthree dots icon and selecting the option Share as Audio o Share as Video.
In this way, you will be able to share using the classic methods, for example via WhatsApp or Telegram, a .m4a file containing your registration. Perfect, now you know how to use the basic features of Voloco: you just have to indulge yourself!
n-Track Studio (Android / iOS)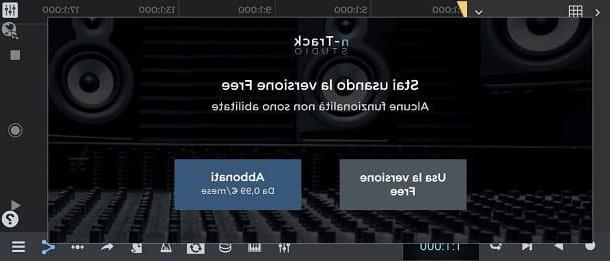 If you are looking for a more complete solution, I recommend that you take a look at n-Track Studio: app available for free for both Android and iPhone that can turn your smartphone into a recording studio and beat maker with a virtually unlimited number of audio, MIDI and drum tracks full of interesting effects and features.
As mentioned, it can be downloaded for free, but it includes in-app purchases which unlock advanced features, such as the ability to record up to 4 tracks simultaneously. There is also one Pro version application, sold to 29,99 € on Android and 32,99 on iPhone. The latter is used by the most demanding users, but in reality if you simply want to try to record songs using your smartphone you can also aim for the free version.
In any case, once opened n-Track Studio, provide the Permissions necessary for the proper functioning of the app and choose which one version use between that free or that ad subscription (0,99 euros per month).
After that, you will access the screen that illustrates the features offered by the application. You will notice that there are several interesting possibilities, such as the possibility of create rhythms e play the keyboard.
In your case, to proceed, just click on the icon Records audio. By doing so, you will enter the appropriate registration screen. Here you just need to tap on theregistration icon present at the bottom left to get started.
You may be required to disconnect the headphones, raise the volume and have a alignment test to the app. After that, tap the record button: you may be asked to connect headphones and press the button UNDERSTOOD.
At this point, that's it: you can record a song using your voice. Once finished, you can tap on theregistration icon to stop using the microphone. You can therefore listen again your registration, add effects, instruments e basi using the buttons at the bottom.
It is impossible to quickly give you a complete guide on this tool, as there are myriads of features available and it is a very complete application; but you can learn everything on your own, so that you learn how to use the tools that suit your needs. In this regard, you can take a look at the official video tutorials.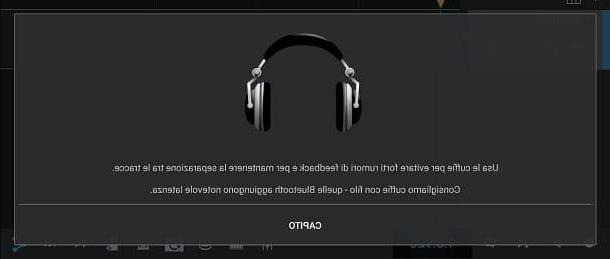 In any case, once the registration is finished, you can press onshare icon at the bottom right to export the song using link.
As regards the export through MP3, you need to subscribe to a paid subscription to remove one initial audio advertising added from the app.
GarageBand (iOS)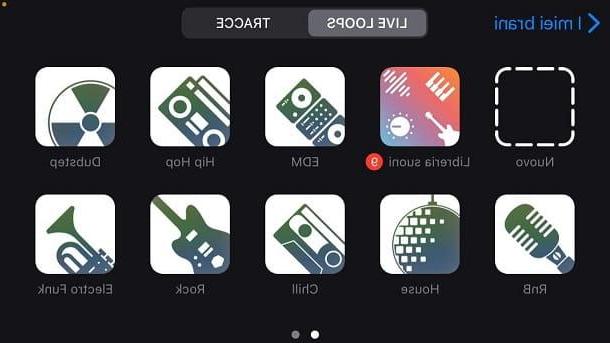 It was arranged di iPhone, you can not fail to take into account GarageBand: one of the most popular applications for making music from mobile devices. It can be downloaded completely free of charge from the App Store.
Once the application is open, press the button Live loops, so you can use the simpler tool GarageBand offers to create tracks. If, on the other hand, you want to register musical instruments, for example keyboard or bass, you can do this by tapping the button traces.
In any case, in this tutorial I will focus on the tool Live loops, as it is more suitable for novice users. To start creating a song, just press the button New, tap the button depicting a pen with squares (located at the bottom left), select one of the celle and press on the item loop.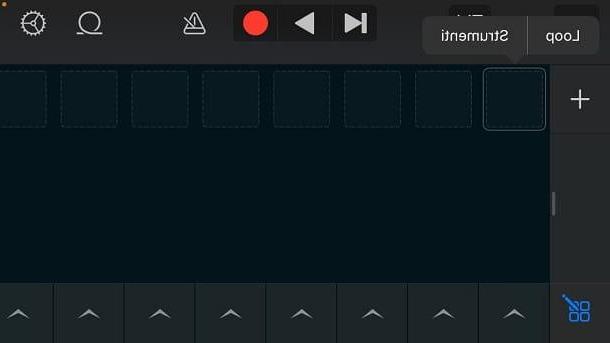 By doing so, you can use loops, that is tracks already created directly from the app developers. Using the Live Loops tool is therefore very simple: just choose the tracks that are right for you and drag them to the appropriate cells. After that, tap on the item end.
If you want record your voice, you can do this by pressing onmicrophone icon present at the top left, setting the various options and choosing from one of the voice presets available. Once you have made your choices, tap onred dot icon to start recording. Once this is finished, one of the cells will contain yours voice recording.
Then tap on theregistration icon and press on celle to activate the respective sounds, so compose your song in this way. Then just press again on theregistration icon to stop it.
Finally, if you want listen to the song you have created, just tap on the button Play. To save the project, click onicona della freccia verse il basso, located at the top left, and select the item My songs. This folder is also where you will find your saved projects. In short, everything happens in a very simple and intuitive way.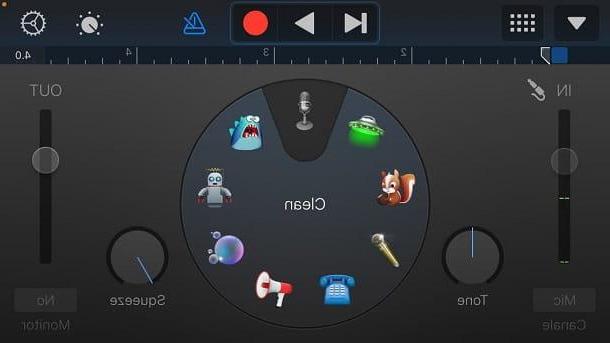 Obviously, the information I have given you can be useful for you to carry out a basic registration, but if you want to seriously use the tools I have provided you with it is good that you deepen them properly.
As for the Apple application, you may therefore be interested in consulting my dedicated tutorial and the GarageBand user manual for iPhone.
Other applications to record a song with your phone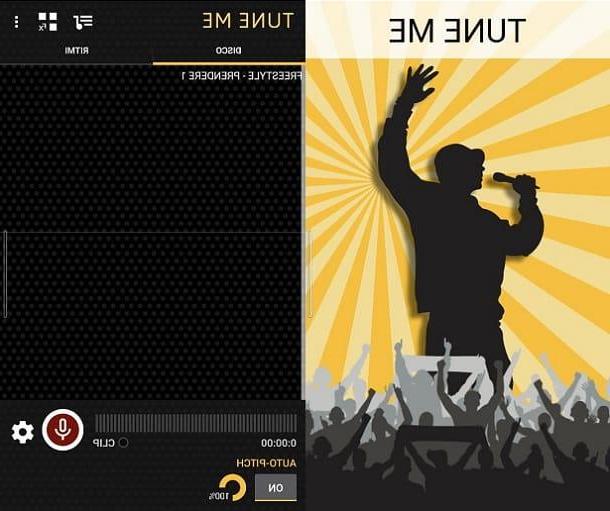 Of course, in addition to the ones I explained to you earlier, they also exist other applications that may interest you. Below is a selection you should take a look at.
Tune Me (Android): If you just want to hear how your voice sounds with an autotune effect applied, this application can allow you to do it in a short time. It can be downloaded for free, but it contains advertisements and only some tracks are free (there are also in-app purchases);
Waveeditor (Android): Suitable for those who know the musical environment a little better. It is used, for example, to record directly from synths / drum machines. To be explored if you want something more professional. The app is free, but contains advertisements and in-app purchases to unlock some advanced features such as certain effects and the recorder widget;
AutoRap by Smule (Android / iOS): If you are a novice user and you like rap, this app pretty much does it all by itself. It can also turn simple words into a rap song. The application is free, but includes in-app purchases to access certain effects and backing tracks;
RecordPad Audio Free Recorder (Android / iOS): an application as simple as it is useful for recording audio. It does exactly what it needs to do and is particularly light. It is free to download, but it contains advertisements and there are in-app purchases to remove the advertisements.
How to record a song with your phone