Programs to create video with photos for Windows
If you use a PC Windows and go in search of programs to create video with photos, take a look at the solutions listed below - I'm sure you won't regret it.
EaseUS Video Editor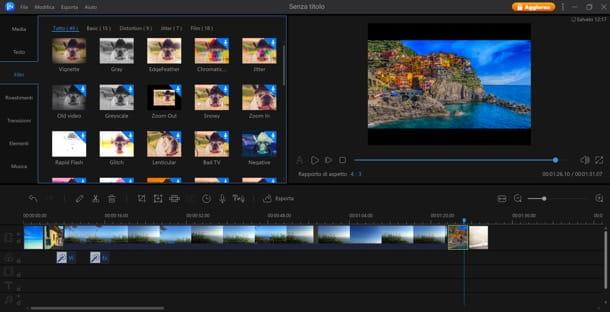 If you are looking for a program to create video with photos that is both powerful, flexible but very simple to use, I think you would do well to take a look at EaseUS Video Editor. It is a video editor for Windows that combines an extremely intuitive user interface (translated into your language) with a very wide range of interesting features: it supports videos of all major formats (including those imported from smartphones, tablets and cameras), photos, audio tracks and narrations recorded in real time. In addition, it includes 50 visual and transition effects, functions to cut, split and rotate videos, adjust zoom, add mosaic effect and much more.
When exporting, you can then choose from various formats, including DVD video, formats optimized for smartphones and tablets and videos optimized for uploading online to YouTube, Facebook, Twitter, etc. Interesting, right? Then let's take action!
To download EaseUS Video Editor for free on your PC, connect to the official website of the program and click on the button Free trial. Then open the .exe file obtained and complete the setup by clicking in sequence on Yes, OK, NEXT (four consecutive times), Install e end.
At this point, start EaseUS Video Editor and choose whether to make a project in 9:16 (Portrait), 16: 9 (Widescreen) o 4: 3 (Traditional); follow the initial tutorial and import photos and videos you want to use in your creation, by pressing the button Import (top left) or by dragging them into the program window. Repeat, if necessary, the operation also for the musical pieces to be used in the project.
At this point, drag photos, videos and music to the timeline of EaseUS Video Editor, arranging them in the order you prefer and, if you want, use the tabs Text, filters, coatings, Transitions, Elements e Music positioned on the left to add these elements to your creation (always dragging them on the timeline).
Once this is done, to apply changes to the video, use the player located at the top right (or the timeline itself) to get to the point of the movie of your interest and use the buttons in the center of the window to divide, crop, adjust the zoom, apply themosaic effect etc. By clicking on the icon of the pencil you can also edit speed, orientation, contrast, saturation, volume e audio fade of the selected item.
Once your creation is complete, click on the button Export (above the timeline), select the format where to export the video (by going to the Video platform you can find formats optimized for YouTube, Facebook, Twitter and other online services), choose the folder in which to save it (via the icon of folder) and start saving by pressing the button Export.
The free version of EaseUS Video Editor adds a watermark to the generated videos and does not allow exporting in Full HD. To remove these limitations and have access to other functions, you need to purchase the Pro version of the software, which costs € 46,95. More info here.
SmartSHOW 3D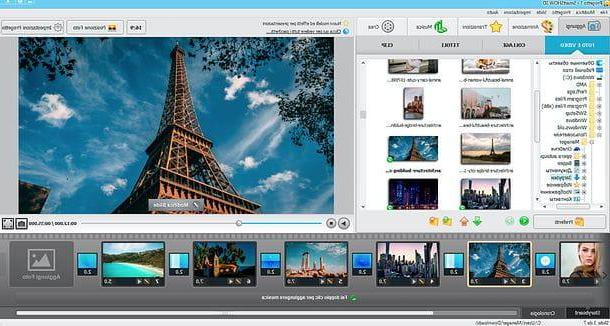 SmartSHOW 3D is a great program for create videos with photos and music in an extremely simple way. It features a fully translated user interface in in your languageno and many advanced features, including the one that allows you to create presentations with 3D effects. Plus, it includes over 100 transition effects, ready-to-use templates for making professional-looking videos, and a huge range of effects to make every presentation unique. The generated videos can be exported in various formats, including AVI, MP4, 3GP, MKV and WMV.
To download SmartSHOW 3D in a free trial version for 10 days, connect to the official website of the program and click on the button Download, in the center of the page. When the download is complete, start the .exe file just got it and, in the window that opens, click the button first Yes and then on those OK e NEXT.
Then place the check mark next to the item I accept the terms of the license agreement and complete the setup by clicking on the button first NEXT three consecutive times and then on Install e end.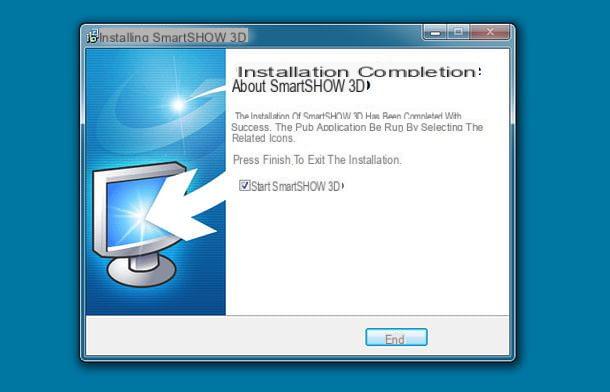 Once the installation is complete, start SmartSHOW 3D and, if you have an activation code for the program, register your copy of the software: to do this, click on the button Enter key and fill out the form that is proposed to you by entering, in the appropriate text fields, email address e key; otherwise click on the button Continue and continue with the free trial of the product.
Now you can take action. Choose, therefore, whether to start creating a new project, whether to create a presentation in 5 minutes (using one of the many models available) or if open a project already existing, by clicking on one of the available buttons, and unleash your creativity!
Then select the tab Add, located at the top left, to navigate the folder which contains the photo you want to use for your presentation, locate the images you are interested in and drag them into the timeline located at the bottom (the trial version of the program allows you to add a maximum of 15 slides).
If, instead of individual photos, you want to add collage composed of multiple images, screenshots with titles or delle clip, select the appropriate tabs located at the top, select the content of your interest and drag it to timeline of SmartSHOW 3D, below.
To add an effect, such as a 3D effect or a motion effect, to your presentation slides, select the tab Entrainment of SmartSHOW 3D (top), choose the type of effect you are interested in (eg. 3D effects) from the left sidebar, locate theeffect you like best and drag it into the timeline, more precisely on the slide to which you intend to apply it.
To preview the final effect, use the player located at the top right. I would also like to point out the possibility to modify the single slides, selecting them in the timeline and clicking onpencil icon present on them. This will open an editor to edit, through special tabs and menus, slide, level, animation e sonoro.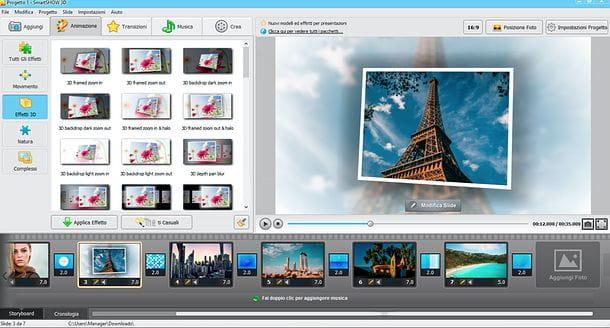 To add transition effects between slides, then select the tab Transitions of SmartSHOW 3D (top), click on the type of transition of your interest in the left sidebar (eg. 3D transitions o Gradient) and drag theeffect that you like best about timeline, more precisely in the space between the slides to which you intend to apply it.
As for music, you can add background music to your presentation by going to the tab Music of SmartSHOW 3D (above) and clicking on the button Music collection, to access a library of over 200 ready-to-use soundtracks, or on the button Add music from file, to select a song from your PC. Alternatively, you can select the tab Voice comments and record a narration from your computer's microphone.
Once you have selected the audio background of your interest, you can edit it by clicking on thescissors icon (to cut it) and adjusting volume and fades (by clicking on the appropriate button). Also, by pressing the button Synchronize, you can have SmartSHOW 3D automatically sync your slideshow music and photos. To add a song to your project, simply drag it to the bottom of the timeline of the program.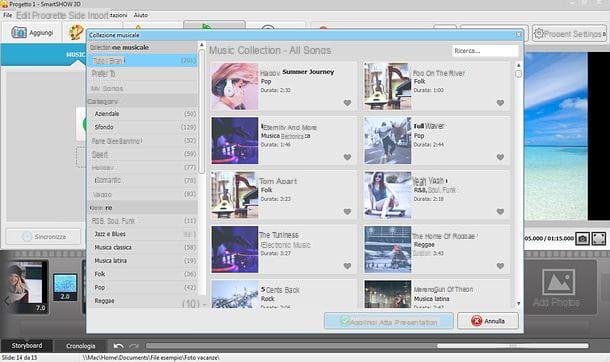 When you are satisfied with the result, you can save your presentation: go, therefore, to the form Crea of SmartSHOW 3D and click on a button between Create Video Presentation, to create a video for a computer, tablet or smartphone; Create DVD Slide Show, to burn the slideshow to DVD (option available only in SmartSHOW 3D Deluxe), and Create Internet Videos, to make a video optimized for YouTube, Vimeo, Facebook, or a generic website.
Finally, select the exact output format you want to export the movie to (ex. REVIEWS, MKV, MPEG4 etc.), press the button NEXT, tax quality e resolution of the video (and, if you want, activate the option to add a filigree to the same), press the button starts and choose the folder to export the job to. Easier than that?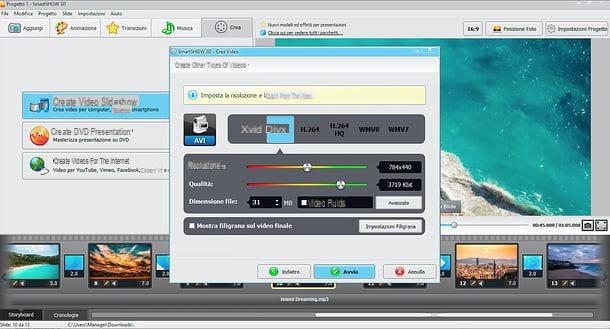 You can buy the full version of SmartSHOW 3D, at the price of 29,40 euros, by connecting to the official website of the program and clicking on the purchase button. I also point out the availability of SmartSHOW 3D Deluxe which, for 48,30 euros, also allows you to add video clips to your projects and burn the final videos to DVD.
DVD Slideshow GUI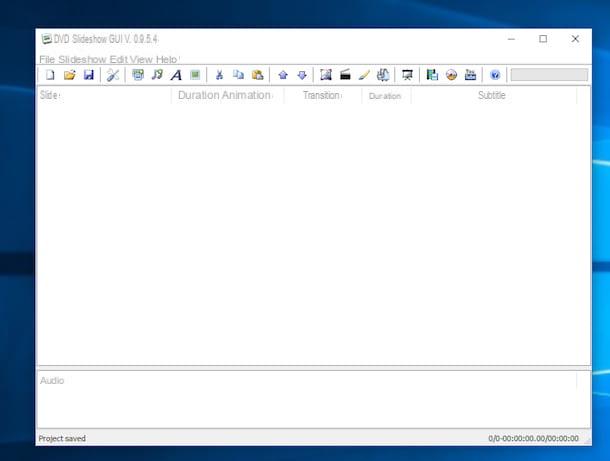 Among the programs to create video with photos for Windows operating systems that I suggest you take into consideration, I also point out DVD slideshow GUI. As you can easily guess from the name it is a free application that allows you to create video DVDs starting from photos and video files in compressed format.
The program is very easy to use and supports all major media file formats. It allows you to create spectacular slideshows full of transition effects, background music and customizable captions.
DVD Slideshow GUI is a program available for Windows and is free. To download DVD Slideshow GUI to your computer click here.
PhotoFilmStrip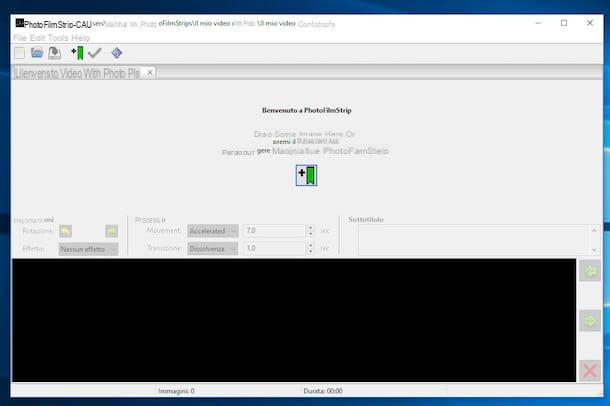 PhotoFilmStrip is a small program that allows you to create videos with photos, obtaining spectacular slideshows with background music and transition effects which can then be saved in the form of Video CD, Super Video CD, DVD and high definition video on your computer.
To use it, it only takes a few clicks. Thanks to its simple and clear user interface that manages to put even less experienced users at ease.
PhotoFilmStrip is a free program and is available for Windows. To download PhotoFilmStrip to your computer click here.
Programs to create video with photos for macOS
I use a Mac? No problem, you too can count on a wide range of programs to create video with photos, many of which are free and even included "standard" on your computer.
Gallery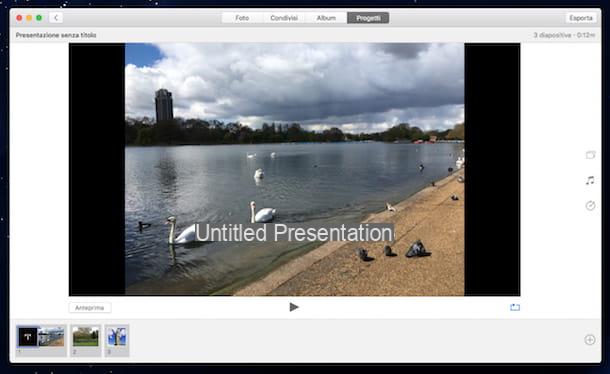 If you have a Mac, you can resort to Gallery to create beautiful movies with your shots. This is what today represents the default application on macOS for managing photos. The app has a modern and highly understandable user interface and provides users with numerous functions with which to create beautiful presentations. For each video with photos that is certain, text and background music can be added and a theme can be chosen from those available.
To start creating a slideshow with Photos, just press the button + located in the upper right part of the app screen, click on Presentazione and select the items to add. Then you can then export the presentation created on the Mac hard disk or you can send it directly to iTunes.
Foto is an application that comes standard on Mac, is compatible only and exclusively with macOS and is totally free. You can find Photos directly on your Mac by going to the folder Applications.
iMovie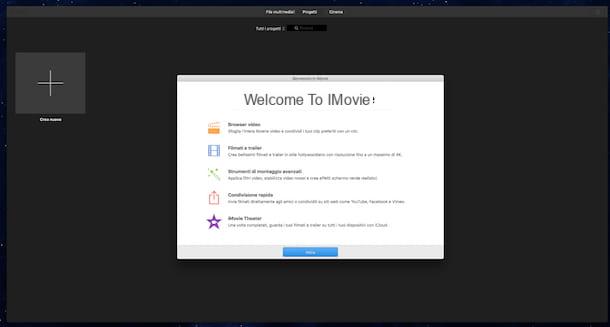 Did the programs for making videos with photos on Mac that I have already indicated not been able to attract your attention in a particular way? No? Well, then I suggest you resort to using iMovie. It is without a doubt the most complete solution for making video montages on Mac.
The application is ideal for creating "home" presentations but also includes advanced functions that allow users a little more experienced to obtain final results of excellent quality. iMovie combines a highly intuitive user interface with a rich set of advanced features and special effects.
iMovie is an application that is made available "bundled" on most of the newer Macs. For all the others it is however available free of charge. You can find iMovie directly on your Mac by going to the folder Applications or you can download it to your computer by clicking here.
Programs to create video with photos online
There are also solutions to create video with photos that can be used directly online, from the browser, without installing anything on the computer and without putting stress on your multimedia workstation for processing the movie. Here are some of the most interesting.
Kapwing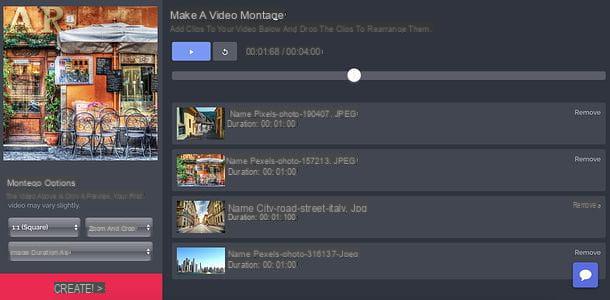 Kapwing is a simple and immediate solution that allows you to create videos starting from photos. It does not require registration and does not require you to install additional software on your PC. Its only limitations are the impossibility of adding background music to the generated videos (if not at a later time, using another tool available on the site) and the presence of a watermark on the output videos, which, however, can be removed by paying $ 6 per video or by taking out a $ 20 / month subscription (to generate as many videos as you want without watermarks).
To create video with photos with Kapwing, linked to this page of the service and first click on the button Get started to access its editor and then on the button Upload file (s) to select the photos to turn into video. Subsequently, use the mouse to arrange the images in the order you prefer and use the commands in the left bar to adjust the preferences of the presentation to be created.
Then use the appropriate drop-down menus to choose the aspect ratio that the video must have (PM1:1, PM9:16, PM16:9 o PM5:4), the type of fit to apply to the image (Zoom and crop to zoom and trim the video or Fit with border to apply borders to the sides) and the duration of each photo to show in the movie.
To conclude, click on your button Create, wait for the video to be processed and choose whether to download it to your computer by clicking on the button Video download, or whether to share it online by copying theURL that you find in the address bar of your browser.
Later, if you want, you can use this other Kapwing tool to add a background song to your video.
Sharalike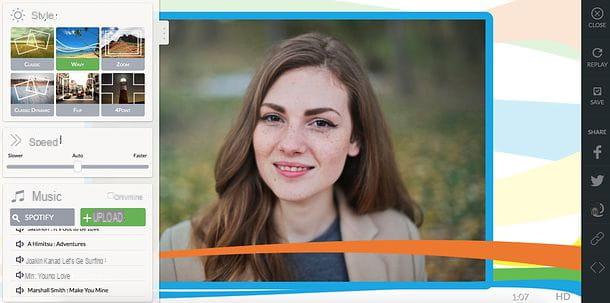 If you intend to make a photo slideshow with music, give it a try Sharalike , which is also free but applies a watermark to the output videos. To use it, connected to its main page, click on the button Get started and choose whether to register via email or Facebook.
When registration is complete, click on the button Create an album to create an album and upload photos to it for use in the video. After this step too, select thealbum created just now, arrange the photos in the order you prefer and click on the button Smart Show (top right) to choose it style to use for your slideshow, the speed of reproduction of the same and the music to insert as background (you can also choose music from Spotify, by clicking on the appropriate item at the bottom left).
To conclude, clicca sulla voce Save, type a name and description for the video and use the buttons in the right sidebar (under the heading Share) to share it online.
App to create video with photos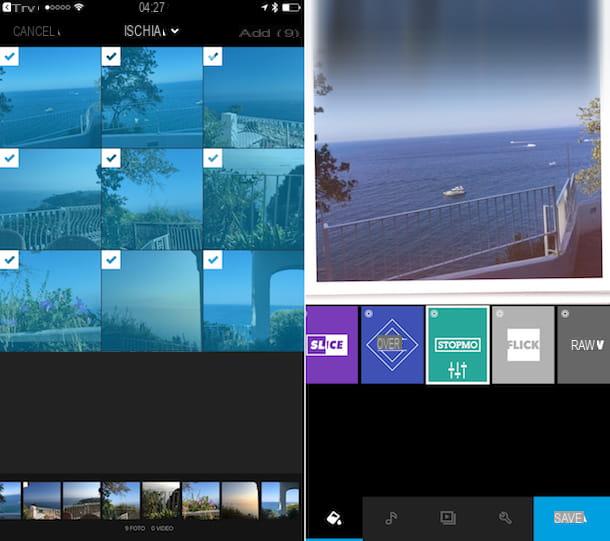 If you want, you can also create videos with photos from your smartphone or tablet, without going through your computer. In some cases, mobile solutions are even easier to use than computer solutions and offer results that are not very dissimilar in terms of quality.
To better understand what I am referring to and find out which are the best solutions to use on the move, consult my tutorial dedicated to apps for making videos with photos and music.
Article produced in collaboration with AMS Software and EaseUS.
Programs for creating videos with photos