Online presentation sites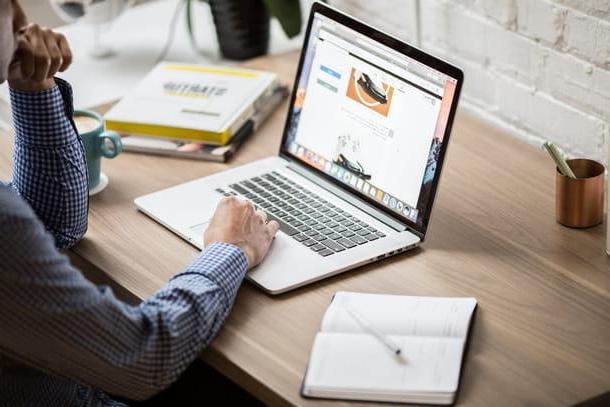 There are several programs that, once installed, allow you to create valid presentations, but in this article I will tell you about those sites that perform the same or similar function, and therefore allow you to create one directly from a very common Web browser.
Clearly, the functions of each site are different, so I invite you to give a chance to more than one of those that you will find described in these lines. If you are unsure of one of the sites to create presentations among those listed below, try another one and you will surely find which one suits your needs best.
Google Slides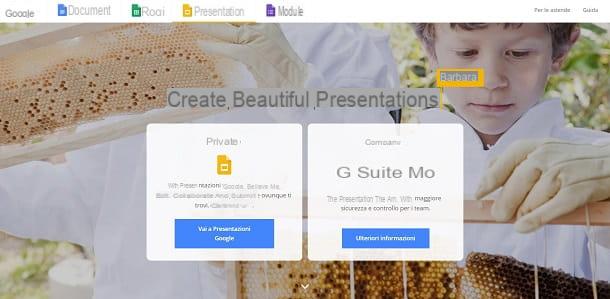 The first service I want to tell you about is Google Slides: a powerful tool, completely free, proposed by Google as a versatile and easy to access solution.
Google Presentations allows you to create real presentations directly online, with an intuitive interface not very different from that of the famous Microsoft PowerPoint. Also, presentations created with this service come saved in the cloud and automatically become available from any place or device you connect: just log in to your own Gmail account. In short, you can also forget the key with the presentation at home without having to blame yourself!
In addition to these functions, Google allows you to share your creations with other users directly from the service page. This interesting feature opens up new avenues for collaboration, as multiple users can contribute to the same presentation at the same time. In support of group work there is also a comfortable one integrated chat.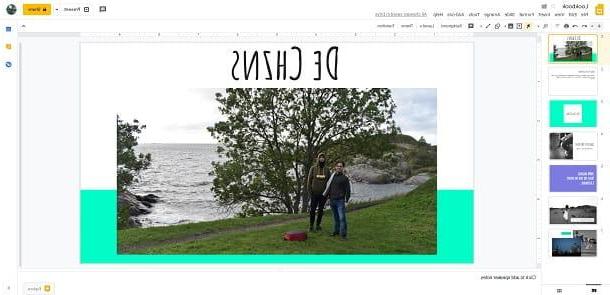 If the strong points of this Web based service have convinced you, you should know that accessing it is very simple: the only requirement is to have a Gmail account. How do you say? Don't have one yet? If you don't have an account of this type yet, I remind you that its creation is really quick. Feel free to rely, if you want, on my guide dedicated to the subject.
With a valid and active Gmail account, connected to the official Google Slides page and click on the button Go to Google Presentations, then choose a account among those you have configured. If the account has already been used, you can click on its icon and enter the associated password. Alternatively, you can click on Use an altro account, to enter theemail address (or telephone number), in the central bar, and click the button NEXT to be able to insert also the relative Password.
Once logged in with your account, you can choose how to start your new presentation from the top menu. For example, you can choose to start with one white presentation or template (a predefined template for a specific purpose). In the white part below, however, all the recently opened presentations are displayed. You can also search through presentations created in the past or shared by friends and colleagues by clicking on the white folder, on the right.
The Google Presentations interface has a simple and tidy style: at the top there is the drop-down menu bar with functions such as sharing, layout modification, slide format and copy and paste commands. Immediately below is the hotkey bar with functions such as redo and undo, print, select, comment and add shapes. On the sides, however, there are the presentation navigation menu and the contextual one of the functions in use; the first is placed on the left and the second on the right.
In fact it is an interface that largely recalls that of the famous PowerPoint, which has always been appreciated for its clarity and ease of use.
Prezi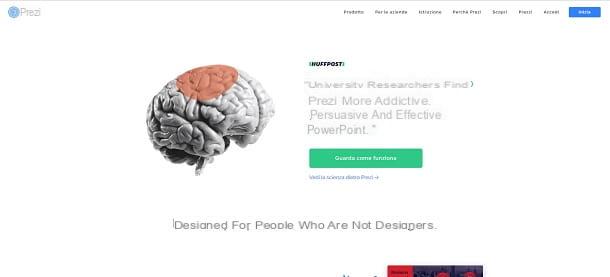 Another solution that I can recommend to create presentations without installing any software on your computer is Prezi. This online service offers a number of preset templates and the ability to create with functions suitable for both beginners and more experienced users.
A peculiarity that differentiates Prezi from other sites is the ability to create a presentation on a single page. That's right, this solution allows you to create a presentation starting from a large white sheet to be filled with content and proceed with their illustration through a virtual direction that moves the frame and zooms on the sheet.
Prezi is available for a fee, with a period of 14 days in free trial mode, which is activated automatically when you take out a subscription from the three available. The first of these plans is lo Standard (for personal use), at the cost of € 7 per month, useful for creating online presentations and sharing them; to follow is the plan More, offered to € 19 per month, mainly indicated for expert users thanks to more advanced functions such as remote access; finally there is the account Premium, available at the price of € 59 per month, which offers everything included in the Plus plan with the addition of powerful online statistics and training software designed to improve your ability to create and give presentations.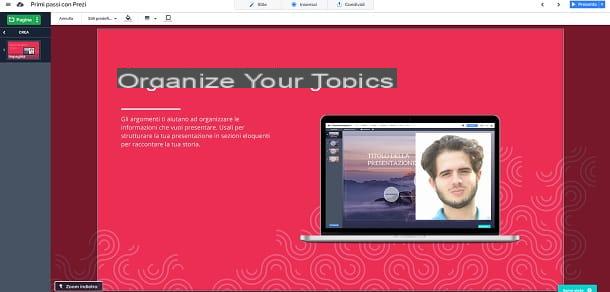 If, before purchasing, you want to try the basic experience of this service without necessarily having to subscribe, you can subscribe to the version Basic prices via this page. Registration is very simple: enter name surname, email address it's a Password, then click on the button Create your free Basic account. You will be greeted by a message asking you the main use you want to make of Prezi Basic and by a wizard to create a presentation (called "First steps with Prezi").
Now that you know the features, prices and have tried Prezi, if you are interested in its use in the full version, you must proceed by subscribing to the official website using the button Start, top right. Therefore, choose the subscription plan you prefer by clicking on one of the buttons that read Start your FREE trial period, and go ahead with entering your personal data: Your name, Last name, email address e Password.
The next step involves entering the information useful for paying the subscription: then choose betweenCredit card e PayPal and enter all relevant data. When all the necessary is entered, click on the button Subscribe now, down.
Once subscribed, all you have to do is start creating your presentations! The Prezi interface shows a bar dedicated to menus at the top Style, ideal for retouching the aesthetics of slides; Inserisci, to add content to the slides; finally, the menu Share it is useful when you want to export your presentation.
The bar on the left is the one dedicated to navigation between the slides, while on the right the contextual options of the various functions in use are displayed. For example, if you are editing a background, from this area you can choose the image and graphic effects to apply.
Simple, right? Do not hesitate to learn more about how Prezi works by consulting the free introductory guide at this address.
Sites for interactive presentations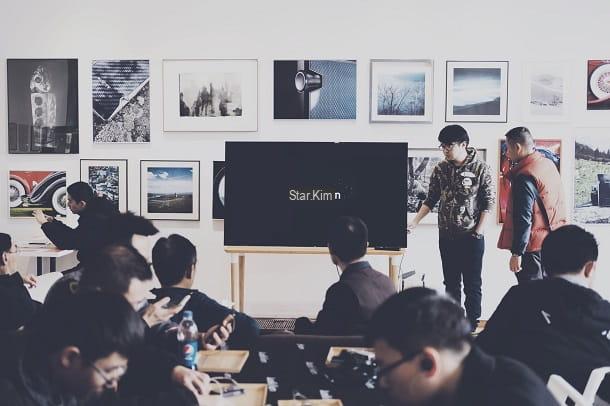 Now I would like to talk to you about those sites that allow you to create presentations with tools that aim to engage the audience through interaction.
I'm sure that the idea of ​​devising new methods to grab the attention of your viewers is an idea that excites you, and not a little. Here, then, are gods sites for interactive presentations che potrebbero fare al tuo case.
genial.ly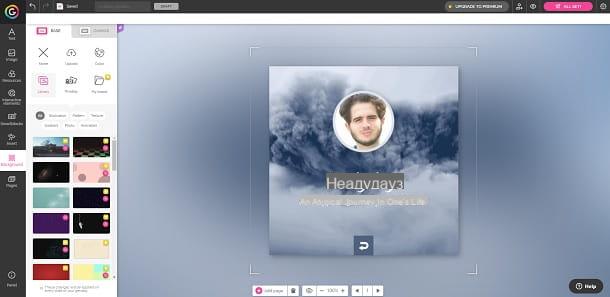 If you are looking for a tool for create animated and interactive presentations, different from the classic presentations, less dynamic and often not very colorful, then I have here for you an ad hoc advice that bears the name of genially. This software is available directly online at no cost, simply by connecting to the official website and, after a quick registration, immediately start creating animated slides, full of effects.
This site contains material and functions that are ideal both for making presentations and for creating interactive pages and projects, however the material and functions are accessible only by subscribing to a subscription plan among those listed on this page.
Currently, genially it is not translated into your language but, don't worry, it is equally intuitive. The first thing you need to do, after connecting to its official website, is to click on the button Create an account, in the center. Then proceed by signing up with a email address e Password or, if you prefer, log in by linking an account Google, Facebook, Twitter, Linkedln o Office 365.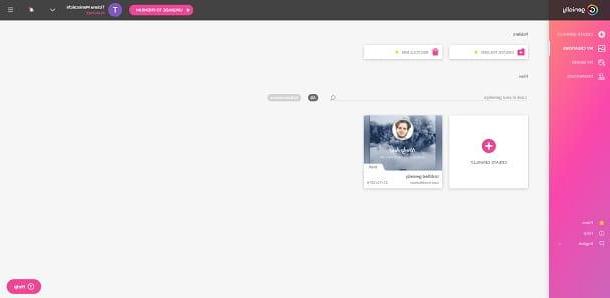 The next step involves entering the main purpose for which you want to genially use, that is, for purposes educational, work o per la creation of digital content (publishing, marketing and communication). Having made your choice, press the button Next (above), choose a more specific activity and click again on Next.
Perfect: at this point you can immediately start creating presentations after clicking on Accept and continue, to access content and convenient training. Alternatively, click on the item No, thanks, to proceed autonomously. genially will bring you back to the main page where you can choose the type of presentation to create and will guide you step by step in the various stages of its conception and finalization.
Just to give you an idea of ​​its interface, consider that all the key functions of this interesting service are on the left, thanks to menu for insertion text, images, interactive content, diagrams and animation and background customization functions.
On the right side, however, you can see the context menu of the functions in use; finally, in the upper part of the screen there are the functions repeat e cancels. In short, nothing too complex, even if in English.
Other sites for interactive presentations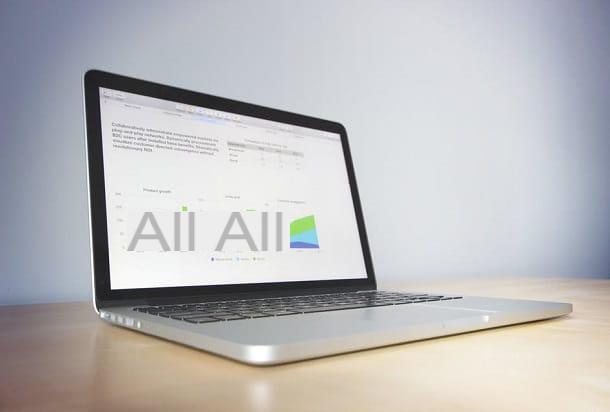 If the site that I recommended previously did not fully satisfy you, here it is other sites for interactive presentations che potrebbero fare al tuo case.
VyonD - I want to recommend this site because it has a lot to offer in terms of interactivity. VyonD is available in free version for 14 days or unlimited with a plan of Essential subscription for $ 299 per year, or Premium for $ 649 per year. VyonD makes video creation its strong point, betting on the greater engagement factor that dynamic content has compared to static images. The difference with the creation of actual videos is that VyonD provides tools to make both creation and editing of presentation videos quick. The creation starts from the choice of a pre-existing template (or from its creation), and then develops into the creation of any characters to animate. The program interface is minimal but intuitive, in fact from the bar with the icons at the top it is possible to access the menus dedicated to the insertion of content, text, music, videos, images and animations. When the work is finished you can export your creation in video format Mp4 o GIF, or let it be used interactively by users (for example by creating mini games).
Shorthand - I am telling you about this site because it is an effective and reliable tool in the creation of presentations that exploit it mouse scroll, to tell a story or products. Shorthand is available on trial with an account called trial, which does not allow publication but only creation and has a limit of 100 members with whom to share the work. The full version subscription plans are available on this page. Shorthand is especially useful if you want to insert an entire interactive presentation on a single page, complete with images, videos and links. From its interface it is possible to access the menus dedicated to the themes through the bar at the top, also accompanied by the sharing and advanced customization functions through CSS and JS code. There are also functions for integrating the presentation web page with social networks and options to verify the correct functioning of the personal link.
Sites for PowerPoint presentations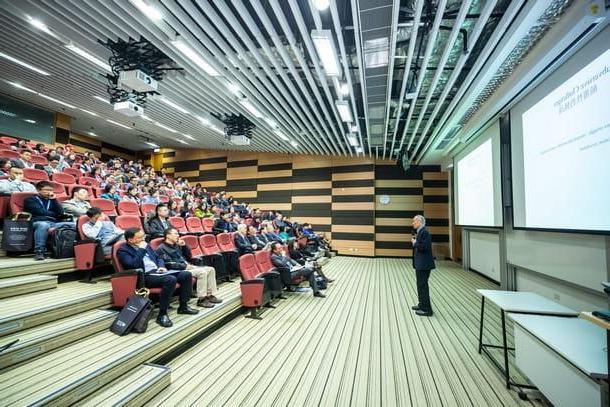 Do you consider yourself a type of habit not willing to give up the convenience of using known tools? Then you will be happy to know that you can use Microsoft PowerPoint online, directly from the browser. How? I'll explain it to you right away!
PowerPoint Online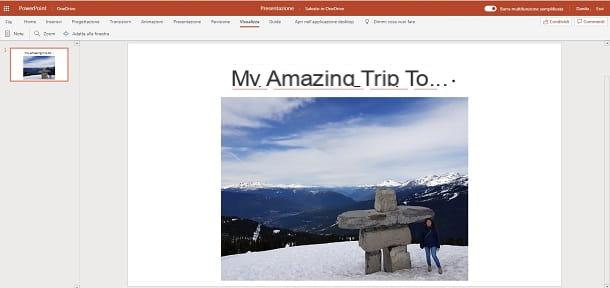 La online version of PowerPointBesides being graphically presented in a similar way to the desktop version of the program, it is also ideal for sharing your work with colleagues and friends in real time, as well as for collaborating remotely on presentations.
In terms of features, it is more limited than the desktop version of PowerPoint included with Microsoft Office, but its versatility is certainly greater, thanks also to the integration with the cloud and with the OneDrive service.
To use PowerPoint from your browser, just connect to the official website and enter your Microsoft credentials. If you do not have a Microsoft account yet, proceed to create it by clicking on the item Create one! In this regard, feel free to consult my guide to creating a Microsoft account, to speed up the registration process.
Once logged in with your account, you will see the classic PowerPoint screen and you can immediately start creating from a template or a blank page.
The PowerPoint Online user interface has a setting almost entirely the same as that of the classic PowerPoint desktop version: at the top there is the drop-down menu bar containing all the main functions, including sharing, printing, copying and pasting, visualization, pagination, animations and transitions; the column menu on the left acts as slide navigation bar, while on the right a column appears with the menus relating to the functions in use, such as the panel for selecting elements, choosing graphic effects and selecting the duration of the animations.
At this point, let me advise you to read my tutorial on how to create beautiful presentations, to make the most of PowerPoint.
Other sites for PowerPoint presentations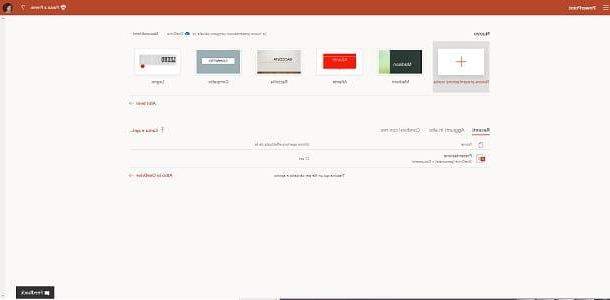 On the web, there are several alternatives to the classic PowerPoint: some of these are more similar and similar to the historical Microsoft software, others offer totally different possibilities.
In fact, as you will have read yourself in this guide, Google Presentations is one of the online presentation software certainly among the most similar and equally functional compared to PowerPoint, with the possibility of downloading the presentations generated in PPTX format. they offer something different, while retaining some similarities to the Microsoft product. This is the case with Prezi.
In short, to create presentations via websites you are spoiled for choice, all you have to do is take a few minutes to try one or more of these tools and decide which one is right for you. I wish you good creation!
Sites to create presentations