How to create animations with photos and videos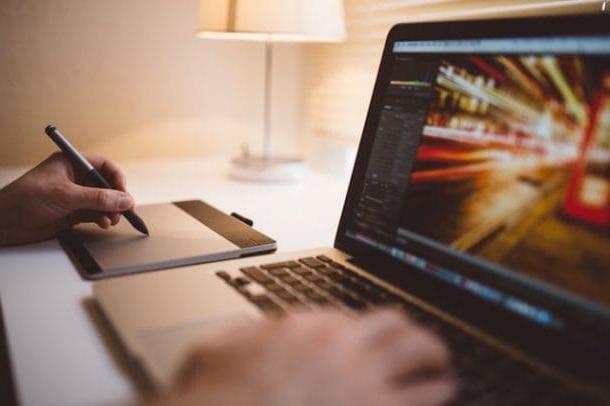 If your purpose is to create animations and you want to do it starting from photos and videos, I can advise you to turn to several free tools. These, easily accessible from browser via computer, will allow you to create GIF in a simple, fast and immediate way.
In addition, as sharing animated images has become increasingly popular in social networks and instant messaging applications, I am pleased to announce that you can also achieve great results using mobile devices equipped with Android e iOS, which are now able to replace computers in various operations. In short: whatever device you intend to use, here are some solutions that will allow you to create animations in the blink of an eye!
GIF Maker (Online)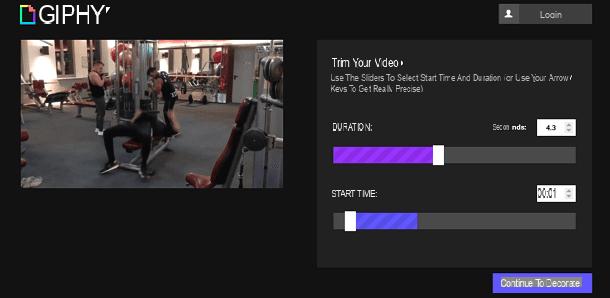 The first resource I want to tell you about is called GIF Maker by GIPHY: this is the most famous and used online tool for creating GIFs which, developed by the company Giphy Inc., can be used for free and without any type of limitation by Windows, Mac and Linux, through its official website.
To take advantage of GIPHY's GIF Maker, start the browser you usually use to surf the Internet (such as Google Chrome or Safari), in order to immediately connect to its home page. Then first choose whether to create a GIF starting from images on your computer (by selecting the option Choose Photo or GIF) or if you prefer to create an animation starting from a video (by selecting the option Choose Video). If, on the other hand, your intent is to create a short animation starting from a video that is already online, use the text field that you can see next to the wording Add Any URL and then paste the link of the starting movie.
In both cases, you must first customize the duration of the GIF: if you have chosen to create a GIF using images, start by customizing the duration of the sequence of images that has been created automatically (using the lever corresponding to the item Image Duration) and go ahead by pressing the button Continue to decorate. If, on the other hand, you have chosen to create a GIF starting from a video, use the section Trim Your video and voices Duration e Start Time to set the duration of the GIF and also the initial frame of the same. Once this is done, press the button Continue to decorate.
What you now have to do is to aesthetically customize the created animation: then use the customization tools, which you can see next to the items Caption, Stickers, Filters e Draw to add text, place stickers over the image or video, apply filters and draw over the animation.
Are you satisfied with the result? Yup? Very well! You just have to press the button Continue to upload and, after you eventually have added a reference URL for your GIF and tags to categorize it, press the button Upload to giphy: in this way, the GIF will be stored within the GIPHY platform. To download it, simply press the button Download.
GIPHY Cam (Android / iOS)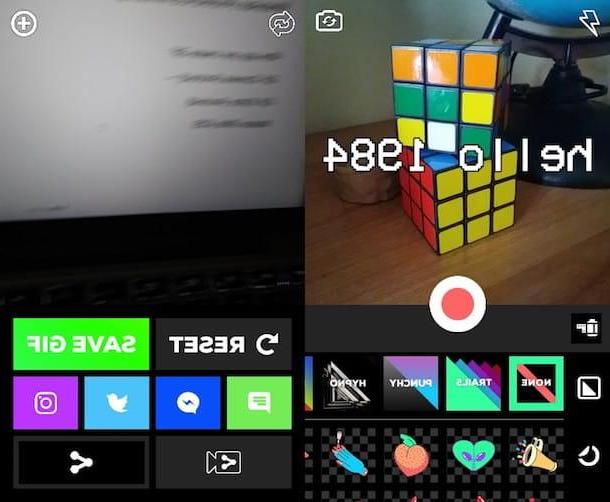 If your intent is to create animations from photos and videos from a device Android o iOS, pay close attention to the following lines: I'm about to tell you about the application Giphy Cam.
Also made by the company Giphy, Inc., developer of the instrument GIF Maker of which I told you in the previous paragraph, it is one of the most complete apps for creating animated images. Its strengths are the interface, very attractive, and the presence of a large number of effects, filters and stickers that can be applied in real time.
The app is available for free download for Android or iOS, respectively from the Play Store and the App Store, therefore download it on your device, referring to your default virtual store and then start it by tapping on its icon.
At first launch, if requested, authorize access to your device's camera and gallery. Then choose whether to use the front camera or the rear camera, by tapping the button with the camera symbol you see on the screen, and presses on red button placed in the center to take pictures or record a short video, in order to start creating an animated image. Via the main screen, then add effects, filters or stickers to the GIF (they are all free).
You can record videos or take photos, using the camera of your device, or press the button with the symbol of camera roll to add multimedia content from your device memory. Once you have finished creating the GIF, press the button Save GIF to save her. Alternatively, you can also share it online immediately by pressing the buttons related to the social networks you see on the screen.

Other tools for creating animations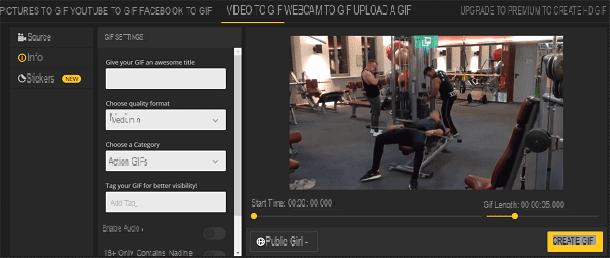 Haven't the tools I talked about so far been able to attract your attention particularly? Would you like more advice on services for creating animations? Don't worry, they can still help you. Below you can find a list with applications, online services and PC software suitable for creating animated images starting from photos or videos: I am more than sure you will find what is right for you!
Make a GIF (Online) - it is a valid alternative for the creation of animated images: a tool accessible online via browser characterized by an attractive interface. It allows you to create GIFs starting from videos, images and even from videos on YouTube or Facebook. It is free to use but has some advanced paid features: subscribing to a subscription (costing $ 11,95 per month) mainly allows you to create high definition GIFs, eliminates the presence of advertising and makes GIF creation faster. You can test all the features of the paid version through a short trial period.
GIF Me! (Android / iOS) - is another valid application for the creation of animated images, accessible for free through the download from the Android Play Store or the iOS App Store. It can be used to create GIFs via the device's camera or by uploading images and videos from the Gallery. Also this app presents the possibility to add different effects to the created GIFs.
Giphy Capture (Mac) - this is an application that can be downloaded for free from the Mac App Store, whose operation is very interesting, since it is able to capture what is visible on the computer screen to create an animated image. It is very intuitive and also integrates some additional features, albeit limited compared to the other services indicated. It is developed by the company Giphy, Inc, known for its other tools that I told you about in this tutorial of mine.
Easy GIF Animator (Windows) - even if you don't need to use GIF making software, you can use this tool on Windows computers. It is a professional program (paid, costs $ 29,90) which, equipped with a user interface similar to that of the Microsoft Office suite, allows you to create animated images with advanced tools. You can use it for free for a trial period by downloading an evaluation version from its official website.
If you want to know more about how to create animated images through the use of the tools integrated in some social network applications or instant messaging apps, such as WhatsApp, read my tutorial dedicated to the topic. If, on the other hand, you want to deepen the subject, I refer you to reading my specific guide, in which you can also find other tips and other tools similar to those I just told you about.

How to create 2D and 3D animations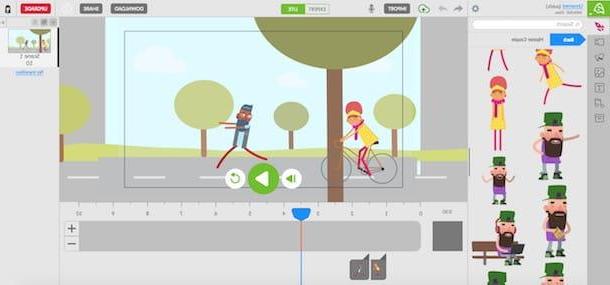 You have tried to use the tools that I have indicated in this tutorial of mine but you have not found what reflects your needs, because you are interested in create 2D and 3D animations advanced level? In this specific case, you need to turn to the use of other software or online tools.
For example, if your intent is to create two-dimensional animations, you can resort to the use of online tools such as Animatron, a freemium service accessible from a browser that allows you to give space to creativity through the creation of cartoons. In this regard, I suggest you deepen the subject by reading my dedicated guide.
As for the three-dimensional animation, however, you must take into account that many software suitable for this purpose are paid, as they are aimed at professionals in the sector. Fortunately, however, some can be evaluated before purchase by trying them out with a free version. Among them, I mention the well-known software After Effects, used by professionals in the film industry for the creation of animations with excellent results. In case this is your intent, deepen the topic by reading my tutorial dedicated to programs for the creation of 3D animations.
How to create animations