Types of Netflix accounts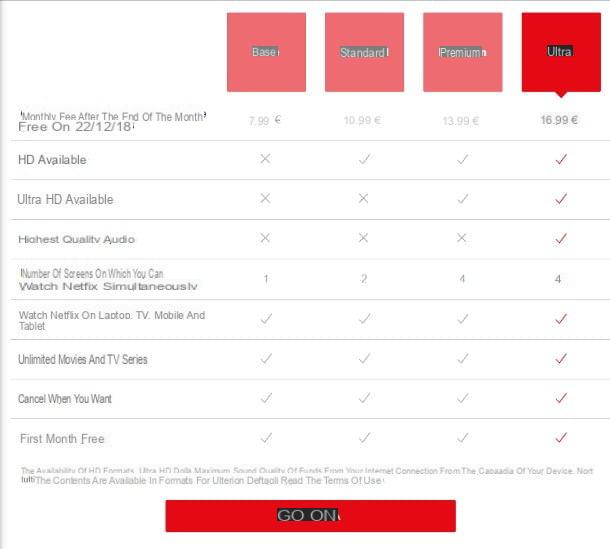 The decision of create Netflix account is it now taken and you can't wait to get to work? Perfect, I'm ready to assist you in your business! Before we continue, however, let me give you a little more information on the types of accounts available and their prices.
There are three subscription plans to choose from. Depending on current promotions, an initial free trial of varying duration may be available, typically 14 or 30 days.
Base - it is the cheapest plan, which allows you to watch the entire range of content available through any supported platform (desktop, laptop, mobile, tablet, TV, console, etc.), in standard resolution and a single device at a time. It is priced at 7,99 € / month VAT included.
Standard - allows you to watch all content in Full HD resolution and a maximum of two devices at a time. It is priced at 11,99 € / month VAT included.
Premium - it is a plan that offers the possibility to enjoy all Netflix content in resolution Ultra HD by well four devices at a time. It costs 15,99 € / month VAT included.
Incredibly - has the same features as the Premium plan, plus the possibility of enjoying content with maximum audio quality and in mode HDR (Dolby Vision and Ultra HD Premium) on compatible devices. It is priced at 16,99 € / month VAT included.
Furthermore, before going ahead and proceeding with the registration, it is good that you are well aware of the requirements to access the service: first of all, the device from which you intend to watch Netflix content must be included in the list of supported devices, present in this page.
Don't worry, the list is extremely extensive: it starts with the most common smartphones and tablets Android e iOS, passing through almost all modern computer browsers (such as Chrome, Firefox and Edge), numerous models of Smart TV e set top box / TV stick (including Chromecast, Apple TV, NVIDIA Shield and TIM Box) and many video game console (PS3 and PS4, Xbox 360 and Xbox One, Wii and Wii-U).
As for the Internet connection, according to Netflix indications, a bandwidth equal to 0.5 Mbps (and recommended by at least 1.5 Mbps) to enjoy low-resolution multimedia content, minimum bandwidth rising to 3 Mbps by standard definition, 5 Mbps by definition FullHD e 25 Mbps for UltraHD.
If you have doubts about the speed of your Internet connection and want to carry out a complete test, I suggest you refer to my tutorial on how to measure ADSL speed (also valid for optical fiber) to get information on what to do.
Create a Netflix account on your computer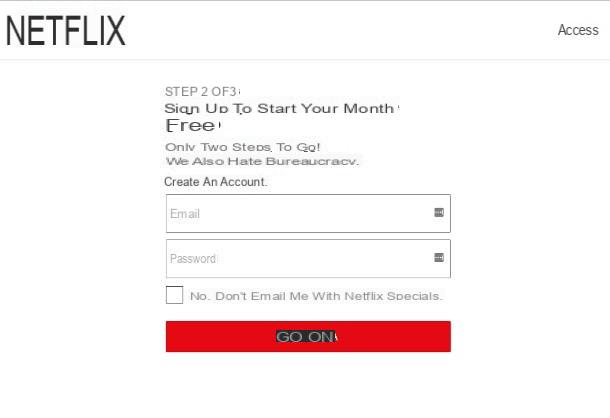 Now that you understand the differences between the various types of subscriptions available, it's time to get to work and immediately activate Netflix. First, therefore, connected to the Netflix website and click on the button Provalo prays, then choose the trial plan that best suits you, choosing between Base, Standard, Premium and Ultra, and then press the button Continue per due turn consecutive.
At this point, you need to indicate a email address valid and one Password at your choice (of at least 4 characters), which will be used for registration and subsequent access to the portal. If you wish, you can receive Netflix news at the e-mail address indicated by placing a check mark in the appropriate box: when you have completed entering the data, press the button Continue to go to the third step.
At this stage, you must indicate a valid payment method: Although this is a mandatory step, you will not be charged until the trial period ends. The payment methods accepted, at the time of writing, are the following.
Debit / credit card - by choosing this option, you will be asked to enter your credit card details (name, surname, card number and related security code e Expiration date). Once the entry is complete, you have to click on the button Inizia l'abbonamento.
PayPal - after choosing this option and pressing the button Continue to PayPal, you will be automatically redirected to the site of the latter service. At that point, you will need to enter your login details and authorize the connection between PayPal and Netflix.
Wrapping paper - if you have a Netflix card, you can enter the relevant code by clicking on the option Redeem a gift card. In this way, your account will be credited with the economic equivalent of the card in your possession.
Once you have chosen the payment method, you will receive a welcome email, which will summarize the data relating to your subscription. Also, on the Netflix site, you will have the option to indicate a telephone number to be used to recover the password or receive urgent communications.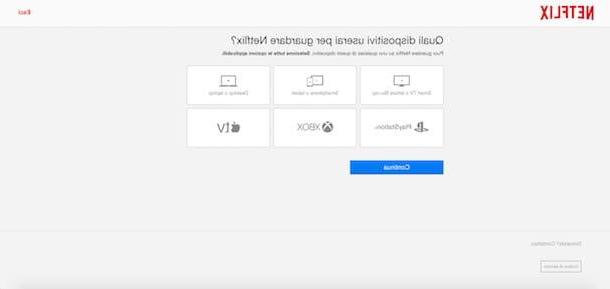 Next, you will be asked to indicate the devices you plan to use to take advantage of the service and to create at least one user profile which will contain your viewing preferences, favorite titles and personalized suggestions based on the content being streamed. You can create up to a maximum of 5 user profiles, including type Kids (for "limited" viewing of content suitable for children and / or boys).
If you wish to deactivate the automatic renewal of the subscription (you will still be able to enjoy the service until the natural expiration of the current subscription), I invite you to consult my guide on how to cancel Netflix, in which I have explained to you in detail how to bring to finished this operation.
Create a Netflix smartphone and tablet account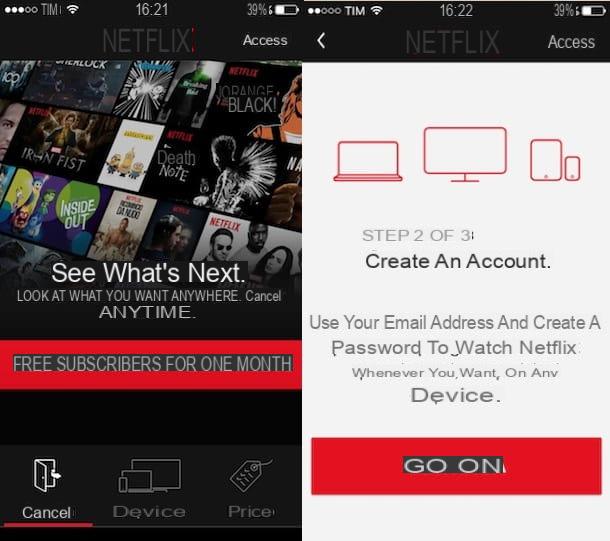 Are you going to enjoy Netflix content from smartphones and tablets? Don't worry, you can sign up for the service using the dedicated app, available for free for Android, iOS and Windows 10.
After downloading the application from the reference store of the device in your possession, start it and tap the button Provalo prays, repeating the operation on the button Continue. At this point, indicate in the prpopsoto form theemail address and Password you want to use to access the service, tap the button again Continue and choose whether to activate the plan on trial Base, Standard, Premium o Incredibly (if available).
At this point, the procedures to be carried out for registration and the subsequent indication of the payment methods are practically identical to those I explained to you in the previous section: all you have to do is follow the steps mentioned therein to complete the subscription to the service. (and possibly cancel the automatic renewal of the subscription).
Create a Netflix TV account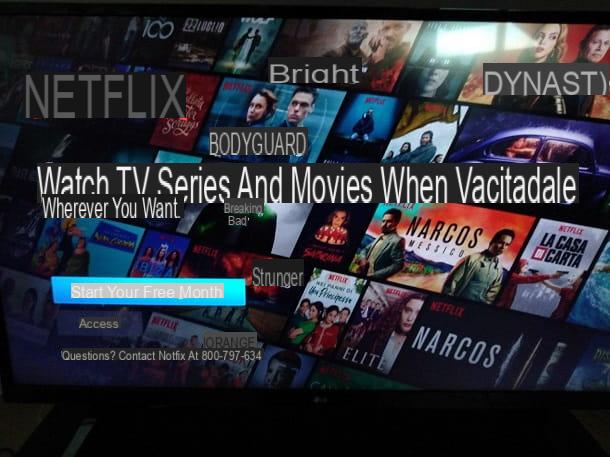 Own one Smart TV, a video game console (PS3, PS4, Xbox One and so on) or a decoder / set top box compatible and would like to create Netflix accounts via one of these devices? Then this is the most suitable section for you.
The first thing you need to do, therefore, is to download the Netflix app that best suits the device you own: if you have never done it before and need additional information on how to install the aforementioned application on your TV, I recommend you take a look at my guide on how to install apps on Smart TV. As for the Netflix installation procedure on video game consoles or other devices, you can instead refer to my dedicated tutorial.
Once you have the app in question, launch it with the help of the remote control or the controller, press the button Provalo prays and start the subscription procedure by pressing the button Continue. At this point, select one of the subscription plans available, press the button again Continue, repeat the operation on the next screen and enter a email address valid to use for registration.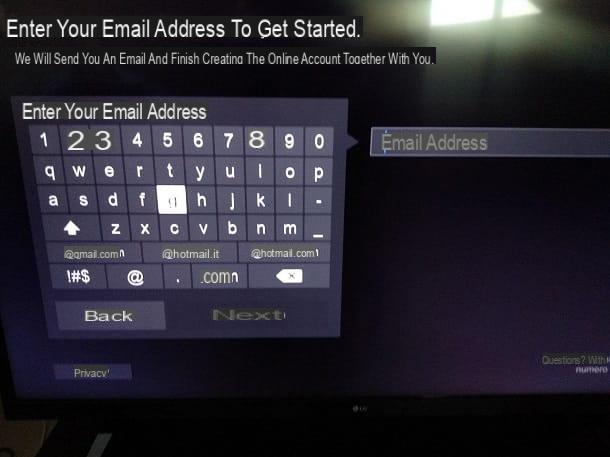 Once this is done, press the button Following: if everything went well, you will receive a registration link in the email box indicated above. At this point, you need to access it, go to the link received and follow the instructions on the screen (which should be identical to those shown above) to create a Password and specify the payment method to use.
Clearly, you can complete the aforementioned procedure from any device that has a browser: therefore, if the TV, console or Box in your possession supports Internet browsing, you can use them safely to complete the account creation.
How do you say? Were you able to easily put into practice the steps I suggested, but now you don't have the faintest idea how to get around in the world of Netflix? Don't worry, I don't intend to leave you alone at the best! In fact, I have created a complete tutorial on how Netflix works especially for you: I'm sure that, after a careful reading, you will be able to perfectly use all the features offered by this excellent streaming platform.
How to create Netflix accounts