Preliminary information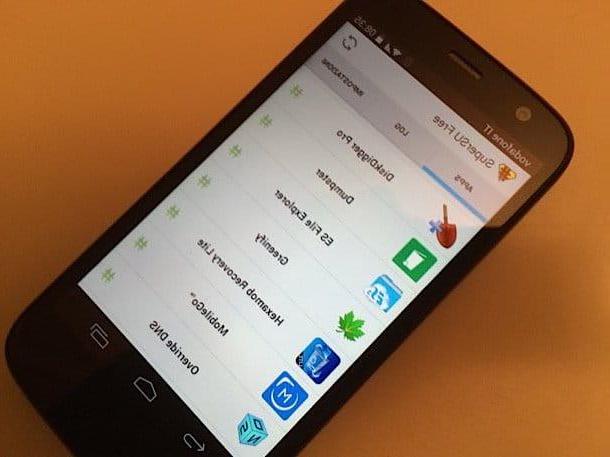 Before we delve into the heart of this guide and see it in detail how to record android phone calls, let me provide you with some preliminary information that will certainly be useful to you.
First of all, as I have already explained to you in the introduction of the guide, recording phone calls, even without the knowledge of the interlocutor, does not represent a crime or a violation of privacy. The law, in fact, punishes the dissemination of recordings made against the will of the participants in the conversation. Therefore, do not disseminate the registrations made, unless you are explicitly authorized by the interested parties, understood?
Another thing I want to tell you is that, usually, to succeed in your intent you have to activate the conference service of your telephone operator, the one that allows you to speak with more than one interlocutor at the same time. Therefore, if you have not already done so, contact your manager (whether it is TIM, Vodafone, Wind, Tre, Iliad, etc.), so as to request the activation of this service.
How to Record Android Phone Calls for Free
Now let's get straight to the point and see together how to record android phone calls for free. Below I show you the operation of a couple of apps suitable for the purpose that I hope will come in handy.
RMC: Android Call Recorder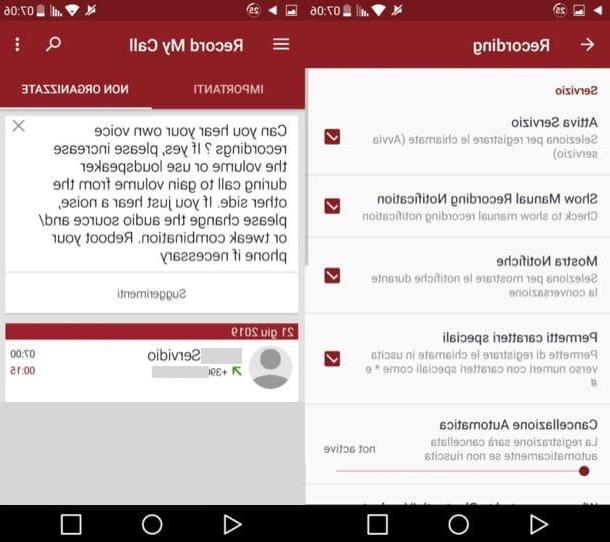 The first solution I recommend you try is RMC: Android Call Recorder, a well-known free application that, even in my tests, gave good results. It works on many smartphone models, even the oldest / cheapest ones, but on some devices it could offer a recording quality that is not excellent (especially as regards what the interlocutor on the other side says).
Using RMC: Android Call Recorder is a real breeze. After installing and starting the app, press the button Allow and tap on the item Allow three times in a row, in order to grant it all the necessary permissions to function at its best.
Now, hit the button (≡) located at the top left of the screen, choose the item Settings from the menu you see appear on the left and press on the item Recording. Make sure, therefore, that the box is checked Activate Service (otherwise do it yourself) and, starting from this moment, the app will automatically record all the calls that your mobile phone will make or receive.
When a call is ended, then, you will be able to listen to the recording again by going to the appropriate section in the app, which you can access by pressing on the tab Don't organize by RMC: Android Call Recorder. Then press on registration name of your interest and tap the button Play present in the opened menu, to start playback.
In the unfortunate case that the interlocutor's voice is too low, you can export the recording to your computer (by finding it in the folder RecordMyCall phone) and amplify the volume with programs such as Audacity (if you remember I talked about it in my guide on how to use Audacity) or you can try to select Phone Call like Audio Source on the menu Tricks of the app.
Call recorder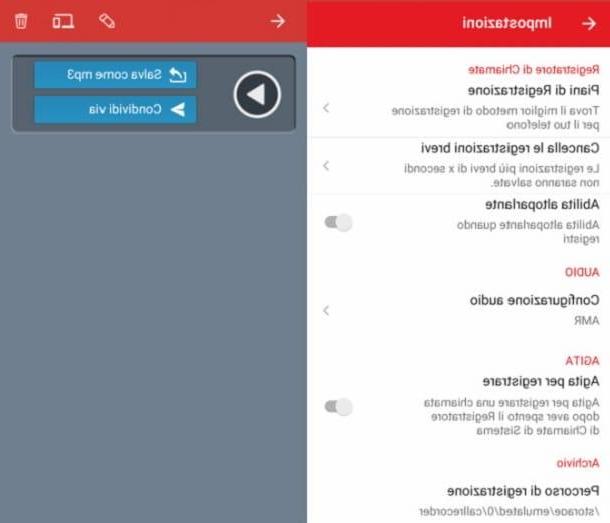 Another app that might come in handy for recording calls on Android is Call recorder. As easily understood from its name, this app integrates a special function thanks to which it is possible to record incoming and outgoing phone calls made on your smartphone, with the possibility of listening to them again at a later time.
After installing and starting Call Recorder on your device, click on the green button OK which appears to be placed at the top of the welcome screen and grant it all the permissions it needs to work properly, by pressing on the item Allow four times in a row. Then press the green button OK, to close the opened box. Then, all you have to do is start an outgoing call or accept an incoming one and the app will take care of recording everything automatically. Convenient, right?
Once you have recorded a phone call, you can listen to it again by going to the appropriate section of the app where the recordings are stored. To be more precise, all you have to do is press on title of the conversation found on the main screen of Call Recorder and tap the ▶ ︎ symbol to play it.
If you wish, you can also save the phone call you recorded as a file in MP3 format: just press the button Save as MP3 and / or share it by pressing the button Share away. Semplice, see?
Other apps to record Android phone calls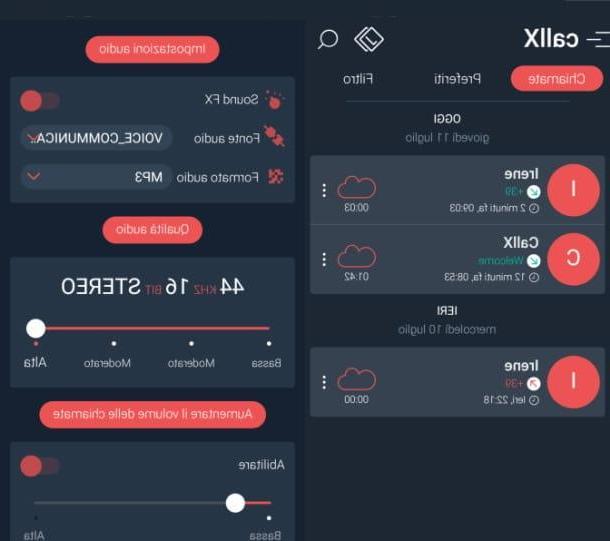 Did the solutions I mentioned in the previous lines not satisfy you? You would like to know if there are other apps to record android phone calls? Yes, of course! Below you can find a list of other solutions, both free and paid, that might be right for you. Try them out and then choose the one that best suits your needs.
Free automatic call recorder - it is a free app that allows you to automatically record incoming and outgoing calls. However, I would like to point out the possibility of purchasing its paid version, which costs 2,89 euros and, in addition to being totally ad-free, offers the possibility of automatically synchronizing recordings with Google Drive and Dropbox.
Call Recorder - Call Recorder - is another app designed for automatic recording of calls made and received on your mobile phone. It too is available in a paid version, which costs 0,99 euros / month, which is free of banner ads.
Call Recording - Cube ACR - it is a solution belonging to the category in question which is able to automatically record all calls (both incoming and outgoing). In its paid version, which costs € 2,09 for three months, it includes some advanced features, such as the one that allows you to export recordings to MP4.
Call recorder - as you can guess from its name, this app is a simple call recorder that does its duty by automatically recording incoming and outgoing calls. The free version of the app is characterized by advertising banners: to remove them, you need to subscribe to its Premium version, which costs 1,19 euros / month.
How to Record Android Phone Calls