Program to create videos with photos and music for free
Whether you have a Windows PC or a Mac, fear not: there are many programs to create videos with photos and music on which you can count, most of which are free or, in any case, usable at no cost for a limited period of time.
SmartSHOW 3D (Windows)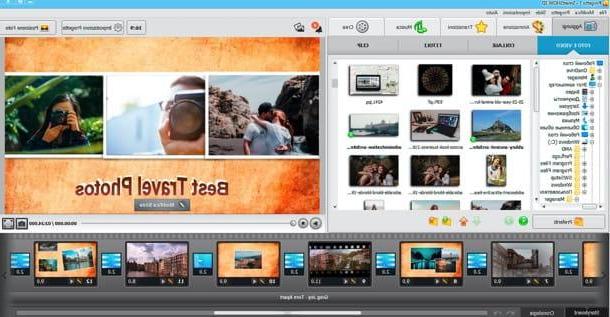 SmartSHOW 3D is an excellent program for creating videos with photos and music, which can then be exported for viewing in high definition on PC and TV, for online broadcasting or for burning to DVD. With its extremely intuitive user interface (translated into your language) and the wide range of templates, animations, transitions, titles and various effects on offer, is perfect for beginners. However, it also allows you to customize each slide of your project down to the smallest detail, thus meeting the needs of the most advanced users.
SmartSHOW 3D can be downloaded and tested for free for 10 days, after which, to continue using it, you need to purchase one of its full versions: SmartSHOW 3D Standard (€ 29,40), which allows you to insert unlimited slides and audio tracks in your videos, includes over 150 transition and animation effects, applies 3D animations to photos and texts, allows you to add music and voice comments and export videos to HD in more than 30 different formats; or SmartSHOW 3D Deluxe (48,30 euros), which brings the available transition and animation effects to 350, adds over 200 royalty-free soundtracks, the ability to insert video clips into your project and offers the functionality of burning videos to DVD. More info here.
To download SmartSHOW 3D for free, connect to the official website of the program and click on the button Download. Then start the .exe file you have obtained and, in the window that opens, click on the button first Yes and then OK e NEXT. Accept, therefore, the conditions of use of the software, putting the check mark next to the item I accept the terms of the license agreement, and finish the setup by clicking on first NEXT three consecutive times and then on Install e end.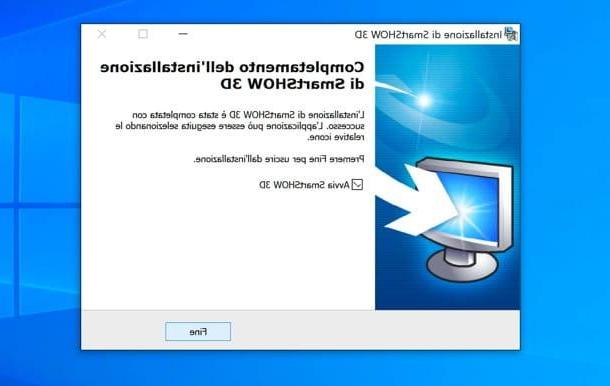 Once the installation is complete, start SmartSHOW 3D and choose if continue to use the free trial version of the software, if to sort one of the full versions or if insert the key for the activation of your copy. You will then be asked whether to create a new project empty, one presentation in 5 minutes (i.e. a video starting from a preset template) or if open a project already existing: personally, I advise you to choose "presentation in 5 minutes".
At this point, select one category among those available, through the sidebar of the window that has just opened, then the model to use, by double clicking on its miniature. Then click on the button Add Photo / Add Folder, to select photos or photo folders to add to the slideshow and, if necessary, reorder them, using the arrows present on the right.
Fatto ciò, first prize NEXT and choose the background music to use in the video: then click on the button music collection, to choose one of the over 200 tracks in SmartSHOW 3D, or on the button add music from file, to select a song from your PC. By clicking on the buttons Synchronize e Volume and Dissolves, you can also activate the automatic synchronization of the audio with the video and adjust the volume and fades of the background music. Then click on the button Done.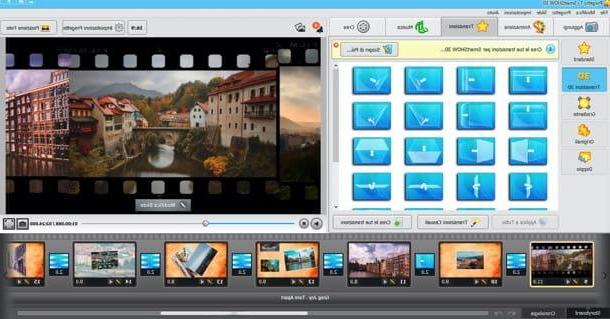 You are now in front of the main SmartSHOW 3D screen with the cards to access all the program functions; in the center the instruments selected and the player with the preview of the video and, at the bottom, the timeline. By clicking on the tab Add, you can add Photo and video, collage, titles e clip to your presentation; going into the tabs Entrainment e Transitions, you can access the complete list of available animations and transactions (divided into categories); via the card Music you can add audio tracks to the project while going to the tab Crea you can export the video.
To add an animation, transition or any other element to your presentation, simply select it and drag it to your preferred location in the timeline. To customize, instead, a scene already present in the timeline, select it and click on the button Modify slide present under the player.
In the window that opens, you will find buttons, at the top left, for add layers (i.e. photos, videos, texts and other effects), slide effects e manage the camera of the selected scene. Also at the top, but on the right, are the tabs slide (to adjust slide duration and other parameters), Subscription (to apply changes to selected photos), Entrainment (to adjust animations) e Sonoro (to adjust the sound). To save the changes, click on the button Save, bottom right.
To finish, you just have to select the tab Crea e premere sul pulsating Create video presentation, to create an HD video to be played on a PC, TV or other devices (among the available formats, there are MP4, REVIEWS, MKV, MOV ed MPG); Create DVD slideshow, to create a DVD video compatible with all living room players, or on the button create a video for the Internet, to create a web-optimized video to upload, for example, to YouTube or Facebook.
Once you have made your choice, you can adjust Resolution e Quality of the output file and choose whether to apply a filigree at the same. For more information, I invite you to consult the official website of SmartSHOW 3D.
PhotoFilmStrip (Windows)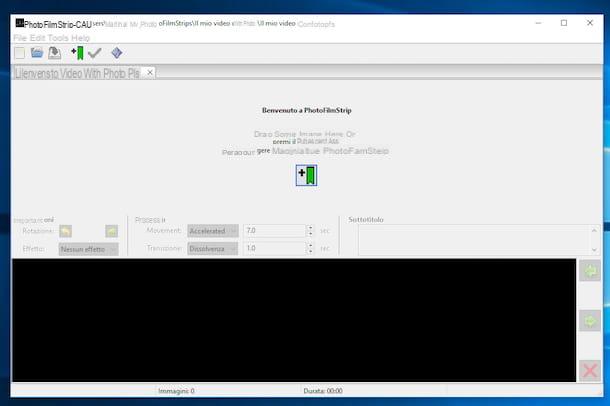 Did the program for creating videos with photos and music mentioned above not be able to attract your attention in a particular way? No? Then take a look at immediately PhotoFilmStrip. It is a small software capable of fulfilling the purpose in question flawlessly and capable of returning truly spectacular results: slideshows with background music and transition effects that can then be saved in the form of Video CD, Super Video CD, DVDs and high-definition videos on your computer.
To use it, it only takes a few clicks, thanks to its simple and clear user interface that manages to put even less experienced users at ease.
PhotoFilmStrip is a free program specific for Windows operating systems. To immediately download PhotoFilmStrip to your computer click here.
DVD Slideshow GUI (Windows)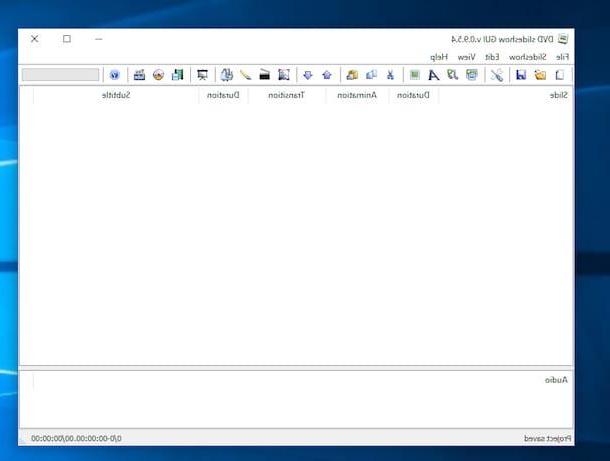 Among the programs to create videos with photos and music for Windows operating systems that I suggest you take into consideration, I also point out DVD slideshow GUI. As easily understood by the name itself, it is a no-cost application for PC that allows you to create DVD video starting from photos and video files in compressed format.
The program is very easy to use and supports all major media file formats. It allows you to create spectacular slideshows full of transition effects, background music and customizable captions.
DVD Slideshow GUI is for Windows and is a free available program. To download DVD Slideshow GUI to your computer right away click here.
iMovie (macOS)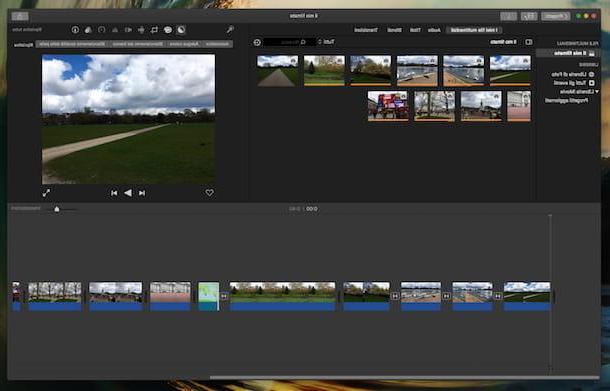 In an article dedicated to what are the best programs to create videos with photos and music, it cannot fail to be mentioned iMovie, at least not as far as the Mac "universe" is concerned. It is in fact what can be considered as the best and most complete solution for making video montages, with images or not, on macOS.
The application is ideal for making "home" presentations but also includes several interesting advanced functions that allow users a little more experienced to obtain final results of excellent quality. The application combines a highly intuitive user interface with a rich set of advanced features and special effects.
iMovie is an application that comes at no cost and "standard" on macOS but is also available as a separate application (always free) that can be downloaded on older Macs where it is not present. You can find iMovie directly on your computer by going to the folder Applications or you can download it by clicking here.
Photo (macOS)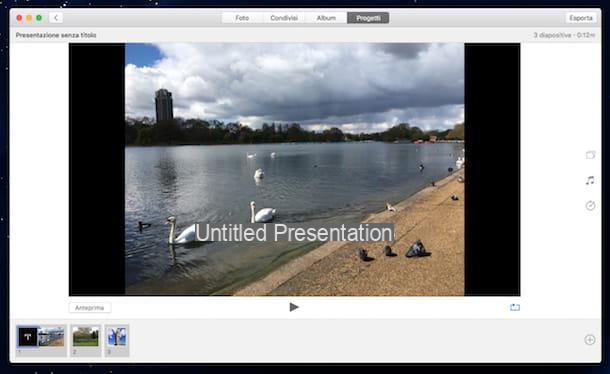 Another good program to create video with photos and music on Mac that can be used as an alternative to iMovie if you have no particular pretensions is Gallery. This is what today represents the default application on macOS for managing photos. The app has a modern and highly understandable user interface and, at the expense of the name, offers users numerous functions with which to create splendid presentations. For each video with photos that is created, text and background music can be added and a theme can be chosen from those available.
To start making a video with photos and music with Photos just tap the button + (plus symbol) located in the upper right part of the app screen, click on Presentazione and select the items to add. Then it will be possible to export the presentation created on the Mac hard disk or you can send it directly to iTunes.
Foto is an application that comes standard on Mac, is compatible only and exclusively with macOS and is totally free. You can find Photos directly on your Mac by going to the folder Applications.
PhotoStage Slideshow Producer (Windows and macOS)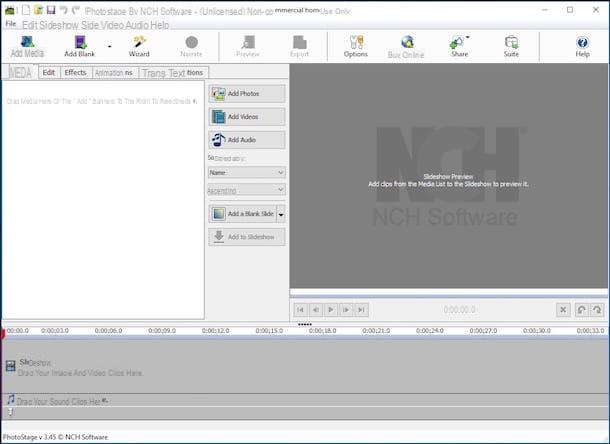 PhotoStage Slideshow Producer is a very powerful program for creating videos with photos and music that puts ease of use first. It supports all major image and audio file formats (for background music) allowing even less experienced users to create slideshows full of special effects, transitions and text.
Slideshows obtained with this software can be burned directly to DVD or exported to formats for PCs and portable devices.
Photostage Slideshow Producer is available for both Windows and macOS. The program is paid but can also be downloaded in a free trial version with a limited duration. To immediately download Photostage Slideshow Producer to your computer click here.
Program to create videos with photos and music online
As I told you at the beginning of the guide, there are also gods online services thanks to which it is possible to create videos with photos and music directly and comfortably from the browser, without having to install absolutely anything on the computer and without putting stress on one's multimedia station for processing the video. Here are some of the most interesting.
Adobe Spark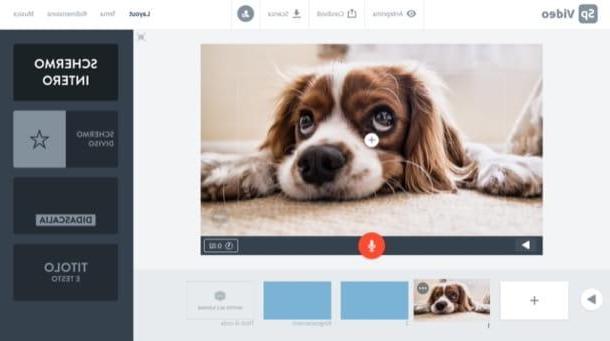 One of the best web applications for making movies with photos and music is Adobe Spark, an easy-to-use solution that works with free registration. Let me show you how it works.
To use Adobe Spark, first go to its main page, click on the button Start now and select the way you want to register for the service (eg. Continue with Google, Continue with Facebook, Continue with Apple, etc.), taking care to follow the instructions that appear on the screen to complete the procedure.
Once you have signed up for the service, assign a title to the project you are working on, using the appropriate text field, click on the button NEXT and decide whether to start with a model or start from scratch. To take action, then, close the tutorial that shows you how Adobe Spark works by clicking on the button OK.
You should now find yourself in front of the Adobe Spark editor: clicking on the slide with the (+) button in the center it is possible to add a new slide to the project, while to duplicate or delete one, click on the button (...) that appears on each slide on mouseover and then select the option you want to use (eg. Duplicate o Delete).
To add a photo to a slide, then, click the button capacitor positive (+) lead placed in the center of the slide of your interest (below), select the wording Gallery in the menu that opened and then upload the photo from your PC or find free photos in the service database, by clicking on one of the appropriate entries. To add some musicinstead, click on the relevant item in the upper right corner of the page, select one track from the Adobe Spark database or, if you prefer, upload your music, using the function Add my music.
Once you have completed the job, see thepreview of the result you have obtained and, if you are satisfied, Share o download the video, using the appropriate wording.
Magisto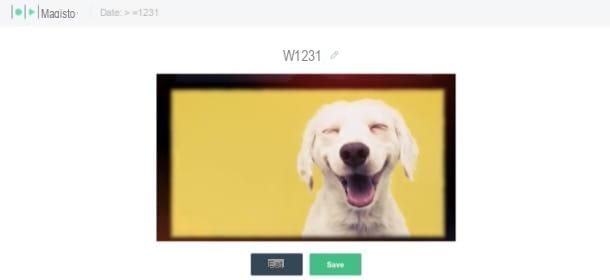 Another solution that I invite you to try is Magisto. It is an online service, also available as an app for Android / iOS / iPadOS, which allows you to create videos by combining photos and music. It can be tested for free for 7 days, then you have to subscribe, starting at $ 4,99 / month, to continue using it.
To use it, go to the Magisto main page, click on the button Get Started and register with your address e-mail, your Google account (Continue with Google) or with your Facebook account (Continue with Facebook).
Once logged in, indicate your membership category in relation to the use of the Web application (Personnel, Business o Agency), click on your button Continue and then on the button Start the trial placed in correspondence with one of the available floors. Next, provide a payment method valid via the form in question (if you deactivate the automatic renewal before the trial period expires you will not be charged) and then click on the button Pay Now to go to the next step.
In the new page that opened, click on the button Start creating, click on your bottone Add Media and insert the photos with which to make the movie by clicking on the button Upload to load them from your PC or load them from Google Photos or, again, from the Magisto database itself, by clicking on the item Stocks. When you have uploaded at least 5 contents, click on the button Add located at the bottom right, click the button Next located at the top right, select one style among those proposed and click again on the button Next always located at the top right. Next, choose the music to be added to the project, by selecting one of the tracks available in the service, or byupload of songs you have on your PC.
When finished, click on the button Preview, give the movie a name, click on the button Save and, if you are satisfied with the video you have made, wait for the video to be processed and then click on the button Save, so you can choose one of the save / share options from those available.
In case you decide to deactivate the automatic renewal before the free trial expires, in order not to be charged, you must go to this page, log in to your account (if you are not already logged in), provide the last 4 digits of the credit card you used for the payment, click on the button I'm not a robot and once you have completed the security verification, click the button Cancel my subscription.
App to create videos with photos and music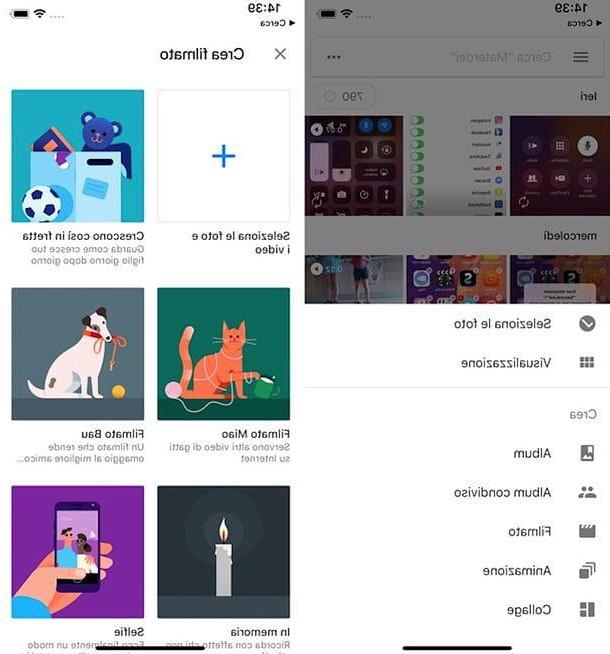 How do you say? Would you like to create videos with photos and music directly from your smartphone or tablet? Don't worry, there is no shortage of solutions of this kind.
In this regard, I invite you to read my tutorial on apps to make videos with photos and music, in which I have recommended, and I have explained to you in detail how to use, a wide range of applications that allow you to create photo slideshows on Android and iOS.
Article produced in collaboration with AMS Software.
Program to create videos with photos and music