EaseUS Video Editor (Windows)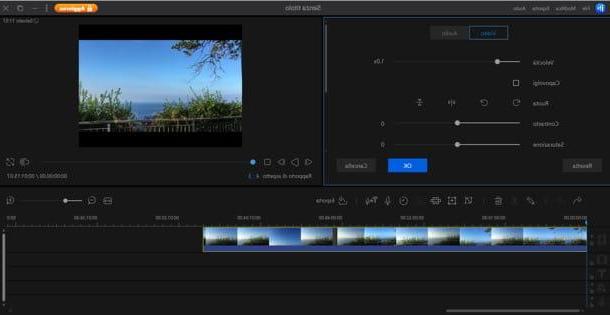 EaseUS Video Editor is a great video editing software for Windows that allows you to create spectacular videos in just a few clicks. Offers an extremely intuitive user interface (translated into your language), through which it is possible to edit videos by applying over 50 visual and transition effects, adding music, photos and narrations, cutting them, dividing them, rotating them, adjusting their zoom and much more.
It supports any multimedia file imported from PCs, smartphones, tablets, camcorders, DV camcorders, webcams and other devices. The final works can be exported locally to the computer in various formats, including those optimized for uploading online to YouTube, Facebook, Twitter etc., they can be burned to video DVD or exported in formats optimized for smartphones and tablets of various brands.
To download EaseUS Video Editor for free on your PC, connect to the official website of the program and click on the button Free trial. When the download is complete, then open the .exe file obtained and, in the window that opens, click on the buttons Yes, OK, NEXT (four consecutive times), Install e end, but will conclude the setup.
When installation is complete, to create a new project with EaseUS Video Editor, start the program and choose the format of the video to create: 9:16 (Portrait), 16: 9 (Widescreen) o 4: 3 (Traditional). Then follow the initial tutorial and import the videos you want to use in your creation by pressing the button Import located at the top left or by dragging them into the program window. Repeat the same operation for any photos and audio tracks to add to the project.
Once this is done, drag on timeline of EaseUS Video Editor, below, the videos (and / or images and audio tracks) that you want to include in your project, arranging them in the order you prefer. Then use the timeline or the player located at the top right to get to the point of the movie to edit and use the buttons in the center of the screen to divide, crop, adjust the zoom, apply themosaic effect, register a audio narration or other.
By clicking, instead, on the icon of the pencil or by double clicking on the timeline you can access the panel to edit speed, orientation, contrast, saturation, volume e audio fade of the selected video segment.
To insert new elements to your movie, however, all you have to do is select the tabs Text, filters, coatings, Transitions, Elements e Music positioned on the left, take the element of your interest and drag it to the timeline, where you want to add it.
When the result satisfies you, you can export your video by pressing the button Export located above the timeline by selecting the format of your interest among those available (eg. MP4, REVIEWS o MOV; in the card Video platform you can find formats optimized for YouTube, Facebook, Twitter and other online services), choosing the destination path (via the icon of folder) and pressing the button Export.
The free version of EaseUS Video Editor adds a watermark to the output videos and does not allow you to export movies in Full HD quality. To remove these limitations and also have access to other functions, you need to purchase the Pro version of the software, at 46,95 euros. More info here.
Avidemux (Windows / macOS / Linux)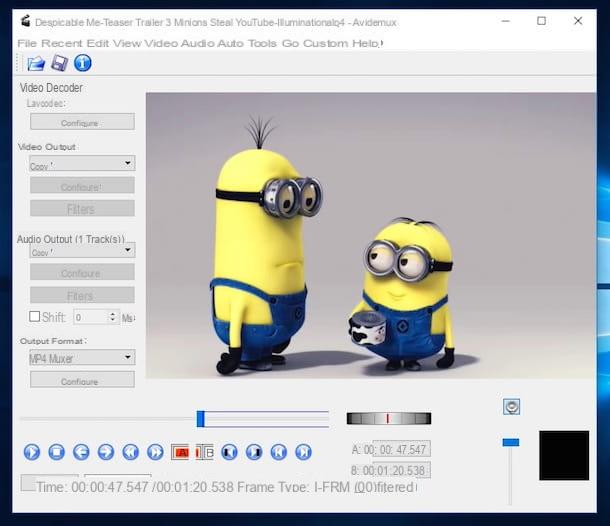 Avidemux is one of the best free video creation programs there is, also because it includes a wide range of advanced effects that can be applied to videos (color / brightness / contrast adjustment, speed adjustment, resizing, etc.) and supports all major formats of video / audio files.
Although it does not have a particularly accurate interface, it is very easy to use even for beginners and allows you to operate on videos both in direct mode and in full processing mode.
Avidemux is available for Windows, macOS and Linux operating systems and is a free resource. To download Avidemux to your computer click here.
Lightworks (Windows / macOS / Linux)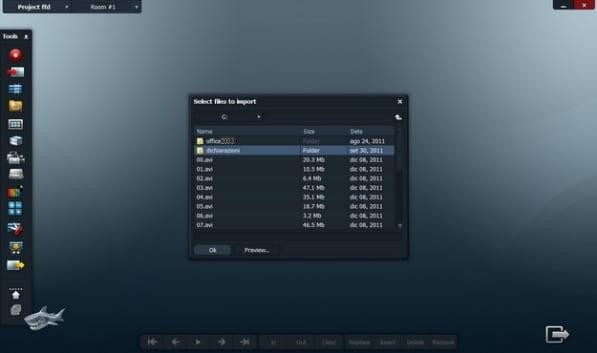 Another program to create videos that I suggest you focus on is Lightworks. Haven't you ever heard of it? Well, now I will immediately clear your head. It is the ideal solution for those looking for professional-grade video editing programs at no cost. It is not very light, it is not very easy to use but it ensures full use of the potential of the PC.
Among its main functions there are all the basic ones for video editing plus others reserved for professionals.
Lightworks is compatible with Windows, macOS and Linux and is free in its "basic" version. The program is eventually also available in a paid edition that provides additional functions such as exporting to YouTube's 1080p format and creating stereoscopic content. To download Lightworks to your computer click here.
Wondershare Filmora (Windows / macOS)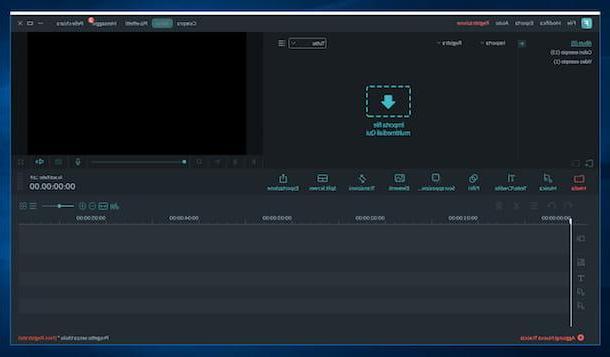 For those who have slightly higher requirements than the average and want to create / edit their videos (including HD) without getting lost in too crazy graphic interfaces Wondershare filmora it is certainly an excellent resource to consider. It supports splitting videos, adding text and background music.
Although it is intended for a more demanding user group, so to speak, the program works in an extremely simple way. In fact, only four steps are enough to start using them: importing videos (or images), editing, applying special effects and creating the final video.
Wondershare Filmora is paid software available for both Windows and macOS. The software can eventually be downloaded in trial version usable without any kind of limitation for 30 days. To download Wondershare Filmora to your computer click here.
Adobe Premiere Pro (Windows / macOS)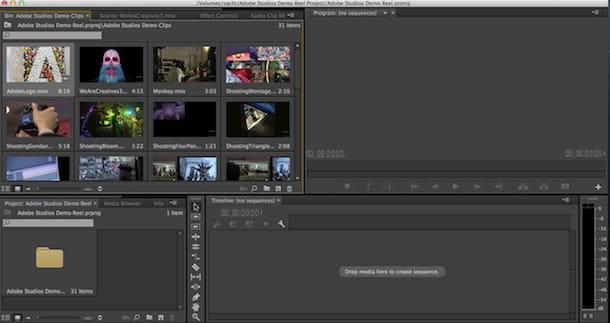 Adobe Premier Pro is without a doubt one of the most complete professional solutions for creating and editing videos on the market. This software made available by Adobe tries to combine advanced features and ease of use in the best way. The program is appreciated by a large number of users and is perfectly capable of processing all video formats natively.
It allows you to adjust every single aspect of video and audio, supports all major multimedia file formats and offers a wide range of effects to personalize your videos.
Adobe Premier Pro is for Windows, macOS and is available for a fee in different formulas and plans that meet various needs. However, the program can be downloaded in a free 30-day trial version (upon registration to the Adobe Creative Cloud service). To download Adobe Premier Pro to your computer click here
DVD Slideshow GUI (Windows)
! [Programs to create videos with photos] [Programs to create videos with photos] (https://www.configurehow.com/wp-content/contenuti/2015/02/foto_video.jpg "sizes =" (max-width: 610px) 100vw, 610px "srcset =" https://www.configurehow.com/wp-content/contenuti/2015/02/foto_video.jpg 610x, https://www.configurehow.com/wp-content/contenuti/ 2015/02 / foto_video-100 × 75.jpg 100x)
DVD Slideshow GUI is an ideal program for beginners that allows you to create videos with text and transition effects starting from photos (JPEG, BMP, GIF, etc.) or other videos. The final results can be burned to DVD or uploaded online to YouTube.
Thanks to this software it is possible to create beautiful animated slideshows starting from any type of image and makes the final result playable on any living room DVD player. To use it, just select the photos and / or videos to use to create your video, set the transition effects, add text and background music if you want, and wait for the final result to be processed.
DVD Slideshow GUI is available only and exclusively for Windows operating systems and is a free program. To download DVD Slideshow GUI to your computer click here.
Windows Live Movie Maker (Windows)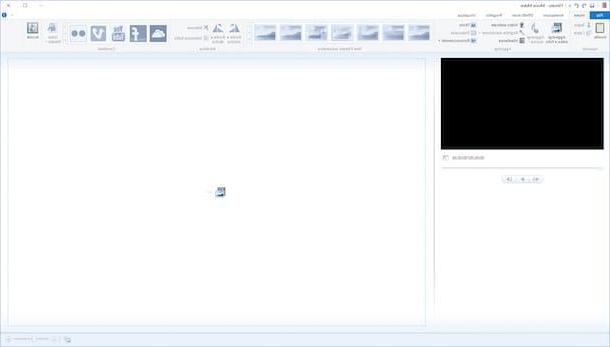 In a list of programs to create videos, it certainly cannot be missing Windows Live Movie Maker, at least not as far as Windows is concerned. Thanks to this famous Microsoft application included in the free suite Windows Essentials, anyone can have fun creating videos with photos, music and special effects of various kinds. But anyone!
Includes a huge range of special effects to apply videos and its new tabbed interface (Office style) allows even beginners to split / merge videos, add titles and background music to them in order to obtain results of the highest level.
Windows Live Movie Maker is for Windows only and is a free solution. However it is no longer officially supported by Microsoft, which means that you can only download it from third party sites. To download Windows Live Movie Maker, you can currently click here and then on the item city present on the page that opens to download the your language version of the software or, alternatively, you can click here to download its English version.
Photo (macOS)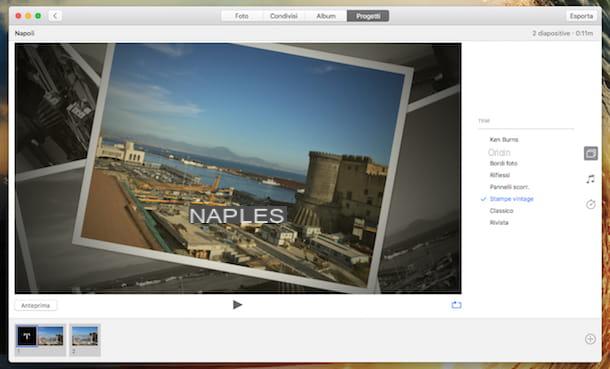 With the latest versions of macOS, Apple has decided to include a photo and video call management application on Macs Gallery. At the expense of the name, in addition to allowing you to view, catalog and retouch your shots, the program also allows you to create videos with photos, music and writings in an extremely simple way.
To start creating videos with Photos, just start the application, click on the item Fillet located in the upper left part of the menu bar and select the item Create presentation .... Then, you have to type a name for the video to be made, click on the button OK and select all the photos to include in the latter.
Photos is a free app and is pre-installed on all Apple-branded computers starting with macOS 10.10.3 (Yosemite). You can access Photos from the folder Applications Of computer.
iMovie (macOS)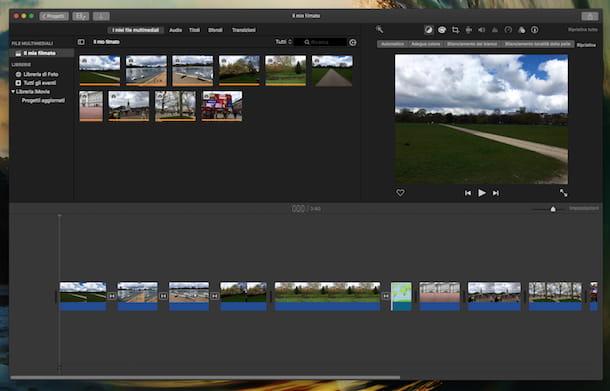 If you are looking for a more complete solution to create videos on Mac, I suggest you turn to iMovie. This is a product made available directly by Apple and is certainly the ideal solution for creating and making changes to movies at a "home" level, but also including advanced functions that allow users a little more experienced to obtain final results. of great quality.
The application is in fact able to combine an extremely intuitive user interface with a vast set of advanced features and special effects as well as predefined styles to create trailers and themed montages.
iMovie is an application that comes free on macOS. It is available "standard" on most newer Macs but can still be downloaded for free if not present. You can find iMovie directly on your Mac by going to the folder Applications or you can download it to your computer by clicking here.
Note that in addition to being available for macOS, iMovie can be downloaded as an app for iPhone and iPad. The application is free and can be downloaded directly from the App Store.
Articolo realizzato in collaboration with EaseUS.
Programs to create videos