Clips (iOS) - App to record videos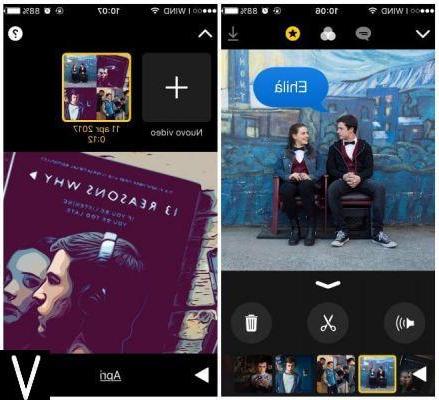 Among all the applications for record video, you should definitely take a look at Clips. We are in the age of social networks and many applications for recording videos are adapting to the trend that leads everyone to share short and captivating videos. Equipped with a very youthful user interface, Clips is only available on iOS but, in my opinion, it is a noteworthy application, despite being very recently released.
Using Clips, however, you will have to forget the classic user interface of any other traditional editing software: Clips takes inspiration from social networks and popular photo and video sharing applications: Instagram, Facebook and Snapchat, for example. Instead of the classic timeline and the REC button to record a video, the app highlights its large rectangular red button. Press and hold it to start recording a video and to add multimedia elements to your creation.
If you are used to using professional software, the Clips user interface can seem confusing and difficult to master. My advice is therefore to use it for a few minutes to be able to master it in the best way.
The most interesting feature of Clips is given by the possibility of adding various customizations to the video, as well as captivating graphics: texts, filters, comics, music, emojis or animated titles to the video. These are obviously elements taken up here and there by the messaging apps from those of social networking but, in my opinion, it is precisely these that constitute the strength of this application and make it interesting.
KineMaster (Android) - App to record videos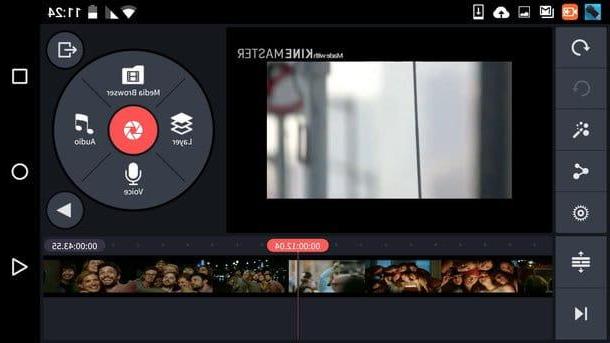 Complete and professional application, KineMaster is a traditional UI app that, available only for Android devices, allows you to record video. The most interesting feature of KineMaster? The freedom of creating a video from scratch and the possibilities of editing it.
Like any other professional software for creating and editing videos, in fact, KineMaster also offers the possibility of recording a video and editing it on the basis of pre-established templates. The editing tools are numerous and its user interface is practical to be used on the touch screen of a mobile device such as a smartphone or tablet.
Among the other most prominent features of KineMaster there is the presence of numerous elements and buttons that will allow you to edit a video. Perhaps, precisely because of all these tools, the app may seem unintuitive, but I assure you that it is quite the opposite. My advice is as usual to take some time to understand how to best use the application.
Once you are done editing your video, using KineMaster, you can export the video and save it to your device's media library. Sharing on Youtube or Dropbox is also supported, a feature that, in my opinion, I find very useful for not filling the device memory with the video just created.
KineMaster is an app free, but watermarks exported videos. To remove it and have access to additional features of the app, you need to subscribe for a subscription of 3,56 euros per month or 28,46 euros per year.
Adobe Premiere Clip (Android / iOS) - App to record videos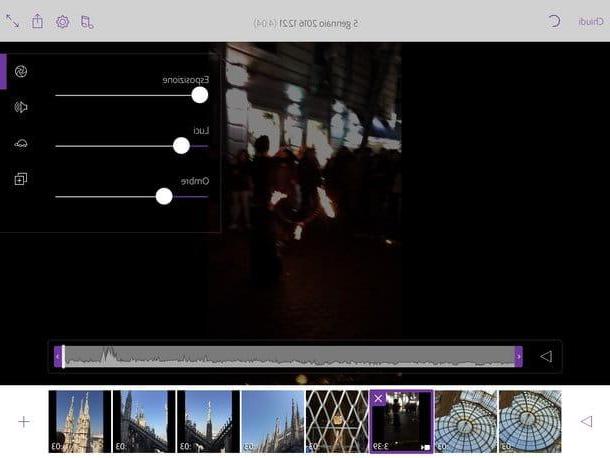 Available on both mobile devices, Adobe Premiere Clip is the mobile equivalent of the popular Adobe Premiere Pro software. While you can't expect the exact same features, the application for Android and iOS smartphones and tablets is definitely complete and effective, if your purpose is to record and then edit a video. Furthermore, unlike Adobe Premiere Pro, the mobile app also comes in a free version.
Its strength is certainly the ease of use but also the integration with the Creative Cloud online library. The application allows you to edit a video by recording it on the spot or even using one of your Creative Cloud library, Adobe Lightroom or even Dropbox.
Also, in its version free, the app provides 2 GB of storage space on Creative Cloud, and the ability to save the exported video directly to Youtube.
Dictaphone (iOS) - Audio recording app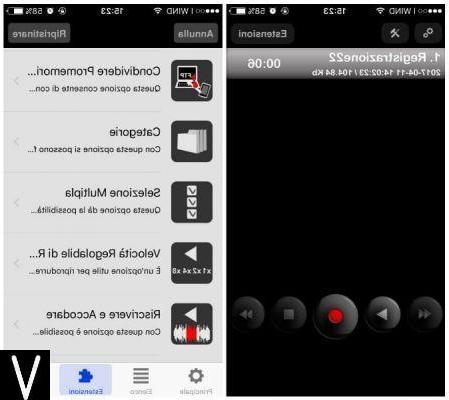 If instead what you need is a tool for record audio, and you want to download an app that can perform this task, you can safely turn to some free applications, available for Android and iOS smartphones.
For this reason, among those I want to recommend in this guide of mine there is certainly the application for iOS called Dictaphone - Audio Recorder. Dictaphone - Audio recorder, which from now on for simplicity I will only call Dictaphone, is a free application that you can download to your device and that allows you to make audio recordings in the highest quality. The application allows you to record audio in MP3 and WAV format, also allowing you to choose the quality of the recordings and categorize them.
The application stands out for being equipped with a minimal user interface, designed to be purposely intuitive and is able to do its job as an audio recording app very well, allowing you to get a good quality audio file.
Dictaphone is an application free but these are undoubtedly its characteristics paid the most noteworthy ones. Unlike other recording applications that only perform primary functions, using the paid version of the application, you will have access to several additional tools. For example, you can share audio files via email or upload them to a cloud system (Google Drive, Dropbox, Soundcloud for example), adjust the playback speed as well as overwrite a recorded file or part of it. The features mentioned can be purchased individually at a cost of € 0,99 each or you can directly purchase the full version of the app, at a cost of € 4,99.
Voice Recorder (Android) - App to record audio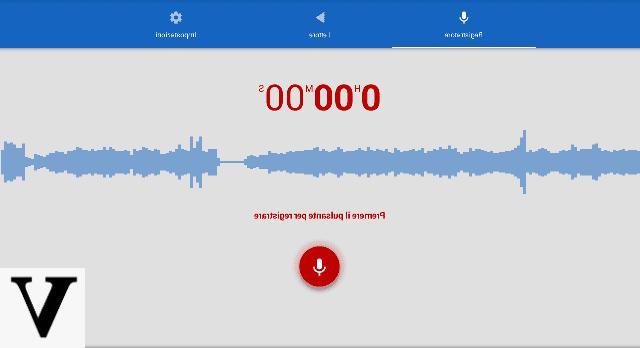 Among the many applications for record audio available on the Google Play Store, I want to tell you about an app called Voice recorder, available for free on Android. The application comes with a simple and functional user interface, to avoid any kind of distractions. There are in fact only three main buttons, one dedicated to recording (Recorder) and one for listening to the recorded file (Reader). The third button, on the other hand, is that of Settings and you will need it to access the menu dedicated to application customizations.
Unlike many other applications for recording audio files, in fact, Voice Recorder allows you to modify various parameters for recording: recording format, sample rate, bitrate encoder, and so much more. A feature that I find very interesting for those who need to obtain an extremely high quality audio file. There are no other buttons besides the classic REC, Pause and Stop but, after all, what you need is to record audio, right?
Once you have made an audio recording, you will need to go to the section Reader. Speaking of the recordings made, I find it interesting to point out that you can choose whether to share and send them, in addition to the classic rename and delete them. Using Voice Recorder, you can even choose whether you want to set a particular recording as your phone's ringtone, as an alarm for reminder or alarm, or even a default notification sound.
The Voice Recorder application is available for free and has no advertising banners.
App to record