Register a Google account - Preliminary procedure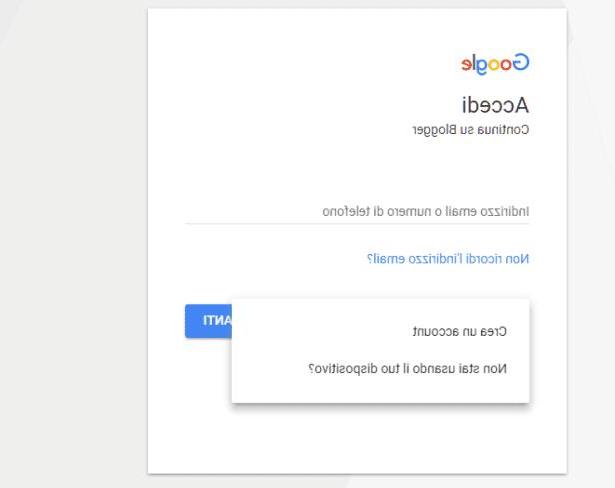 Before you start see what are the steps to follow for start a blog with Blogger, you have to keep in mind that the main feature of Blogger is its ease of use. Precisely for this reason what you are going to create will be nothing more than an amateur blog.
The Blogger blog creation platform is in fact designed for those who have no experience in creating blogs and websites and want a tool that is even easier than WordPress. For create a blog with Bloggerin fact, you will not need the knowledge of the programming language and you will not even have to buy a hosting and a domain.
Furthermore, since it is a proprietary platform, Blogger does not allow to integrate advanced customization tools through the installation of plugins. However, you will be able to customize your blog with some basic tools and you can also earn by integrating the banners of AdSense, Google's online advertising service. Having made these premises relating to the characteristics of Blogger, we can begin.
As I told you, however start a blog with Blogger you must be logged into your Google account first. If this is your first time using Google services and you have never signed up for an account, then you must proceed on this occasion.
Do you need help with this procedure? Don't worry, I'll help you right away. To create a Google account to be used for Blogger and for all other Google services, first connect to the main Blogger Internet page and press the button Create your Blog. You will then be redirected to the main Google page and you can follow the procedures that I will indicate to you for creating an account.
At this point the page will open, click on the wording Other Options e located in the center of the screen. At this point, press on the item Create an Account. You will then be able to fill in the registration form to create your Google account.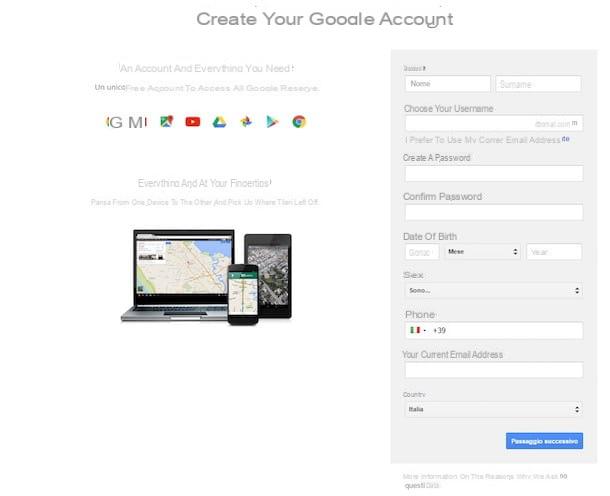 All text fields are practically mandatory. Then indicate name, last name, username e create your password. Then enter the date of birth, the gender and also the country of origin. Provide a secondary email address or mobile phone number (this data is optional but may be used in case of loss of your Google account login details).
To continue with the registration of your Google account, click on the button Next step and then on the button Accept to emphasize Google's conditions regarding the treatment of privacy and terms of service. Now you can press the button Go ahead and go to Blogger to be redirected to the famous Google blogging service.
How to start a blog with Blogger - The procedure to follow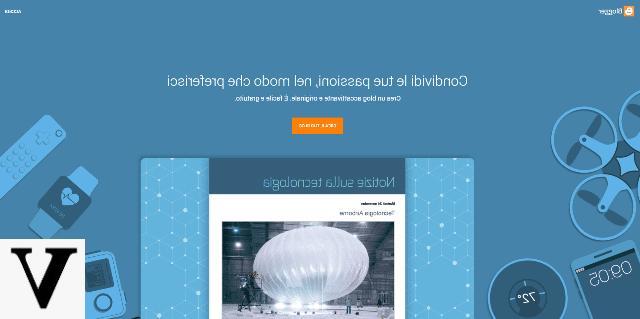 Now that you have created a Google account and signed up for Blogger you are ready to create your first blog. On the page that opens, click on the button New blog to start creating your "corner of the Web" and type the title you want to assign to the blog in the appropriate text field. Continue typing the address through which you want to make the site reachable (it will be something like the name of your blog.blogspot.com) and choose which graphic theme you want to use for your pages by clicking on one of the available previews. When you have decided, click on Create the blog to confirm your choices.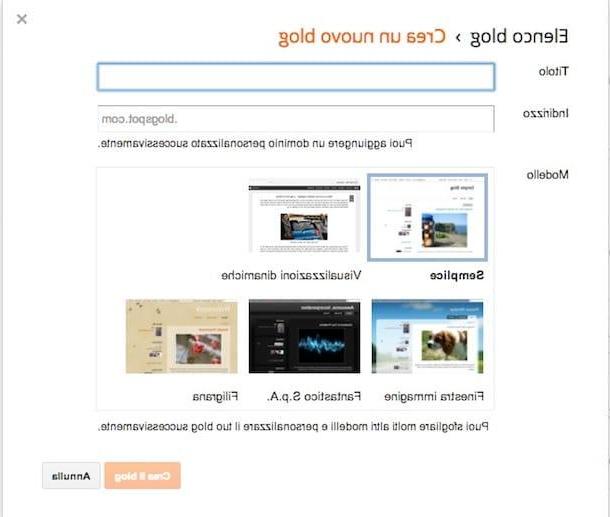 Now, to continue in the creating a blog with Blogger, devi actually start rolling up your sleeves. Don't worry, I'm not going to abandon you! Let's see together how you can publish content on its pages and customize all aspects of your blog.
To get started, let's see how to write a new post on your blog. To publish a new article, click on the orange button New Post and use the Blogger editor to write your textual content. It is a very simple operation, on the other hand the service interface is very similar to that of many traditional text editors.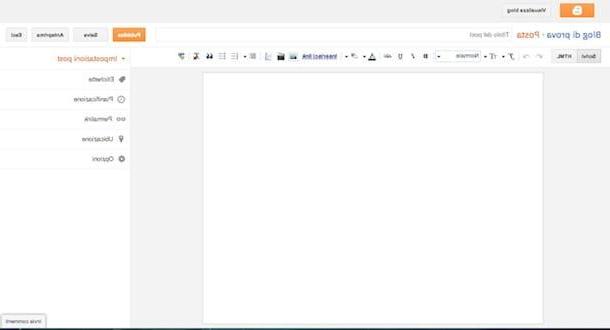 As you want to notice, at the top you can find a text field that will allow you to enter the title of the article, while, through the toolbar you will find all the buttons for format the text (bold, italic, underline, etc.) and insert multimedia elements within the post (photo, video, link, etc.). On the right side, however, you will find a bar within which you can act regarding the post settings. For example, you can type Tag (Labels), schedule the automatic publication of the article (planning) and edit the post URL (permalink).
When you are done writing, you can verify your post before publishing it: just press the button Preview. When you are done working on your post, you can publish your work by clicking the button Public located at the top right or save it as a draft by clicking on Save.
If you want to add more customization to the blog you created and change the look of your blog, go back to the home page of Blogger and click on the button layout. This is a section that will allow you to access a purely technical section of your blog, through which you can customize the structure of your blog, modifying the various elements.
In fact, you can change thefavorite icon of your blog and modify every single element present by pressing on the pencil symbol. As you can see, there are already some structural elements added (sidebar, search box, header, subscription, page list, page body and footer); these are the predefined elements that make up your blog and that are part of the theme you have chosen.
If you wish, however, you can add elements by going to the sidebar at the top and the one at the bottom. To do this, just press the button + Add Gadget and introduce new elements by pressing the button (+). At any time you can see the changes made in real time, by pressing the button Preview that you find at the top right.
Are the customization options I have indicated not enough for you? Then at this point use the quick links located in the left sidebar to evaluate what other tools you have available to customize your blog on Blogger.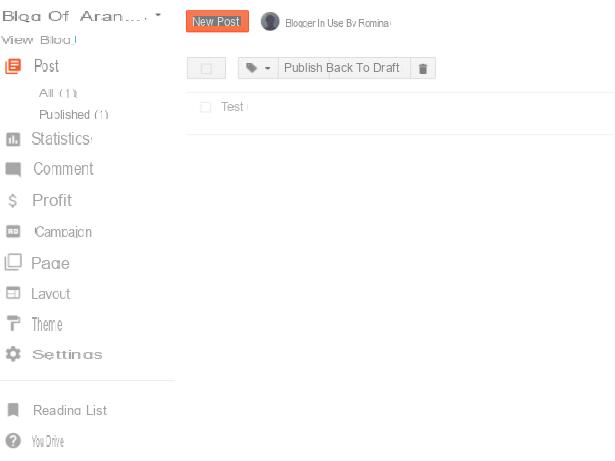 Via the button Pages you can manage and create pages of your blog; via the button post you can write and delete articles on your blog. To moderate i Comments press on the item instead Post comments . You want to change the aesthetic aspect of your blog? No problem, you can do it in anyasi moment pressing on the item Subject and once you have chosen the new look of your blog, just press the button Apply to your blog.
Has your blog been open for some time and would you like to see the counter that refers to the number of your visitors? If you press the button Stats you can get an idea of ​​the visits your blog has had. Also keep in mind that you can make money with your blog created with blogger, by inserting Google Adsense advertisements. To do this, you will need to click on the button Profits. However, I remind you that, to activate Google advertising on your blog, it will be required that it meets the Adsense requirements. In this regard, I would like to refer you to reading my guide on how to make money with AdSense. By reading my tutorial you can get a better idea of ​​the monetization service offered by Google.
With regard to the creating a blog with Blogger I told you everything. As you could have understood yourself, if you have followed my guide to the end, opening a blog with blogger is extremely intuitive. Once you have created your blog you can dedicate yourself to its complete customization, benefiting from the user interface completely in your language. Having said that, all I have to do is wish you good work and good luck with your new blog. Try to do your best!
How to start a blog with Blogger